Learn to make a freeform hypertufa planter with this easy tutorial. These rustic looking containers are perfect for succulents and shallow rooted plants.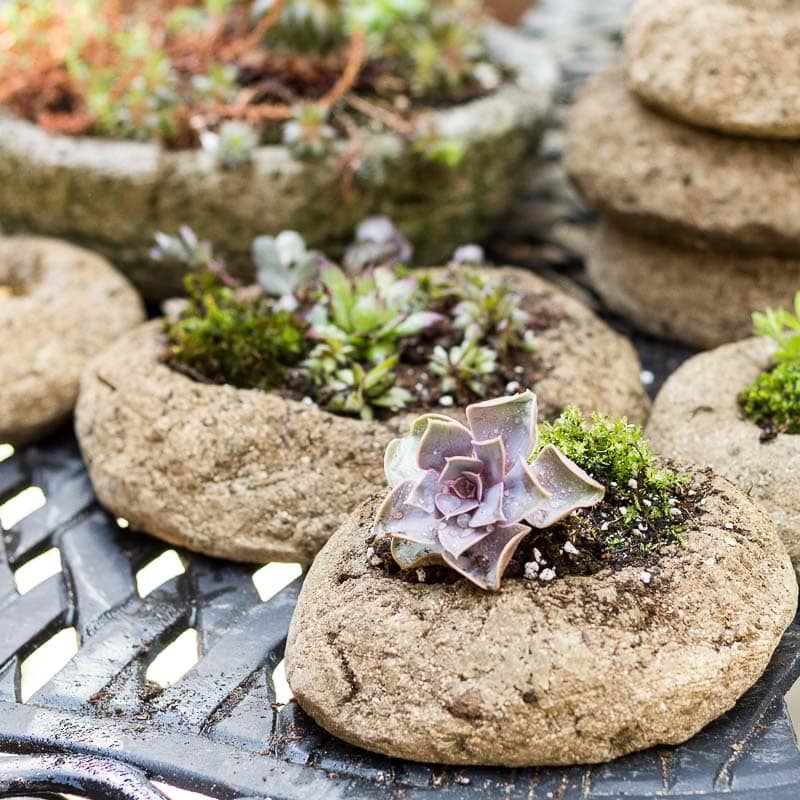 I've been itching to make a hypertufa planter for some time now. There are tons of tutorials and recipes all over the web. One in particular from Blue Fox Farm mentioned these small "pinch pots" made without molds, and that is what inspired me to try and make a freeform hypertufa planter.
Freeform Hypertufa Planter Tutorial
These are very rustic and easy to make. The hardest part was waiting for them to "cure" before planting. Every article I read says you need to let them cure for a minimum of 2 - 4 weeks. I let mine cure for the full 4 weeks.
Materials
Portland Cement - 1 part
Peat Moss - 1 1/2 parts
Vermiculite - 1 1/2 parts
Dust Mask
Latex Gloves
Large Plastic Mixing Container
Dryer Cleaner bags or other plastic bags
Rocks for weight
Plastic container for measuring material like an old takeout soup container or sour cream container
Combine the cement, peat moss and vermiculite in a large plastic tub. For the seven planters I made, I used 2 containers of cement and 3 containers of the peat moss and vermiculite. Then slowly add water and mix with your hands.
Don't forget to wear a mask and good latex gloves.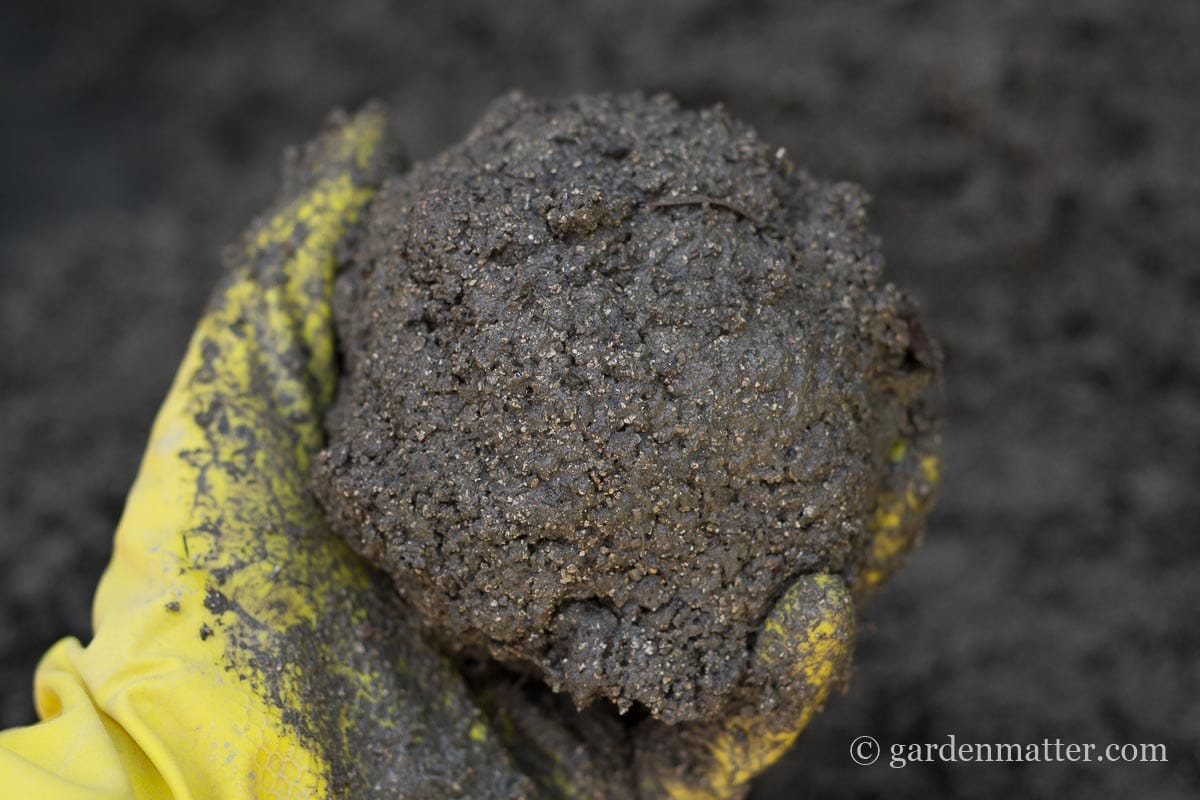 Add enough water until you can make a ball with the mix that holds together, but is not soggy.
Place a handful on a dry cleaners bag and shape it into the desired shape. Fold the plastic over and weigh it down with a rock. Let them sit in a shady spot for 2 days.
After two days they will be firm enough to hold their shape, but still soft enough to carve or add texture. I used a wire brush, and a metal scraper to dig out some of the interior and shape up the bottoms and sides.
Re-wrap the hypertufa and set aside for 2 to 4 weeks to cure, checking occasionally to mist or wet them.
Now they are ready to plant. Use a light soilless potting mix, and choose ground covers and shallow rooted plants. Rock garden, alpine plants, succulents, and moss are good choices.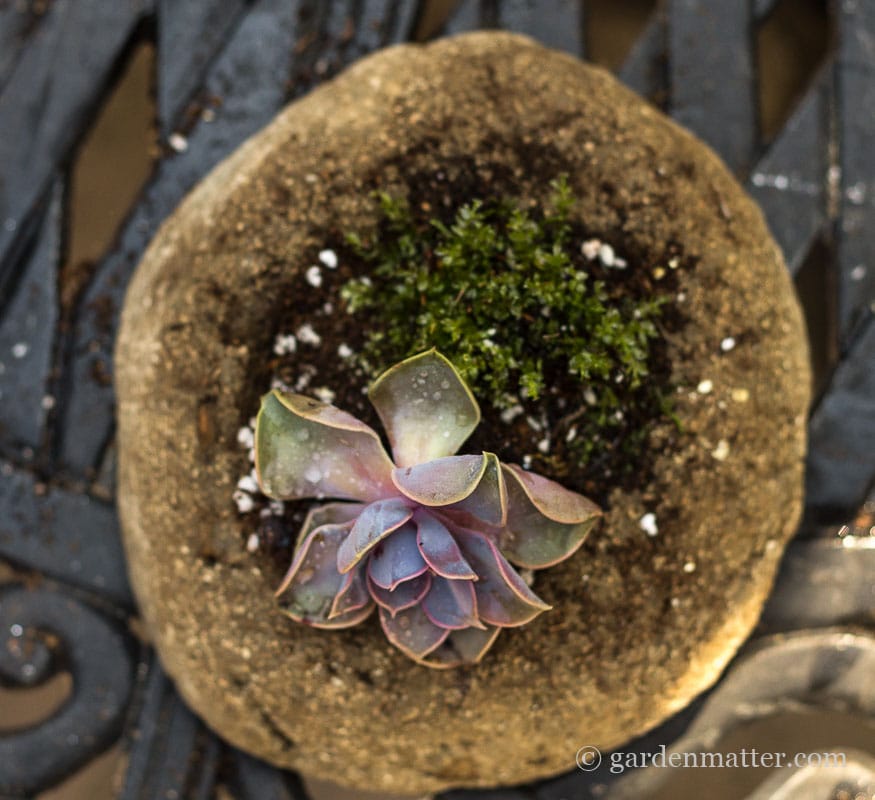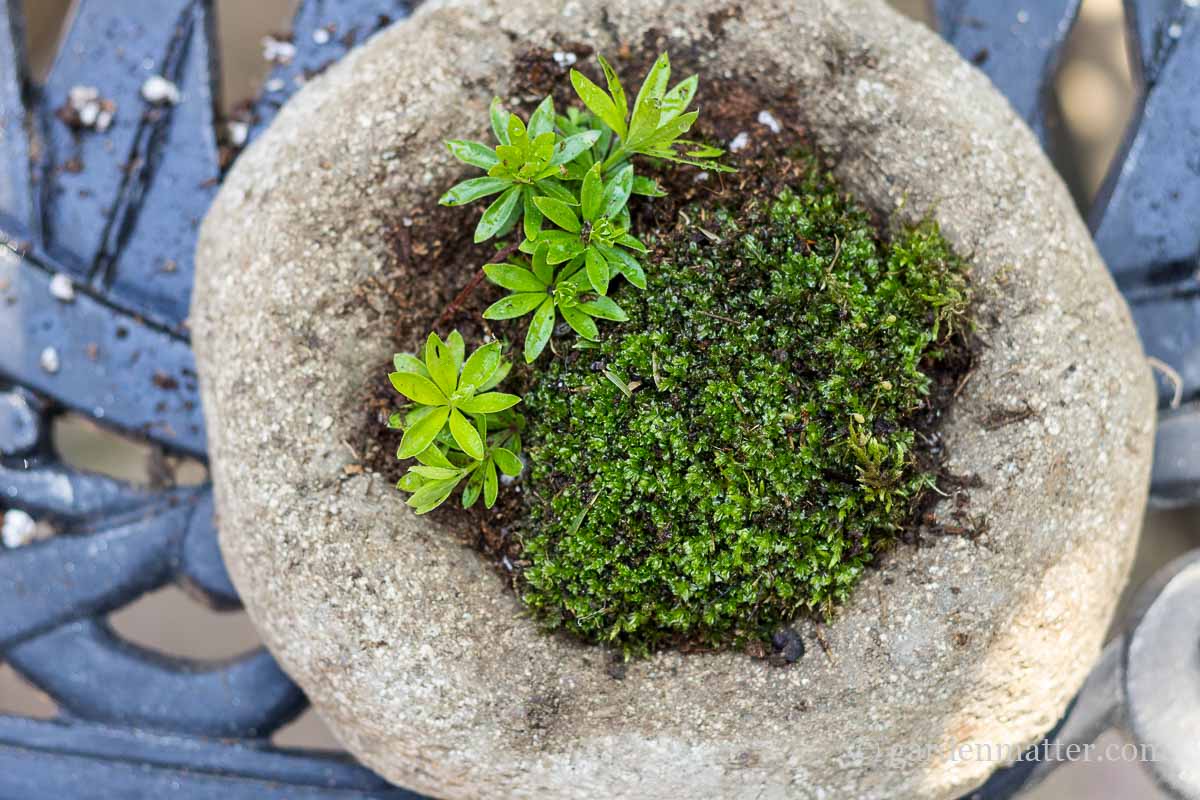 Wouldn't they make a fun little gift?
Why not try adding a little water with pebbles in one, to set out for the butterflies and bees. A little bee bath is just one way to help with our diminishing pollinator problem.
I hope you enjoyed my take on this popular garden craft, and if you haven't tried making a hypertufa planter, maybe this tutorial will inspire you to try making one of your own. For more information visit Blue Fox Farm or The Hypertufa Gardener. Both have tons of information on all kinds of hypertufa projects.