Making grilled pizza is pretty easy, and gives you that artisanal feel of a brick fired oven, all in the comfort of your own home.
Back when I used to live next door to my older sister, I had a pleasure of eating grilled pizza, topped with fresh veggies from her garden. Recently I talked to her about this memory, and she shared some of her tips.
Tip 1
Make sure the grill is very hot.
Tip 2
Coat the pizza dough, on both sides, with lots of olive oil. You will need to flip the dough before adding your toppings.
Tip 3
Cook your toppings (except the cheese) before placing on the dough. I sauteed a tomato medley, garlic, a hot banana pepper, and some fresh basil.
Tip 4
After you place the toppings on the dough turn down the grill to low and let it cook.
After I removed the pizza from the grill I added additional fresh basil.
As you can see it wasn't perfect looking but I can tell you it tasted fantastic. The dough was nice and crispy, and the fresh mozzarella was nicely melted. It reminded us of those artisanal pizzas, made in wood or brick fired ovens.
If you think you will enjoy this recipe you may also be interested in trying my recipe on a herb infused pizza dough. I bet it would be great on the grill.
Yield: 2 - 4
How To Make Grilled Pizza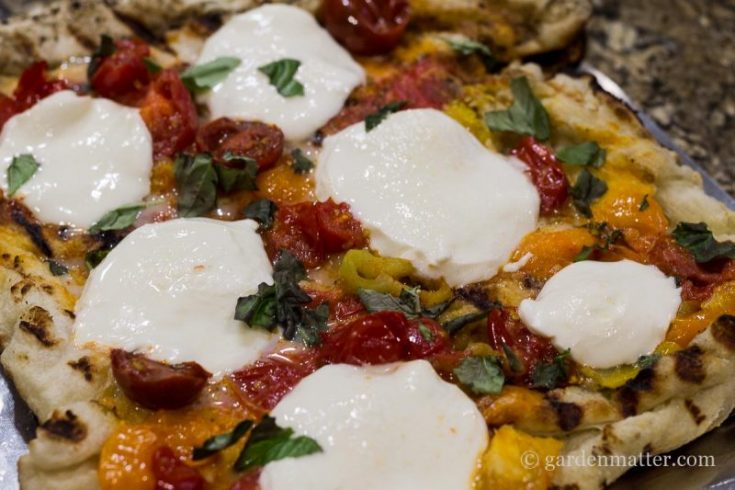 Ingredients
1 package of Pillsbury pizza dough
6 tablespoons of olive oil
1 large clove of garlic minced
1 cup of mixed grape and cherry tomatoes sliced in half
1 banana pepper finely chopped
8 ounces of fresh mozzarella sliced
1/4 cup fresh basil leaves.
Instructions
Heat grill on high.
Saute tomatoes, peppers, garlic and 1/2 of the basil in 2 tablespoons of olive oil, stirring to ensure the garlic does not burn and until the tomatoes start to break down, about 5 min. Set aside.
Unroll pizza dough and heavily coat with remaining olive oil on both sides.
Once grill is very hot place dough on grill for about 1-2 minutes and then flip.
Let cook another minute or so and flip back over.
Turn grill down to low.
Add sauteed veggies and sliced mozzarella.
Close lid and cook for 4-5 more minutes or until the cheese is melted.
Remove from grill and add more chopped fresh basil.
Cut and serve immediately