While out to dinner the other night a friend shared her and her husband's idea of mixing herbs into dough and making pizza. It sounded really interesting so I thought I'd give it a try.
Herb Infused Pizza Dough
I used fresh chives, basil and parsley. I'm might be able to use dried herbs but they are much more concentrated so you will want to use them sparingly.
Using frozen pizza dough from the grocery store I rolled out the dough a bit. Then I tried folding the herbs into the dough. My husband, former pizza maker from his high school days, helped me by showing me how to incorporate the herbs by making a dough ball with his hands. We cooked the dough for 10 minutes at 400 degrees, per the dough manufacturers instructions, then add our toppings and cooked for another 10 minutes.
We made two pizzas. First, a classic Margherita pizza with tomato sauce and fresh mozzarella and a little bit of fresh basil.
Second, a white pizza made with sauteed mini heirloom tomatoes in garlic and olive oil, topped with a mix of fontina and Asiago cheese.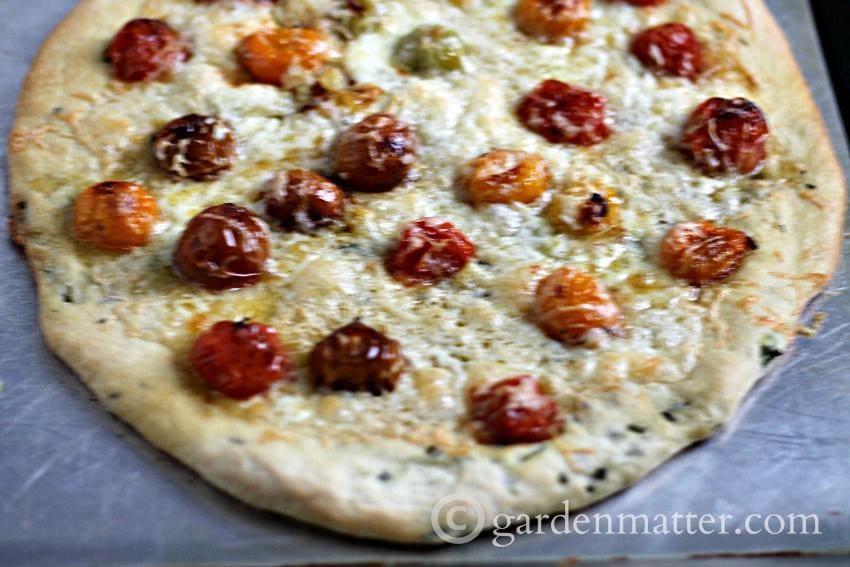 They turned out great. I will definitely try this again.
Thanks to Steve and Jean for the wonderful idea.
You May Also Like: