This wild black raspberry ice cream pie is super easy to make. And, it's so tasty, you'll want to eat the whole thing in one sitting.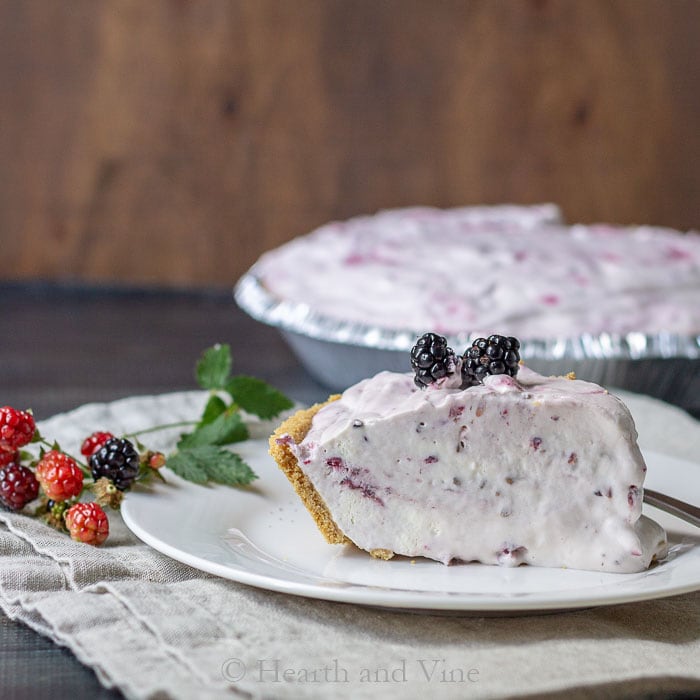 I've been wanting to try making no-churn ice cream for a while.
I found these yummy wild black raspberries growing in my azalea bushes at the corner of my house. I remember gathering these as a child at the Girl Scout Camp.
You might wonder if these are blackberries or black raspberries. You can tell, according to this article, among other factors, by the color and shape of the stems and leaves.
I managed to collect a good half cup and thought they would be perfect to flavor the ice cream.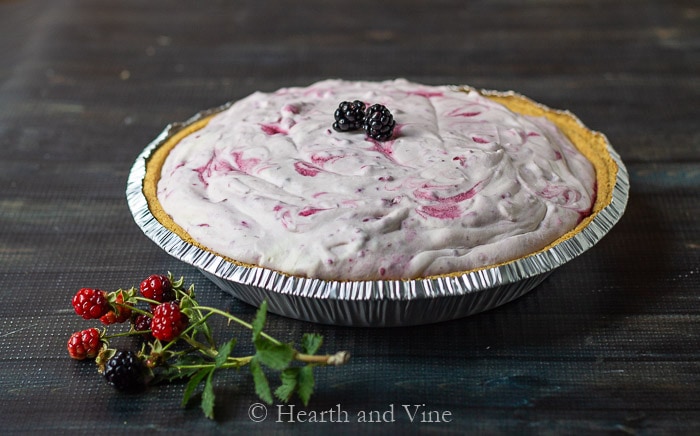 Since I had some prepared graham cracker crusts in the pantry, I decided to make a wild black raspberry ice cream pie.
My daughter was visiting and suggested adding a little bit of the puree on top to make decorative swirls. That beautiful red color was a nice touch.
It really was simple to make and tasted great.
I'll definitely be making this one again. I may even try it with my Easy Ice Cream Brownie Cake recipe.
The hardest part is waiting the 5-6 hours for the pie to chill.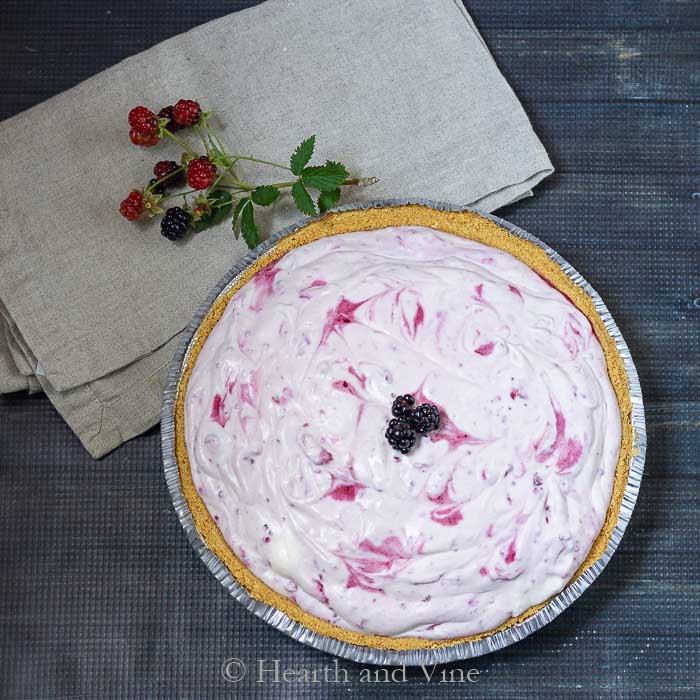 Wild Black Raspberry Ice Cream Pie
Ingredients
1/2 cup wild black raspberries
2 cups heavy cream
1 can (14 oz) sweetened condensed milk
1 teaspoon vanilla extract
1 9 inch prepared graham cracker crust
Instructions
Wash and dry berries
Place berries in a food processor with a little bit of water (approx. 2 tablespoons.)
Pulse to make a puree.
Whip heavy cream in a large bowl until stiff.
Fold sweetened condensed milk and vanilla into the cream.
Add berry puree.
Pour into a prepared graham cracker crust. 
For added decoration drop a bit of leftover puree on the pie and swirl with a toothpick.
Freeze for approximately 5 hours.
Once frozen it should be served immediately.