See how easy you can create festive Christmas tree planters to adorn your front porch with inexpensive items in a short amount of time.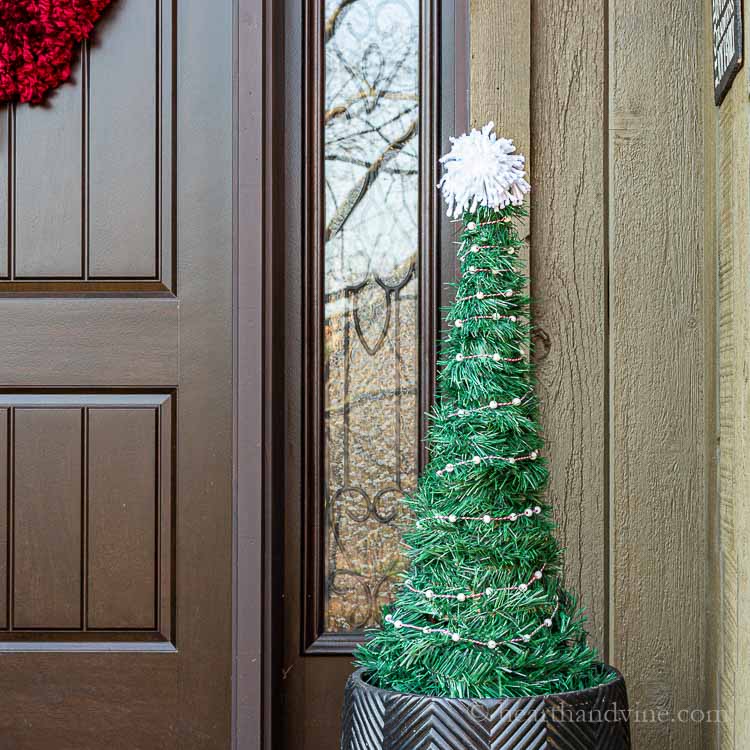 Once you decide to place large planters on your front porch you may not want to move them after the gardening season is over. I decided to incorporate my two large black planters as part of our front porch Christmas decor this year.
With just a few inexpensive items you can make a simple Christmas tree like this one or change it up with your own decorative touches.
How to Make Christmas Tree Planters
Supplies
6 dowel rods - 3 for each pot
Faux garland - I used 3 packages of 15 feet garland from Dollar Tree for each pot.
Decorations - I made a red and white beaded garland with twine and wood beads
Rubber bands
Yarn to create a pom pom to top the tree
You can buy dowel rods at craft stores or hardware stores. They are also available online but seem to be much more expensive. You'll need three for each pot but you can decide how tall you want the overall tree to be by purchasing the length you desire.
Stick the rods evenly spread apart directly into the soil and form a teepee.
Then use a thick rubber band to secure them together at the top.
Next, begin wrapping the garland from the bottom to the wood structure. I used three packages of fifteen feet rather thin garland from the Dollar Tree. However, you may have leftover garland from prior years of decorating, or you could purchase thicker garland. In that case, the amount may vary.
You could quit there or add some twinkle lights. I wanted to bring in some red and white accents to complement the red pom pom wreath on the front door. So I used a fun red and white twine and added some white beads in 3-4 inch intervals before wrapping it around the tree.
The top of the tree is decorated with a single white yarn pom pom. This is a loose pom pom just like the ones I made to create the red wreath. They are so much easier to make and I like the informal relaxed look.
For those of you who are concerned about the weather, so far we have had some rain and snow. However, since this is a small covered porch it really hasn't affected the yarn at all and the other items are perfectly fine for outdoors.
This Christmas front porch is pretty simple this year but somehow that feels just about right.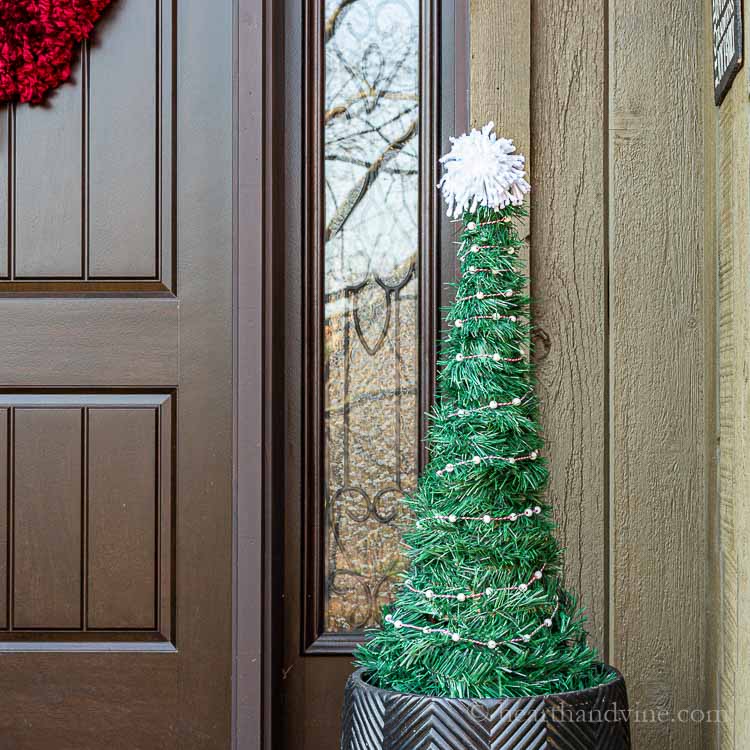 Print
Outdoor Christmas Tree Planters
See how easy you can create festive Christmas tree planters to adorn your front porch with inexpensive items in a short amount of time.
Materials
3 1/2

inch

dowel rods about 2 feet long

rubber band

45

feet

of faux garland

5

yards

of red and white twine

50

white beads

medium weight white yarn
Instructions
Remove old plants from planters but leave the soil.

Place three dowel rods into the soil and gather them at the top to create a teepee effect.

Use a rubber band to secure the dowel rods together at the top.

Begin wrapping the faux garland around the dowel rods until they are completely covered.

Check for open areas or bald spots and adjust accordingly.

String beads onto red and white twine at even intervals about 3-4 inches apart, tying a knot at the ends.

Wrap the beaded garland around the tree.

Create a pom pom out of white yarn and tie it to the top of the tree.
Notes
You can use longer dowel rods to make a taller tree. Keep in mind that you will need to buy more garland and possibly more beads for a taller tree.