This fresh cranberry dump cake is an easy homemade dessert. The taste is both sweet and tart making it a wonderful end to any holiday meal.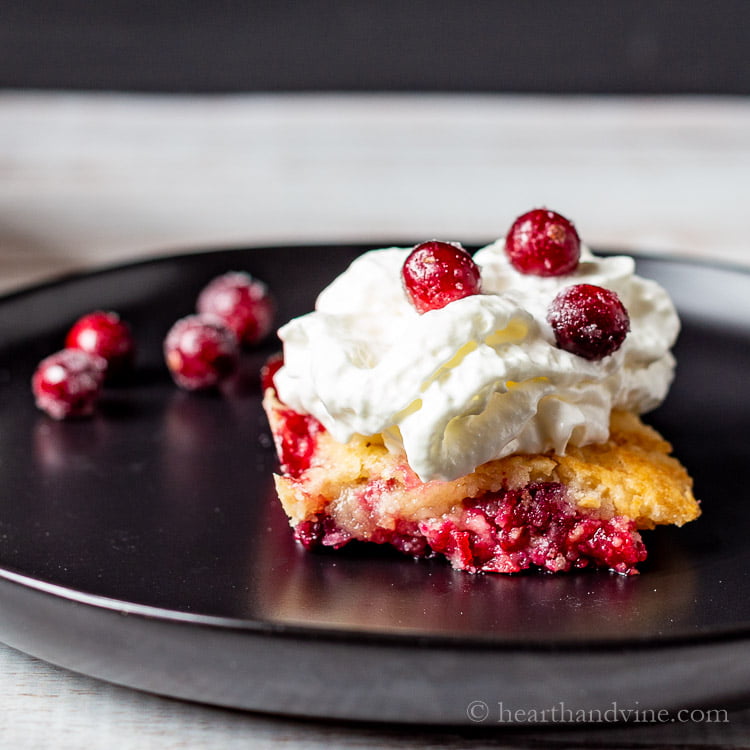 A while back I made my friend's mother's Peach Delight cake. This is actually just peach dump cake. However, I changed it up a bit by using fresh peaches and it was a big hit.
In case this is new to you, a dump cake is just what it sounds like. A cake where you literally dump everything into a baking dish to create a yummy dessert.
Since cranberries are harvested once a year during the fall I always love to try and find something delicious to make with them. So for Thanksgiving this year I thought I would make a fresh cranberry dump cake. Technically, my cake requires a little prep but the result is definitely worth it.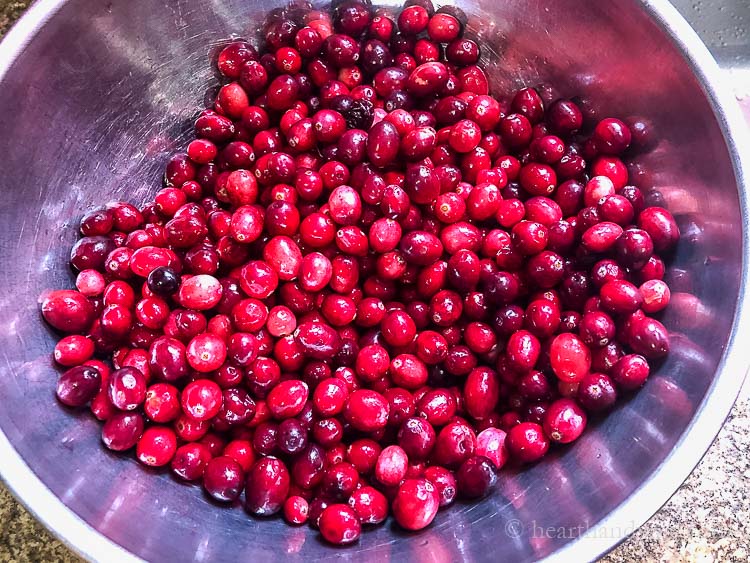 How to Make Fresh Cranberry Dump Cake
Start with fresh cranberries. You do need to rinse them and pick out any stray stems or bad looking berries first.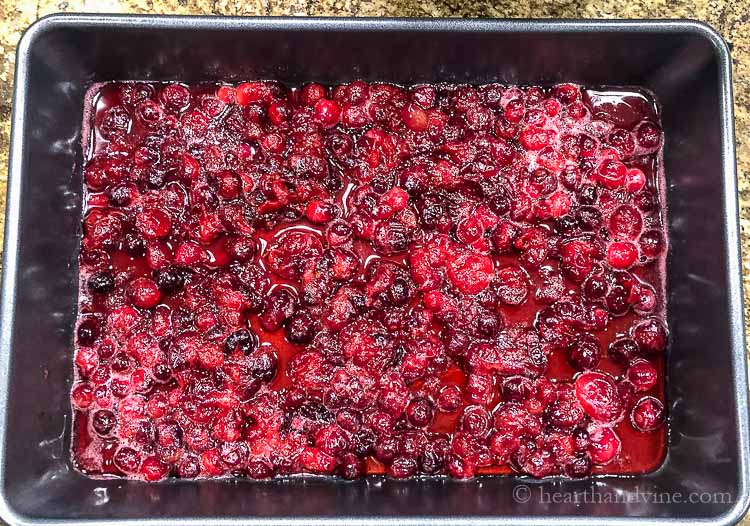 Next, you need to cook them down with a little bit of water and sugar. This only takes about 5-10 minutes. If you wanted to make a true dump cake you would be using canned or jarred fruit in this step.
The fruit base is then poured into a 9 x 13 inch baking pan.
Then you take an entire box of cake mix and spread it evenly across the fruit. Technically not dumped but close enough.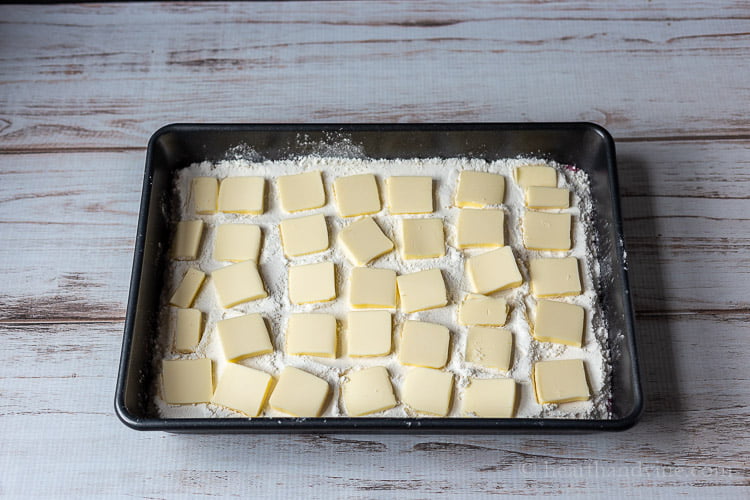 The final step is placing butter slices over the top. I know it looks like a lot of butter. However, if you were to make the cake you would normally add eggs and oil, perhaps a buttercream frosting too? Also, I haven't tried it but I think you could cut back on the total amount of butter and slice it even thinner to get good coverage.
The resulting cake is so beautiful, isn't it? It kind of looks like a cobbler or a buckle.
Cranberry Dump Cake FAQs
Can I use frozen cranberries? --- Yes. Just make sure that you drain them well after defrosting.
Could this be made in advance? ---You could definitely make this cake a day or two in advance. Just cover it well with plastic wrap and place it in the refrigerator. I'd also bring it back to room temperature before serving.
Can I use different kinds of cake mix? --- Yes, any kind of cake mix works with dump cakes. I used white but yellow or lemon would taste great.
For even more deliciousness, make some sugared cranberries to garnish each serving.
And, of course, don't forget the whipped cream.
I really love this easy dessert idea. The tart taste of the cranberries made this a truly delicious dessert. And, isn't it so pretty?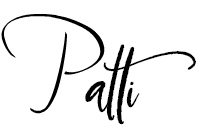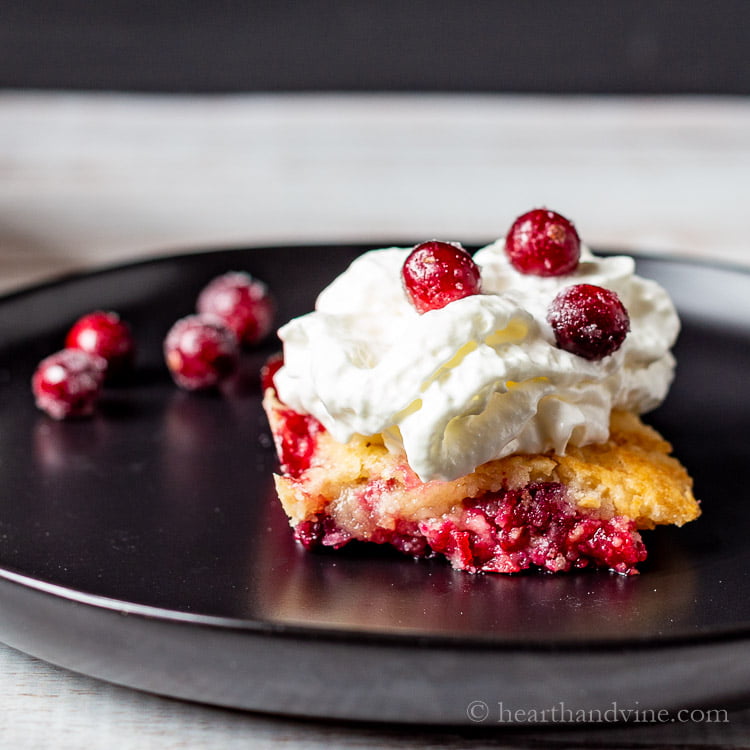 Fresh Cranberry Dump Cake
This simple cranberry dump cake uses just a few ingredients for a fast and delicious dessert idea.
Ingredients
3

cups

of fresh cranberries

1/2

cup

of fresh canberries for garnish

1/2

cup

granulated sugar

1

cup

water

1

box

15 oz white cake mix

3/4

cup

butter sliced thinly

2

tablespoons

of superfine sugar

can of whipping cream
Instructions
Preheat oven to 350 degrees F.

Rinse cranberries and pick out any bad berries or stems.

Make some sugared cranberries for garnish by placing 1/2 cup of berries in a small bowl. Dust with 2 tablespoons of superfine sugar and set aside.

Combine the remaining 3 cups of cranberries, water, and 1/2 cup granulated sugar into a saucepan.

Bring to a boil. Reduce heat and simmer for 5 minutes.

Remove pot from heat and allow to cool for a few minutes.

Place cranberries in a 9 x 13 inch non-stick baking pan or a greased pan.

Sprinkle the entire box of cake mix over the cranberry layer. Use the back of a spoon or offset spatula to even out the cake mix.

Place slices of butter evenly all over the cake mix.

Bake for 30 - 40 minutes until the top is golden brown.

Remove cake from oven and cool.

Serve with whipped cream and sugared cranberries.
Notes
You can use different kinds of cake mix, such as yellow or lemon.
Nutrition
Serving:
1
g
Calories:
328
kcal
Carbohydrates:
50
g
Protein:
2
g
Fat:
14
g
Saturated Fat:
9
g
Polyunsaturated Fat:
4
g
Trans Fat:
1
g
Cholesterol:
33
mg
Sodium:
411
mg
Fiber:
2
g
Sugar:
31
g