A great simple dessert from my friend's mother. Fresh Peach Dump Cake aka Peach Delight is so easy to make and perfect for any occasion.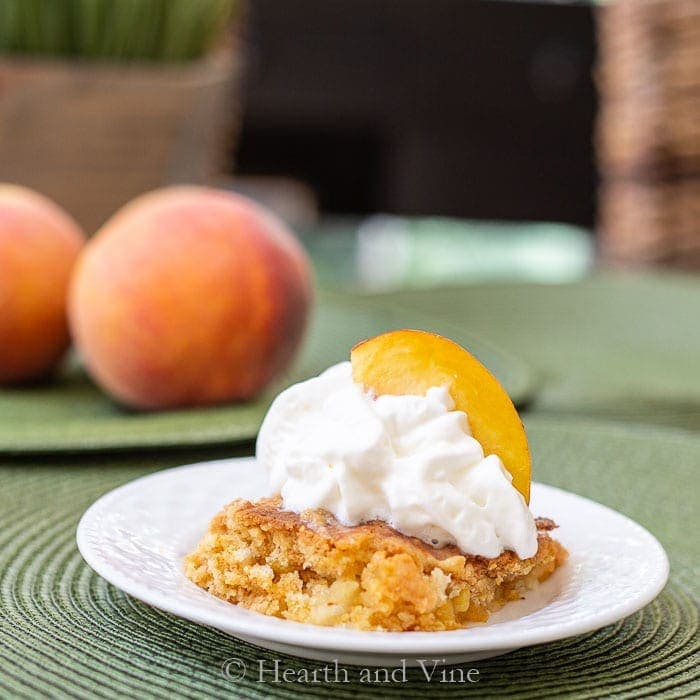 There's nothing like a fresh peach in the summer. While we were on vacation in South Carolina I made sure to take advantage of the freshest peaches and make my friend's Peach Delight recipe.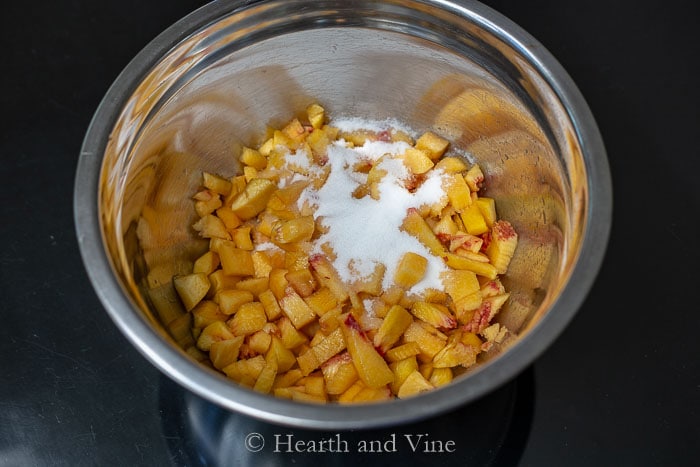 This recipe came from her mother and it's a dump cake recipe. If you haven't heard of this, a dump cake is simply a cake that you make by dumping a few ingredients into a pan and baking it.
In this recipe, you can use a large can of diced peaches, but I decided to use fresh peaches as they were ripe for the picking. 🙂 I did add a little sugar and water because I wanted to make sure that there was enough liquid for the cake mix to absorb.
You need enough peaches to cover the bottom of the pan.
Then layer your cake mix and butter slices.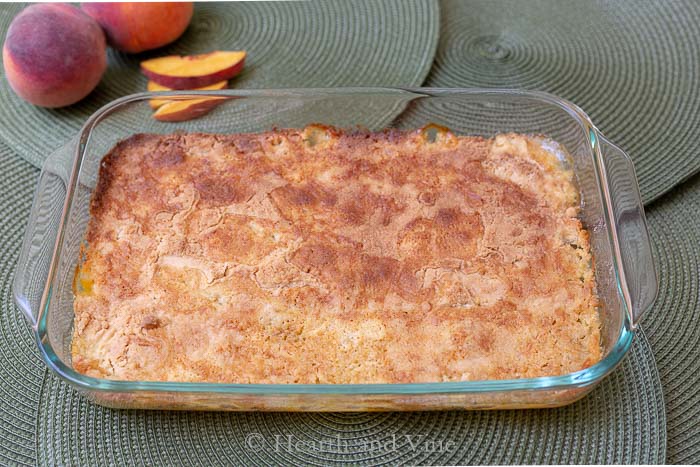 Not the prettiest looking cake on face value which is why you want to serve it with whip cream and a peach slice.
It's nice and dense. The fresh peaches add a great fresh and tart flavor the whole family will love.
This fresh peach dump cake is perfect for vacation because you don't need any fancy equipment and very few ingredients. Plus it makes a good 18 – 24 servings. Just the right amount for our large family.
Fresh Dump Cake Variation Ideas:
Blueberries
Raspberries
Blackberries
Strawberries
Pineapple
Mango
Pear
Plum
I don't think apples give off enough juice but you could heat them on the stove but that would add an extra step.
Try combining two fruits together. I think blueberries pair well with peaches. I even made a blueberry peach cobbler using sugar cookie dough. Another simple and very tasty dessert.
Yield: 12 - 18
Fresh Peach Dump Cake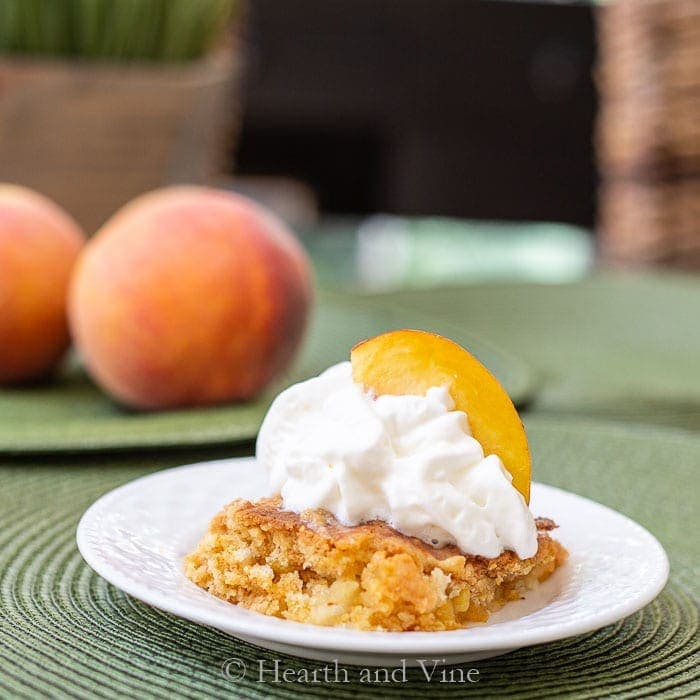 Ingredients
4 cups peeled and diced peaches
1/3 cup sugar
1/4 cup water
box yellow cake mix
3/4 cup butter sliced thinly
1 can whip cream
additional peach slices for serving.
Instructions
Preheat oven to 350 degrees
Combine diced peaches and sugar in a bowl for 20 minutes.
Add water and stir.
Pour peach mixture into 9 x 13-inch baking pan.
Sprinkle dry cake mix evenly over peaches.
Arrange butter slices evenly over cake mix.
Bake for 30-40 minutes until the top is golden brown.
Remove and cool.
Cut into squares and serve with whipped cream and a peach slice.