This recipe for blueberry peach cobbler is made with a sugar cookie topping and is a great way to use fresh from the summer.
When I was a kid I remember my mother making cobbler with peaches that we just a little too ripe to eat, but not so far gone that she needed to throw them out. So this is a good use of any fruit that is getting past it's prime. In that case, I would skip the added sugar.
In this cobbler, I also used mom's sugar cookie recipe for the topping, however, you could easily use a ready-made cookie dough from the store. This would work well if you were away from home, and did not have a lot of ingredients on hand. It reminds me of the muffin pies that I made last year at our beach house. The local fresh fruit is the star, so you don't need to do a lot to it.
Wash your fruit and cut up the peaches in small pieces. I always try to keep anything that cooks together, somewhat close in size, so that they cook at the same rate.
Then I add lemon juice and sugar if the fruit is not very ripe, but you can skip both if you want.
Make your cookie dough and drop it on top.
Bake in the oven on the bottom shelf, so the dough doesn't burn.
Of course, this tastes great with vanilla ice cream but it's pretty good just on its own.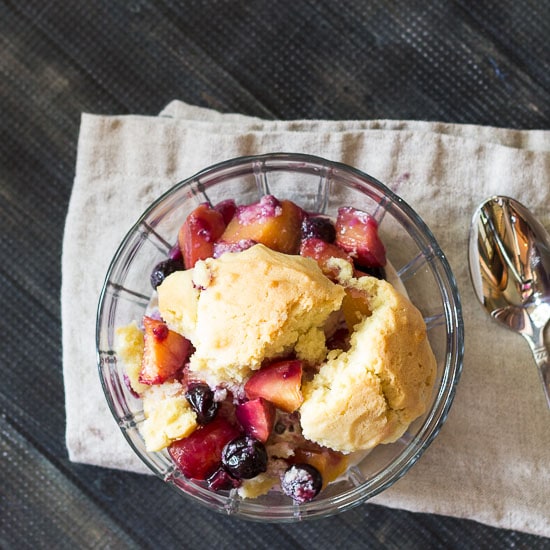 Blueberry Peach Cobbler
Ingredients
Filling
4 large ripe peaches
1 cup fresh blueberries
1 tablespoon sugar
juice of 1/2 lemon
Topping
1/2 cup butter
3/4 cup confectioner sugar
1/2 teaspoon vanilla
1 egg
1 1/4 cup flour
1/2 teaspoon baking soda
1/2 teaspoon cream of tartar
pinch of salt
Instructions
Wash fruit and slice up peaches and cut into small pieces.
Toss with blueberries, sugar and lemon juice
Grease an 8 x 8 inch baking pan
Add fruit and top with batter by dropping spoonfuls all over the fruit.
Bake at 375 degree for 30 minutes or until the crust is brown and the fruit is bubbling.
Let cool and serve alone or with ice cream or whipped cream.Topping
Cream butter and sugar.
Add vanilla and egg, beat well.
In a separate bowl combine flour, baking soda, cream of tartar and salt.
Add flour mixture to wet ingredients and mix well.