Spiced plum pie made in a rectangle slab style shape, can be a beautiful rustic looking dessert, that tastes as delicious as it looks.
I really liked the idea of the "slab pies" I've been noticing online. The concept of pie, where the ratio of crust to filling is a little more equal, sounded like a fabulous idea. So I tried making a spiced plum pie in a large sheet pan to take to a party, and though I'm not sure if it was more of a tart than a pie, the result was delicious. I've given you my version of Pate Brisee below as part of the recipe for the crust, but you can use any pie crust you want, even store bought. Also in this recipe I used cherry preserves, but you can use any flavor that you like.
Plums are especially good in the late summer, but it seems like they are available in the grocery store practically year round. Of course, you could try it with other fruit.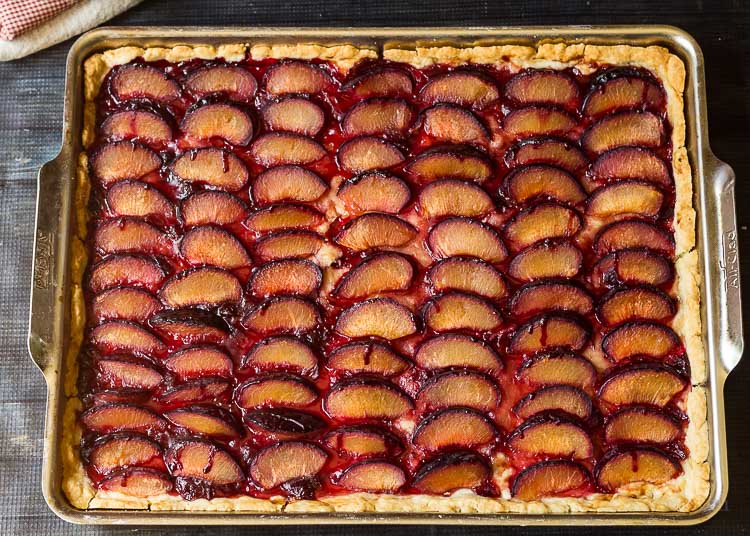 I really like the rustic look of this slab pie.
Spiced Plum Pie
The best part is the number of servings you get when making a pie in a sheet pan. Also, your guests can feel good about having a little slice, and possibly adding a scoop of ice cream, because a slice of this pie is not nearly as much as a typical round pie. However, it's tastes just as sweet.
Spiced Plum Slab Pie Recipe:
Spiced Plum Slab Pie
Ingredients
Filling
8-10 ripe plums, sliced
2 tablespoons sugar
1/2 cup cherry preserves
Cinnamon Sugar
1/2 teaspoon ground cinnamon
4 tablespoons sugar
Crust
2 1/2 cups flour
2 sticks butter, cold and cut up into small pieces
1/2 teaspoon salt
1/2 teaspoon sugar
1/2 cup ice water
Instructions
To make the crust start with combining the flour, salt and sugar in a food processor
Add butter and pulse just enough to incorporate. About 10 pulses.
Slowly add water while processing just enough until the dough comes together.
Take out dough and split in two.
Flatten and wrap each piece in plastic and place in refrigerator for 1 hour.
Combine sliced plums and 1/2 of the cinnamon sugar in a bowl. Cover and let rest while the dough sets.
Roll out dough and place in a jelly roll pan. 
Poke the dough a few times with a fork.
Spread cherry preserves all over dough.
Arrange plums 
Sprinkle with remaining cinnamon sugar
Brush a little melted butter on the edges of the crust
Bake at 375 degrees for 50 minutes to an hour.
Remove from oven and let cool. Serve as is or with a little vanilla ice cream on the side.
You May Also Like: