Here's tasty, tart and sweet dutch apple pie recipe that is a family favorite. Serve with a scoop of vanilla ice cream for a delicious dessert.
I'm really not a big fan of pie. So many of them have this gooey filling, and the crust can be dry, however, my mother used to make a dutch apple pie that I loved. Instead of an upper crust, she used a crumble topping somewhat like apple crisp. It was a family favorite. To this day we still joke about the memory of my mother's dutch apple pie, because we knew that if she made it, chances were good that our Uncle Bill was going to visit.
Favorite Dutch Apple Pie
Sadly, my mother's specific recipe went to the grave with her, so I've had to come up with my own version. Luckily one of my best girlfriends shared with me some of her secrets for her Dutch apple pie, which is pretty close to mom's original.
I like to use Granny Smith apples because they are crisp and tart. You can really use any apple you like but I think the crisp and tart apples work best. Honeycrisp apples are good but pricey. Another good one is Braeburn, which I also like for eating.
I also confess to using frozen pie shells, because when you're making three pies for a holiday dinner you need 18 apples and that is a lot of cutting, peeling and chopping. Making your own pie crust takes just that much longer.
I do have a few tips to share.
When filling the pie shell make sure that you mound up the apples in the center, then do your best to spread on the crumble topping. As the pie cooks the apples will shrink down and settle into place.
Make sure you have a cookie sheet under the pie. Chances are good that juices from the apples will bubble over, and onto the bottom of the oven if you don't.
Check on the pie about 2/3 of the way through the cooking time. If the pie crust is brown but the topping is not, cover it with a bit of foil to prevent burning.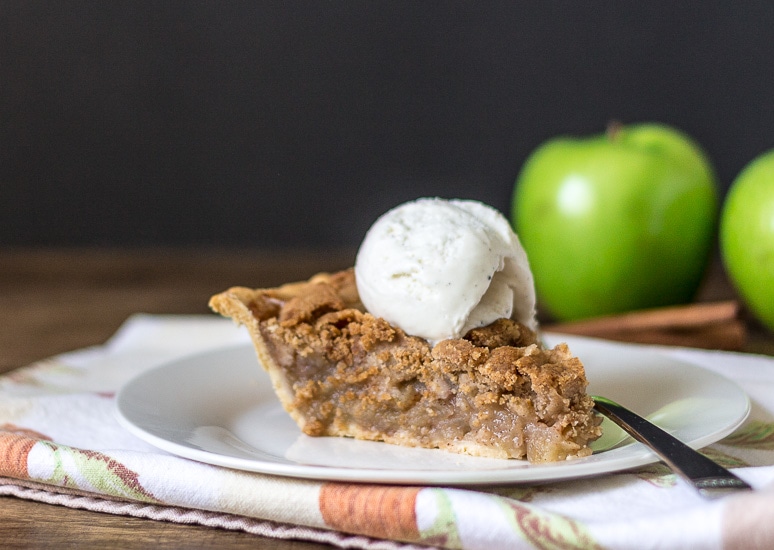 Yield: 6 -8
Our Favorite Dutch Apple Pie Recipe
Total Time
1 hour
30 minutes
Ingredients
6 large Granny Smith Apples, cored, peeled and sliced thin
1 cup of flour
3/4 cup sugar
1 teaspoon of ground cinnamon
1 frozen deep dish pie shell
Topping
1 cup flour
1 stick of butter melted, 1/2 cup
1/2 cup brown sugar firmly packed
1/2 teaspoon ground cinnamon
Instructions
Preheat oven to 375
Toss the apples with flour, sugar, and cinnamon in a large bowl.
Transfer to the pie shell, mounding the apples in the center.
In a separate bowl combine flour, melted butter, brown sugar and cinnamon.
Carefully spread on top of the apples.
Cook for 1 hour or until the topping and crust are golden brown.
Notes
Keep an eye on the pie about 1/2 - 3/4 of the way through. Sometimes the crust cooks faster and will need to be protected with foil to prevent burning.
Also, place pies on a cookie sheet to catch any overflow of juice bubbling from the pie as it cooks.