This cranberry pear galette is beautiful fall dessert, with an easy rustic foolproof crust that anyone can make.
More fabulous Fall Recipes:
Spiced Plum Slab Pie, Apple Dumplings, and Cranberry Orange Bread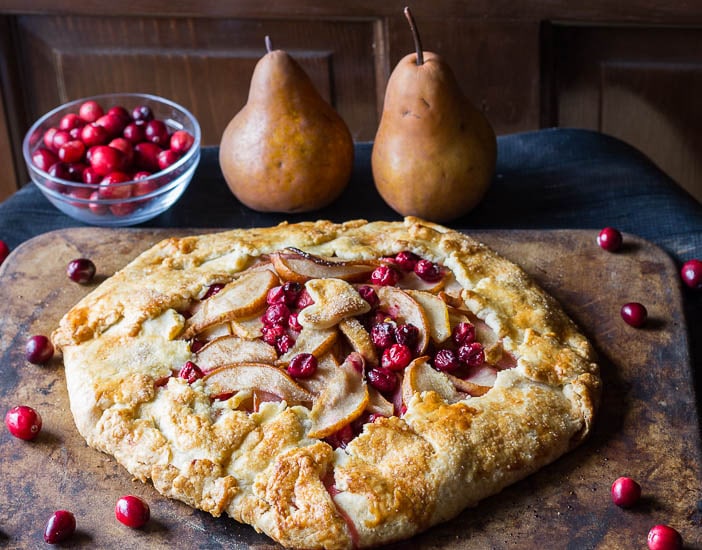 Fresh cranberries have finally made it to the stores and I couldn't wait to make something with them. I ended up going with a cranberry pear galette because both are in season and when you make a galette the crust is very forgiving and it also shows off the filling.
Sugar and cinnamon were added to the fruit but no cornstarch, lemon or other ingredients. I also left the skin on the pears. It added a nice color and since they were fresh the skin was thin and tasty.
A little egg wash made with one egg and a teaspoon of cream made this crust golden brown. I also added a sprinkle of sugar on top for added sparkle.
Cranberry Pear Galette
The final touch was a small heart made from some of the dough, placed in the center of the pie.
Cranberry Pear Galette
Ingredients
Crust
2 1/4 cups flour
2 sticks butter (1 cup) cut up into small pieces
1/2 teaspoon sugar
1/2 teaspoon salt
ice water (about 1/2 cup)
Filling
3-4 fresh pears cored and sliced, bosc or anjou
11/2 cup fresh cranberries (approx. 6 oz)
1/2 cup sugar
1/4 teaspoon ground cinnamon
egg wash
1 egg slightly beaten
1 teaspoon heavy cream (can substitute milk)
Instructions
Make the crust by mixing the flour, salt and sugar in a food processor.
Add butter and pulse
Add ice water as the processor is mixing until the dough just comes together.
Remove form into a flat ball, wrap in plastic and refrigerate for 1 hour.
Meanwhile toss the cranberries, pear slices, cinnamon and sugar in a large bowl.
Preheat oven to 350 degrees
After the dough has been refrigerated for one hour remove and roll out into a 1/4 to 1/8 inch thick circle or something close to a circle.
Place the dough on a baking sheet and then pile up the filing in the middle of the dough.
Then fold over the outside edges, about 2 inches.
Brush with the egg wash and bake for about 1 hour at 350 degrees.