This DIY pallet centerpiece is perfect for a beautiful Christmas table with just two pallet boards. An old belt is used for handles making it easy to pick the entire centerpiece up and move out of the way in time for dinner.
Christmas is just around the corner and even if you are just celebrating with a few people creating a beautiful tablescape can really help you enjoy a special dinner at home.
Today I'm sharing my Christmas table decorations as part of a huge Celebrating Christmas Tour. If you are coming over from What Meegan Makes, welcome! Meegan's style is as sweet as her personality. There are bloggers sharing Christmas tree ideas, wreaths, and some like Meegan and myself who are sharing Christmas tablescapes and centerpieces. Jane and Sonja from Sustain My Craft Habit are next in this blog hop so don't forget to stop and see what their Christmas table is like.
A big thanks to Leen at Sand Dollar Lane and Amy from Atta Girl Says for putting this tour together! See all the details at the bottom of this post.
But first, take a look at this beautiful fragrant Christmas pallet centerpiece project.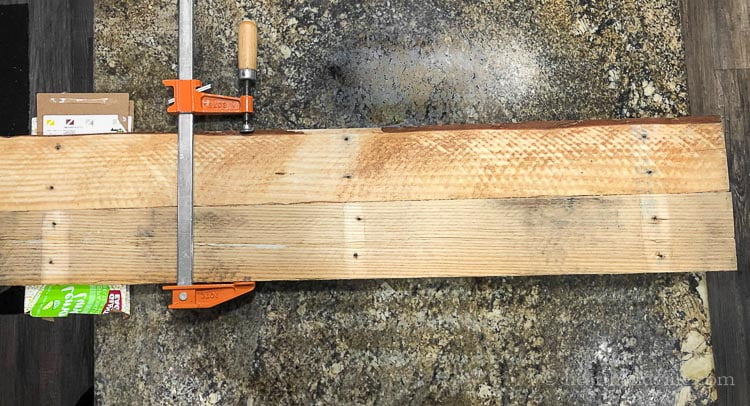 Making a Christmas Pallet Centerpiece
We had some leftover wood pallet boards from my pallet garden last spring. I glued two of them together in a wood clamp overnight.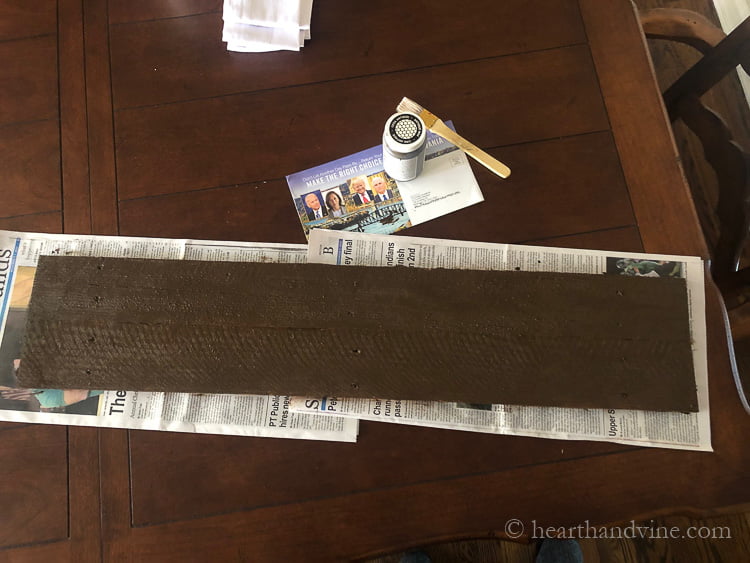 Next, I used some dark antique wax to give it a darker uniform look. You could use stain or paint, whatever you have on hand.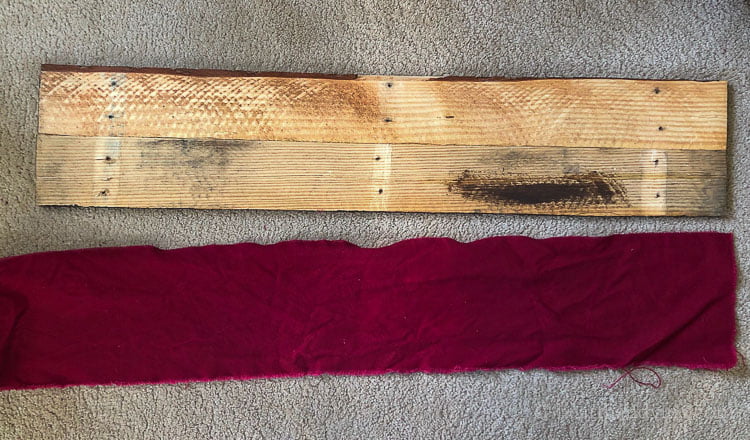 On the bottom I covered the wood with some red flannel fabric, to give it a finished look and to protect the surface of our table.
You can still see some of the nails on the right side but the flannel was thick enough to keep it from scratching.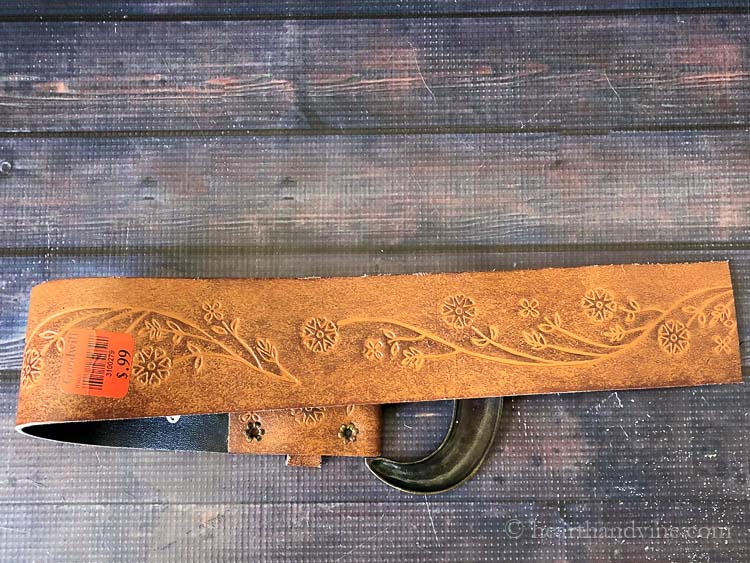 I kept this cute old belt that I bought at Goodwill. Originally I used some of it to make a leather bracelet. This time I used it for handles.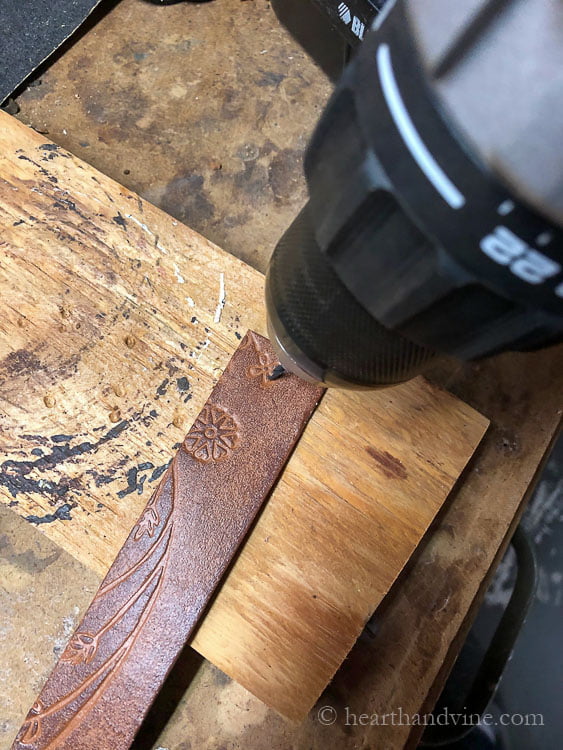 I cut strips of the belt about 1 by 5 inches for each side of the pallet boards. Then I drilled pilot holes on each end.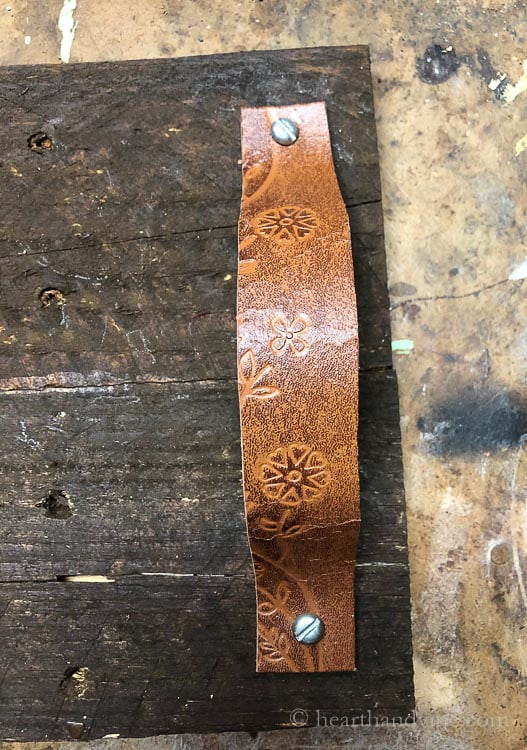 That made it easy to manually screw in some simple screws. Just make sure your screws are not so long that they come through the other side.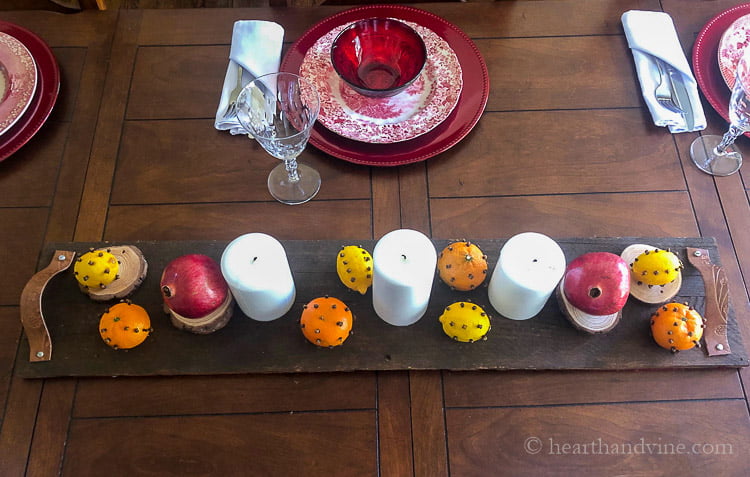 Cute, huh? The handles make it easy to move for dinner.
Now for the decorating. I started with white pillar candles. Then I added clementines and lemons studded with whole cloves. A couple of pomegranates for a little red color are added in. Also, I used a few wood slices to add height. You can find other things around the house to use as risers such as lids from jars and containers and then cover them with the cedar before adding the fruit.
Next, I added fresh cedar and juniper among the fruit and candles. The greens cover the wood slices so you could really use anything for risers. Lids from jars, ...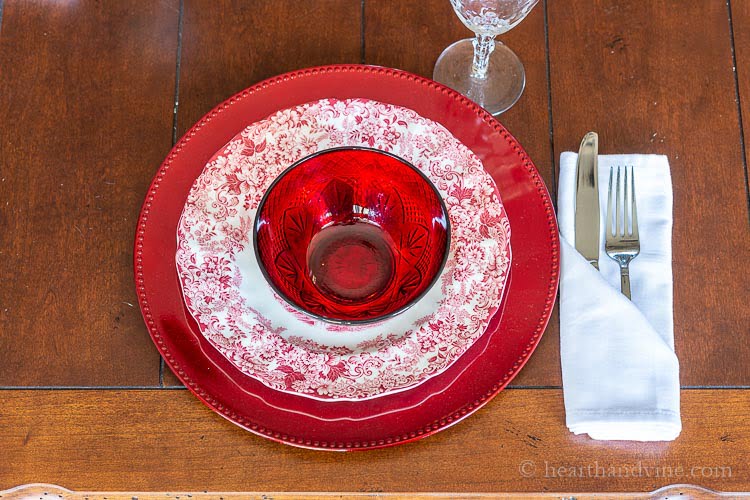 Once again I'm using my collected red transferware for this Christmas table. The chargers are from the dollar store and the bowls are reproduction depression glass I bought several years ago.
How to fold a napkin to hold silverware.
Do you like the way I set the silverware? Here's how you can fold a large square napkin to make a pocket for a knife and fork.
Start with a square napkin and fold it in half
Then fold it in half a second time.
Lift up one corner and bring it to the opposite corner.
Then flip the whole napkin over towards you.
Now fold 1/3 of the napkin from the top down.
Next, take the bottom third and fold it up placing the corner into the little triangular pocket.
Turn it over and you have a folded napkin with a pocket for your silverware.
Usually, I cover the table with a pretty tablecloth. However, this year I thought it would be nice to let the natural wood color show. I love the way it looks and it smells wonderful too. The great thing is you could easily make this pallet centerpiece several days to a week ahead. One less thing to worry about.
Print
DIY Pallet Centerpiece
This DIY pallet centerpiece is perfect for a beautiful Christmas table with just two pallet boards. An old belt is used for handles making it easy to pick the entire centerpiece up and move out of the way in time for dinner.
Equipment
Wood clamp

Sponge brush

Scissors

Drill and a small bit
Materials
2

wood pallet boards

wood glue

wood stain or antiquing gel

Flannel fabric or felt

Fabric glue

Old belt or strips of leather

2

small screws

3

pillar candles

Fresh cedar or other evergreens

2

pomegranates

4

clementines

4

lemons

whole cloves
Instructions
Glue two wood pallet boards together on one long side and clamp together until dry.

Use a wood stain or antiquing gel to cover the tops and sides.

Once the stain is dry glue some felt or soft fabric to the backside of the boards.

Cut a strip of leather, vinyl, or an old belt about 1 inch wide by 5 inches long.

Drill a small hole at each end of the leather strip.

Put the screws into the holes and screw them into the pallet at each end.

Decorate with white pillar candles, fresh greenery, and fruit studded with whole cloves.
Atta Girl Says // Harbour Breeze Home // Kippi at Home // A Life Unfolding
Thistle Key Lane // Aratari At Home // Postcards from the Ridge // What Meegan Makes
Hearth and Vine // Sustain My Craft Habit // My Family Thyme // Dabbling & Decorating
Worthing Court // The Tattered Pew // Zucchini Sisters // Sweet Pea
Noting Grace // Sonya Burgess Blog // White Arrows Home // The Little by Little Home