This recipe for low acid tomato chicken nachos uses the sweetness of the tomatoes to balance the spiciness of hot peppers.
For today's Tuesdays in The Garden we are talking garden to table recipes. Don't forget to check out some of the great recipes listed below.
Have you noticed the many yellow and orange tomatoes have less tang and more sweetness than red tomatoes? That's because they are lower in acidity. I love to pair them with other veggies like hot peppers and onions, to balance the heat with the sweet.
I learned this trick from my big sister, who used me be my neighbor when our kids were small. She and her husband grew a ton of tomatoes, peppers and other garden goodies.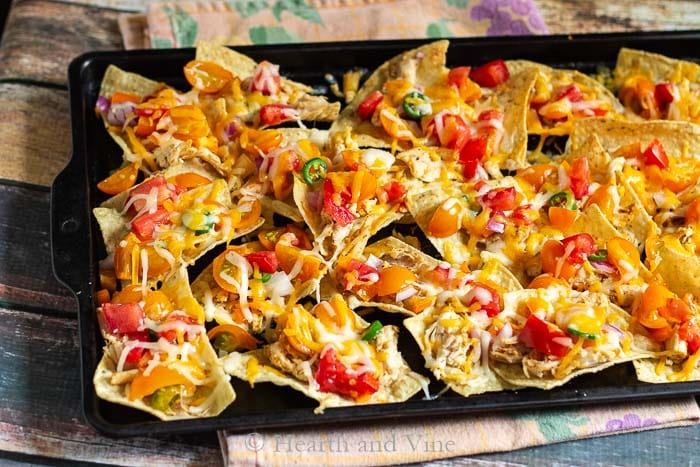 That is when I learned about low-acid tomatoes. I started growing them too. I remember one time my youngest picked one, took a bite out of it, and said, "I found a peach!" Those were the days.
One of the easiest to grow is the Sun Gold cherry tomato. They produce a ton of fruit, and are great for snacking. Even if you don't grow your own, you are likely to find them at any farmer's market or the local grocery store.
Here's a basic recipe for low acid tomato chicken nachos, but you can really go to town and make it your own. Add diced zucchini, chopped cilantro or fresh oregano. Mix up your cheeses. Choose your level of heat from bell peppers to the hottest habanero.
Don't forget to include the low-acid tomatoes. You'll be glad you did.
Low Acid Tomato Chicken Nachos
Ingredients
Restaurant sized tortilla chips
Shredded cooked chicken, chopped
Sun gold tomatoes cut into fourths, or other gold/orange tomatoes
Jalapeno peppers finely chopped
Red onion finely chopped
Red tomato finely chopped
Shredded cheese - Cheddar, Mexican blend
Toppings as desired such as diced avocado, sour cream, chopped olives....
Instructions
Saute chicken with a little olive oil and taco seasoning. A mix of cumin, oregano, garlic, onion and paprika works well in a pinch. Set aside
Lay your chips out on a cookie sheet.
Top with chicken, followed by peppers, tomatoes, and onions.
Add cheese and place under broiler for 2-5 minutes.
Remove from oven and add additional toppings such as sour cream, olives, gaucamole or diced avocados.

Now let's see what my fellow Tuesdays in the Garden friends are sharing this week.
Grilled Chicken with Fresh Raspberry Marinade @ Homemade Food Junkie
Oat Blackberry Muffins - An Oregon Cottage
Easy Cucumber Salad @ Frugal Family Home
Creamy Greek Chicken Marinade @ Simplify Live Love
Herbal Tea Garden Plants @ The Freckled Rose