If you like to collect gardening paraphernalia then I have something fun to show you. My friend Lisa, whose wonderful antiques and collectibles have been displayed here before, has shared with me, another wonderful garden-related collection.
This is a complete set of wildflower trading cards produced in the 1930s from the Wills Cigarette Co. That's right, cigarettes. In the time before the health professionals knew that smoking was very bad for your health, just about everyone smoked cigarettes, and these cards became a form of advertising for the manufacturer.
W.D. & H.O. Wills, a British tobacco importer and cigarette manufacturer from Bristol, England, was one of the first UK tobacco companies to include advertising cards in their packs of cigarettes. One of the first themes was "Ships and Sailor" however they made cards that covered everything from sports to entertainment, and even some curious ones like "Air Raid Precautions."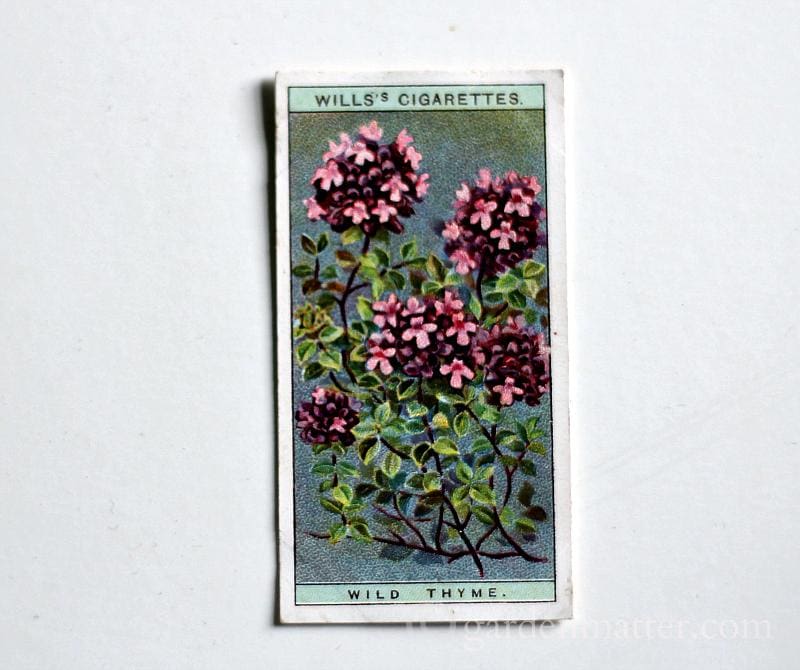 While researching these beauties I came across and article from Bob Villa talking about a set of Wills cards titled "Household Hints." The author talks about collecting the cards as an art called Cartophily. Yes, there is actually a name for people who collect cigarette cards.
According to an article from Wikipedia, one of the more notable cards was one of Honus Wagner, a baseball player from my hometown of Pittsburgh, PA from the early 1900s. This card was reported to sell for around 2 million dollars. Unfortunately this wildflower set is not as coveted. They can be found for sale on Etsy and Ebay in the $30-40 range for the set of 50.
Each card measures approximately  1 1/2" x 2 5/8." The front depicts a beautiful vivid picture of the flower and its common name.
On the back you will see the common name, the scientific name, and an interesting colloquial description of the flower.
The back side also has a number on it  from 1 to 50, so you will know if you have collected a complete set.
I had a lot of fun reading about each wildflower. Since they are native to the UK some of them are a little different from those in the US. Interestingly, like some plants one might consider weeds, many of these "wildflowers" are now hybridized and sold for a fair amount of money to the modern gardener.