Butternut squash pasta recipe with baby greens, ricotta, and toasted pine nuts is great any time of year but seasonal in fall.
I couldn't pass up all the wonderful fall veggies at the farmers market this week. I picked up a couple of butternut squash some acorn squash and a few mini pumpkins for decorating. I love to make butternut squash soup but I also love this squash roasted. Most of the time I roast it with other fall vegetables but today I'm sharing a tasty butternut squash pasta recipe with baby greens, ricotta, and toasted pine nuts.
Butternut Squash Pasta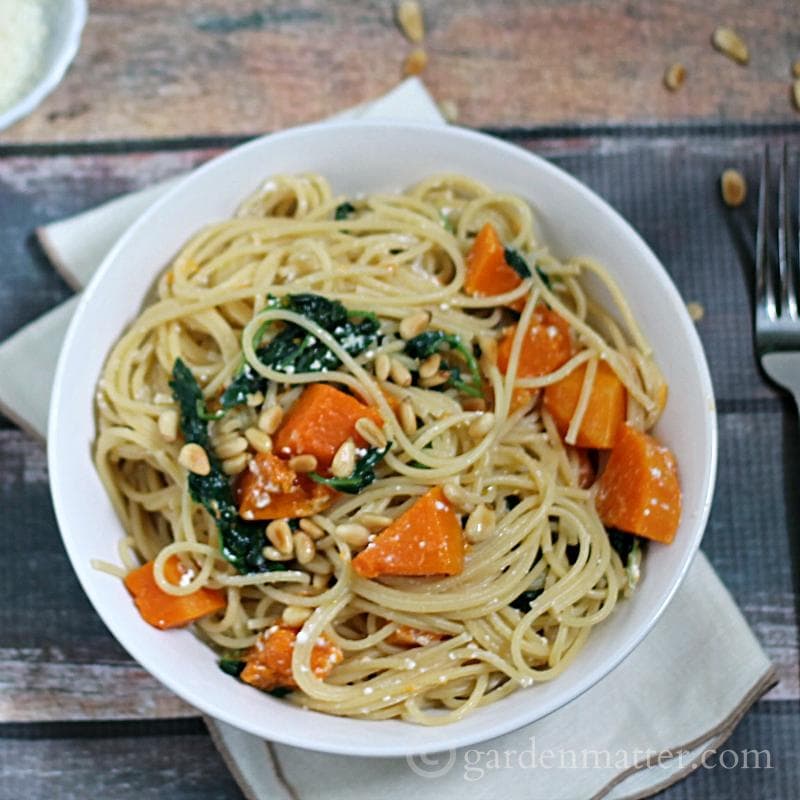 The hardest part is cutting the squash.
Here's what I recommend. First, cut the top and bottom off. Then cut it in half width-wise and then in half again. You now have four big chunks with flat tops and bottoms. This makes it easier to hold them steady while you shave off the skin with your knife. 
Next cut the bottom parts with the seeds in half lengthwise and scoop out the seeds and pulp. Now all you have to do is chop it all up into cubes.
I couple of notes: I only used one bag of greens but I think two might work even better. If you can't find a nice mix just use spinach.
Also, I only used 1/2 cup of ricotta but if you want it to be creamier you could increase this amount as well.  Adapt as you wish. I think mushrooms would be nice to add to this one. What would you add or change?
You May Also Like:
Roasted Fall Root Vegetables                 Butternut Squash Tart                    Butternut Squash Soup
Butternut Squash Pasta Recipe with Baby Greens
Ingredients
1 butternut squash peeled and diced into 1 inch cubes
1 5 oz . bag of baby greens, I used kale, spinach and chard
1/2 c ricotta cheese
2 cloves of garlic - minced or grated
1/2 cup of toasted pine nuts
1 pound of pasta
1/4 t of hot pepper flakes
Instructions
Toss the butternut squash cubes in some olive and sprinkle with salt.
Then roast them on a cookie sheet in a 400 degree oven for 20 minutes.
Set aside.
Once you have you pasta cooking in boiling water start the sauce.
Saute the garlic in a large saute pan with some olive oil on medium heat.
Add the greens and stir until slightly wilted.
Add the squash and pepper flakes.
The add the ricotta cheese and combine well.
Once your pasta is cooked add it the sauce and veggie mixture straight from the boiling water making sure to allow some of the pasta water to be included in the mix. Add as much pasta water as you like to make a little sauce.
Transfer to a large bowl or platter and top with roasted pine nuts.
Serve with Parmesan cheese.