This butternut squash tart with tomatoes, goat cheese and pepitas is a feast for the eyes and makes a great appetizer or delicious meal.
It seems like butternut squash is available any time of year. However, if you are growing this squash, or still shopping the farmer's markets, fall is the best time for this tasty vegetable. Or is it a fruit? Recently I picked up a nice one and made a butternut squash tart with tomatoes, goat cheese, and a few pepitas.
I really like the creaminess of the squash, with the tangy tomatoes and brightness of the goat cheese. The roasted pepita seeds added a nutty crunch, bringing all the flavors together.
I did cut and roast the squash first. I also dry-pan roasted the pepitas.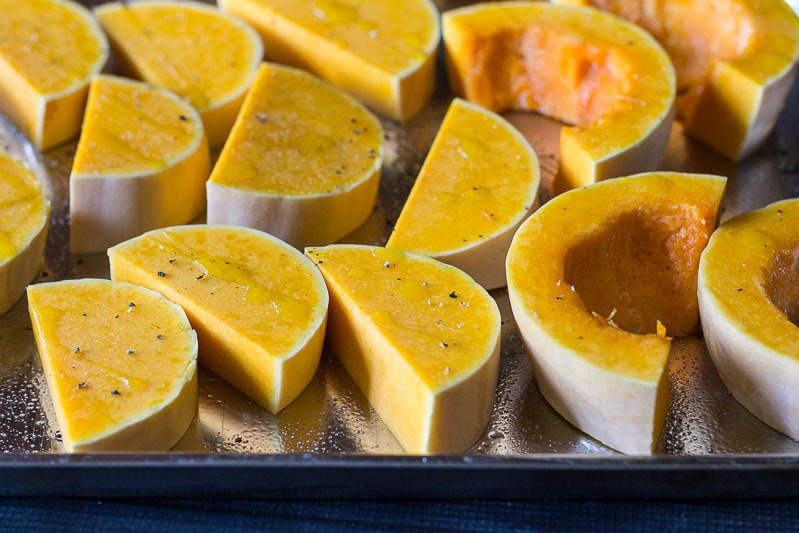 Also, I made my own pie crust to line the jelly roll pan, but you could use store bought. I ended up using enough dough that would make a top and bottom crust to cover the pan.
This dish has the added benefit of being so pretty; a feast for the eyes.
A final touch of sea salt and a drizzle of fig balsamic vinegar for color completes the dish.
If you are a fan of butternut squash you may also want to try these recipes:
Butternut Squash Tart with Tomatoes and Feta
Ingredients
2 pie crusts, top & bottom
1 large butternut squash
4 large tomatoes, cut in half slices
4 oz goat cheese
1/4 cup pepitas
1 t sea salt
fig balsamic vinegar to drizzle, optional
Instructions
Cut off the top and bottom of the squash.
Slice in half lengthwise.
Slice into 1 inch slices.
Place squash slices on a cookie sheet and drizzle with olive oil
Roast in a 400 degree oven for 15 mins, or until the squash is fork tender
Roast pepitas in a dry skillet for 3-4 mins. Set aside.
Press pie crusts in jelly roll pan.
Peel skin off squash and arrange on the pie crust with tomatoes in any pattern you like.
Top with bits of cheese followed by roasted pepitas.
Sprinkle with sea salt and drizzle with fig balsamic vinegar.
Bake for 35-40 at 350 or until crust is golden brown.
Cut and serve.