Fall 2015 Home Tour - Take a look at our front porch, entry, mantel and dining area all dressed up for fall. Lots of ideas to inspire.
Fall just might be my favorite time of year. It's so bright out and the air is crisp and cool. The warm colors of the changing leaves are so homey and it seems like there are so many activities and excitement going on.
We'll start at the very beginning. It's a very good place to start. Have I got you singing yet? Here's our front porch. I didn't spend any money on this porch. Sometimes I like to challenge myself to see how many items around the home I already have when decorating. Then maybe I'll add some crafted items or even purchase a few. This year's limelight hydrangea was so full of flowers I hardly made a dent went I cut tons of blooms to make two front door wreaths.
More details on the porch can be found here.
In the foyer, I gathered an old gourd birdhouse with a new mini pumpkin. My pineapple is usually here for most of the year. I like to have it here to greet my family and guests because I had heard that it is a symbol of friendship and hospitality.
An antique bowl holds a group of felted dryer ball pumpkins and scented waxed pine cones. Both are easy to make.
This is a pic of our family room where we spend most of our time. I placed different elements of nature including bunches of dried herbs from the garden, acorns and some fresh and dried gourds.
This dried orange, cinnamon, and bay leaf garland adorn the front. Instructions on how to make this garland can be found here.
The last room on the tour is our dining room. I kept the buffet pretty simple with a combination of fresh and fabric pumpkins. Do you love the blue-green Cinderella pumpkin? What a great color and so unique looking.
Finally, I re-used my old wooden box with candles and dried hydrangea for the centerpiece.
A few pretty speckled and striped pumpkins tucked in here and there for added texture.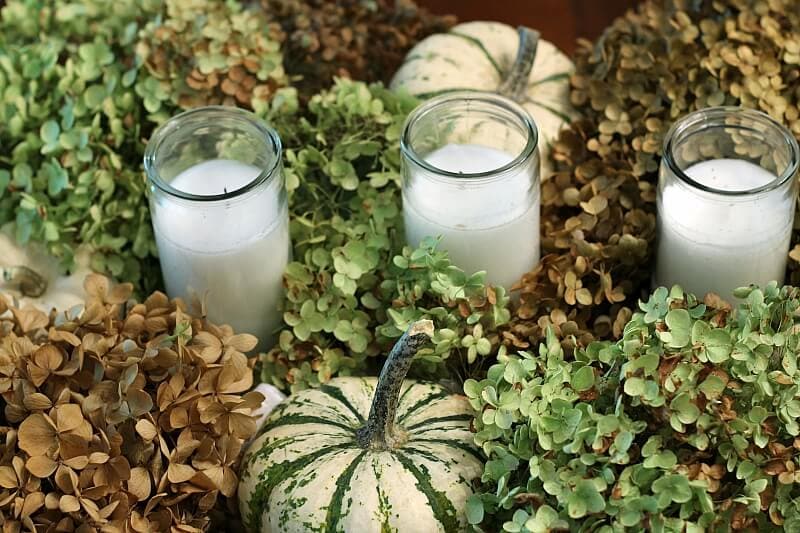 Before you know it we'll be decorating for Christmas but for now, I'm really loving this beautiful time of year.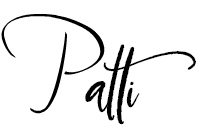 ---
P.S. You may also enjoy this other Fall Home Tour. Find it and more on my Decorate Page.
Click Here to Save to Pinterest!