This dried orange garland project made with bay leaves, and cinnamon sticks are easy to create and make a beautiful statement in your fall or winter decor.
More Fun Citrus Projects: Dried Citrus Ornaments, Citrus Candle Rinds, Dried Fruit Ornaments
Have you ever made a dried orange garland? The drying process takes some time, but overall its pretty easy to make. My sister and I used to make these for our herbal shop with different dried fruits, and other botanicals, like dried red hot peppers. Very pretty during the holidays.
This post contains some affiliate links (that means if you make a purchase after clicking a link, there's no additional cost to you, but I will earn a very small commission. ) Click here to read my full disclosure policy.
Supplies
Oranges

Whole Bay Leaves

Cinnamon Sticks, 2.75 Cut, 1 Lbs

Twine
DIY Dried Orange Garland
You can buy dried orange slices
but it's more fun to make your own. Start by slicing oranges about 1/4 inch thick and placing them straight on the oven rack. Bake at 200 degrees (F) for about 4 hours, turning every hour or so. I made them in two batches in the evening and after 4 hours turned off the oven and let them sit there overnight.
I tried something similar with whole oranges and little clementines but it did not work as well. You can read more about that project in the dried citrus ornament project.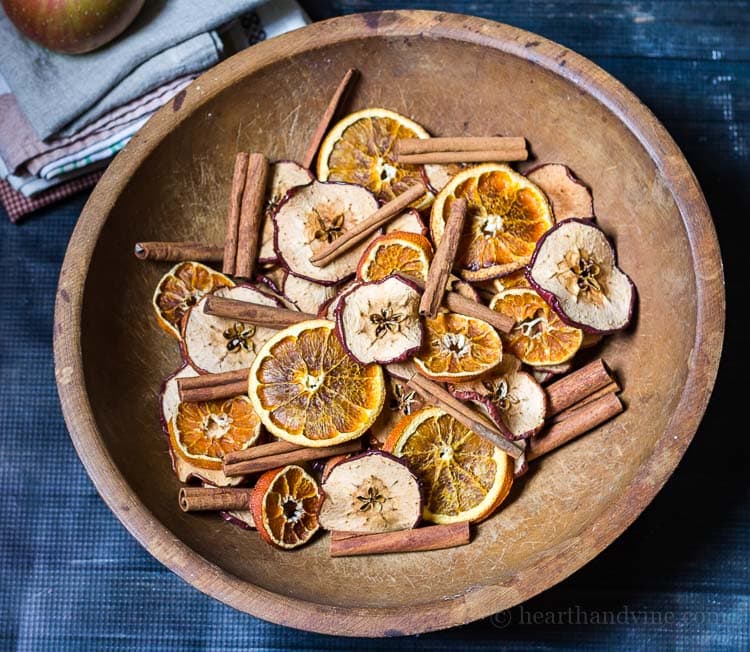 The same process works for apples. You can string them too or just make a pretty bowl of potpourri.
Next, gather your bay leaves in a bowl. I bought a big bag of bay leaves. Many were not big enough to string on the garland so it helped to weed through them ahead of time.
Drill holes in the middle of the cinnamon sticks. You can also just wind the cinnamon sticks around the twine as you go. I did this for half of my garland then switched to drilling holes. Drilling takes more time, but the cinnamon stick stays in place better.
Now all you have to do is string them together. I started with a cinnamon stick, then an orange slice. Then I added 8 bay leaves, another orange slice, 8 more bay leaves, a final orange slice and repeated this combination until the end. It is helpful if you have a large embroidery needle, but you can always use a paper clip or even a piece of wire.
Of course, you can use any combination you'd like. To give you an idea, the garland above is about 4 feet long. For this, I used approximately 11 oranges, 18 cinnamon sticks (2.75 in) and 250 bay leaves.
I think in the future I might add more cinnamon sticks and some apple slices.
A little time consuming but totally worth it and I got to enjoy the smell of oranges, bay leaves, and cinnamon while I worked.
Check out the DIY/Projects Page,
for more great project ideas.