Make your own homemade potpourri with natural apples, orange slices, and cinnamon sticks. It's a great way to bring a little beauty in and have your home smell wonderful.
A while back I showed you how to make natural potpourri from your garden flowers. Today I'm sharing an easy way to make homemade potpourri with oranges, apples, and cinnamon sticks.
Perfect for fall or as a Christmas potpourri, these scents offer a warm and cozy feel to your home.
This post contains some affiliate links (that means if you make a purchase after clicking a link, there's no additional cost to you, but I will earn a very small commission. ) i.e. as an Amazon Associate, I earn from qualifying purchases. Click here to read my full disclosure policy.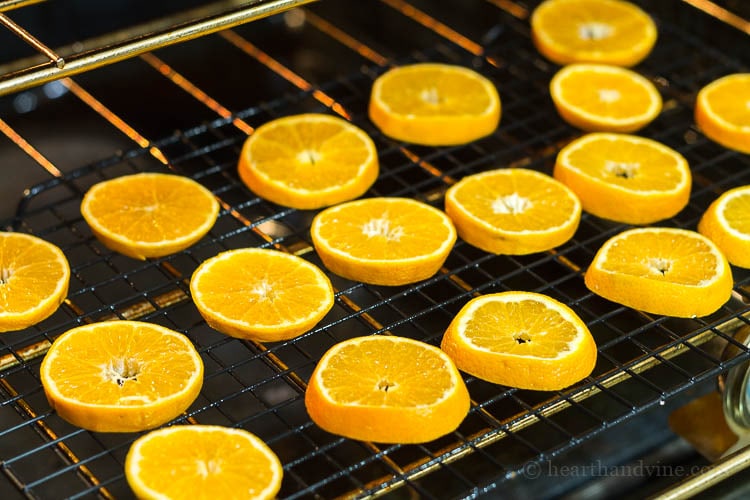 How to Make Homemade Potpourri
Slice your fruit about 1/4 inch thick.
Pat off any excess juice with paper towels
Place them on the oven rack for 2 hours at 200 degrees, flipping occasionally. You can also use an oven safe cooling rack (as shown above) to prevent the fruit from falling through.
After about an hour flip them over on the rack.
Since ovens vary this may take a little longer or a little less time. Just keep an eye on the fruit and make sure it doesn't burn.
Next, remove them from the oven and place them in a cool dry spot to completely dry out. This may take another day or two.
Place the dried orange and apple slices in your favorite bowl with some cinnamon sticks and enjoy.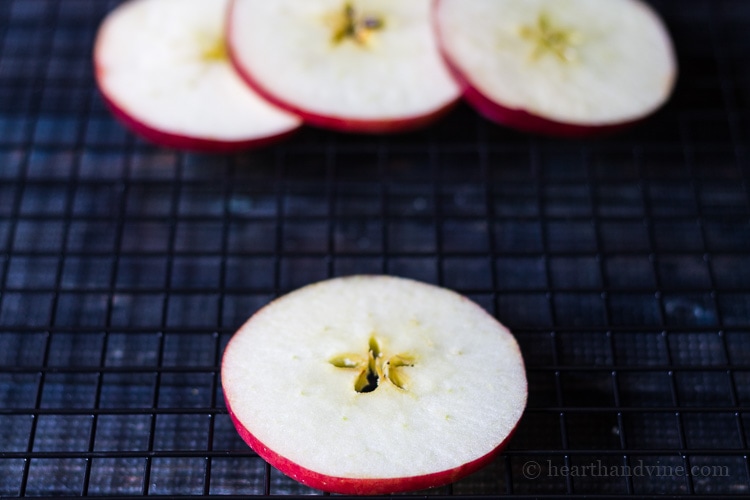 Once when my daughter was very little, she showed me how pretty the center of an apple is, with the star or flower shape in the middle from the seeds.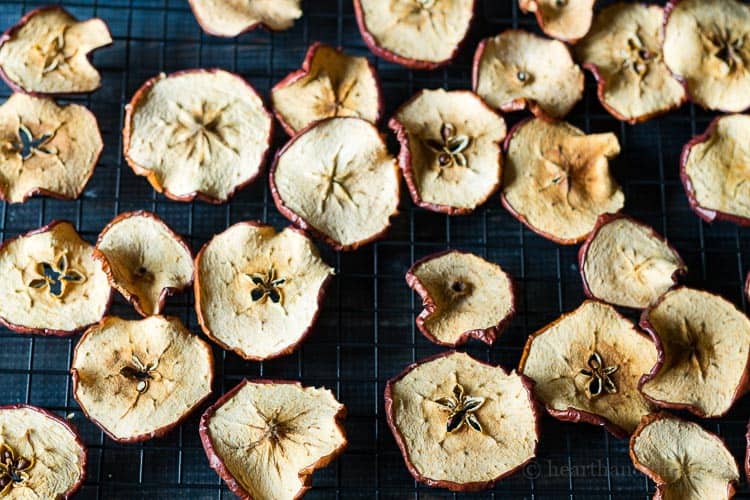 This shape shows up beautifully in the dried apple slices. Here I used red delicious apples, because of their pretty dark-colored skin. I love the way the edges curl up while drying in the oven.
Homemade Potpourri Tip
The dried fruit and cinnamon sticks are fragrant. But after a while, they may lose some of their scent. You add more fragrance or freshen up the potpourri, by adding some cellulose fiber or orris root as a fixative and some essential oils or fragrance oil
to the bottom of your bowl.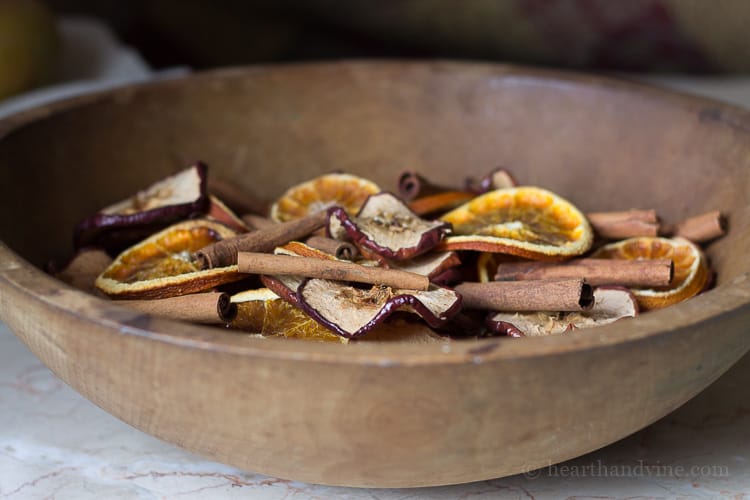 Recipe Options and Substitutions
Use other dried fruit such as fresh cranberries, lemons, limes, and grapefruit
Try other spices such as whole nutmeg, allspice, star anise, or whole cloves.
Add some texture with pine cones or bay leaves
Wouldn't this make a beautiful party favor or a small gift for guests? It's very similar to this simmering potpourri project. In fact, you could use these elements in a simmering saucepan of water on the stove or in a slow cooker.
Still, I think I like the way it looks just as much as the way it smells, and will keep it displayed on our coffee table.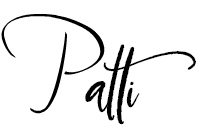 ---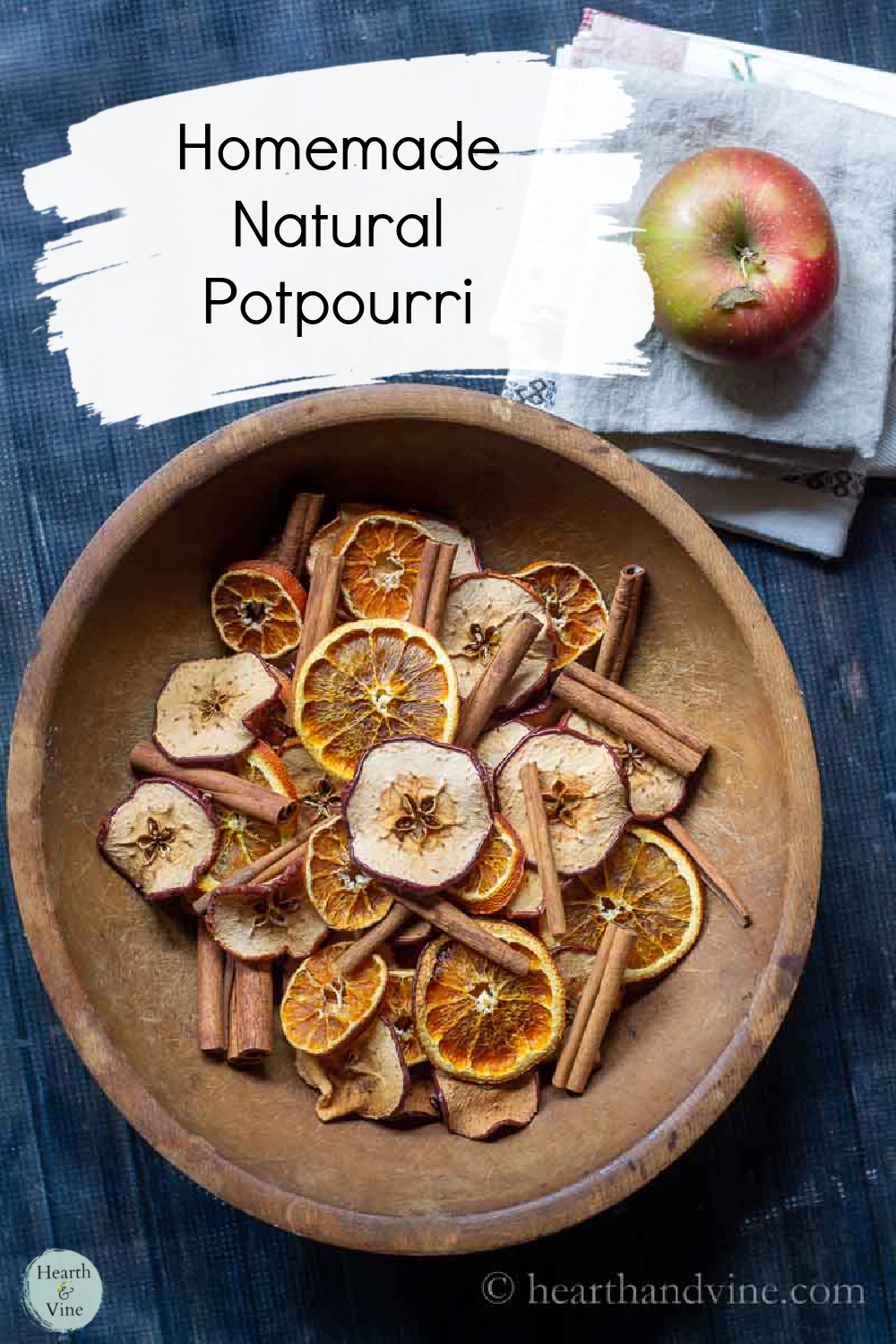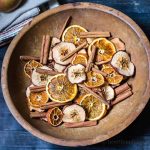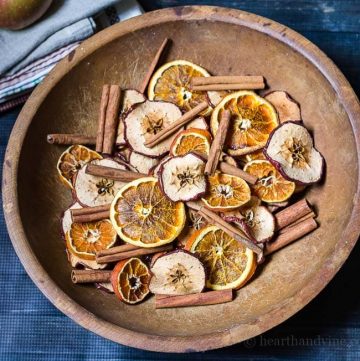 Print
How to Make Natural Potpourri
Create a beautiful homemade potpourri with dried apples, orange slices, and cinnamon sticks. It's a great way to bring a little beauty and fragrance to your home.
Equipment
Sharp knife

Oven

Oven safe rack
Materials
Red apples

Oranges

Cinnamon sticks

Cellulose fiber

optional

Essential oils

optional

Fragrance oil

optional
Instructions
Thinly slice apples and oranges.

Use paper towels to pat off any excess moisture.

Set the sliced fruit directly on an oven rack or an oven safe rack in a single layer.

Heat in the oven on low heat around 200 degrees for 2 - 4 hours flipping occasionally or until dry.

Toss dried fruit slices with cinnamon stick together to make the potpourri.

You can additionally add some fragrance oil to cellulous fiber and place it under the potpourri for added fragrance.
Notes
Ovens and fruit sizes will vary. It may take less time or more for the fruit to dry.
Try drying other fruit such as fresh cranberries and other citrus fruit such as lemon slices, limes, and grapefruit.
Use other herbs and spices such as whole nutmeg, allspice, star anise, rosemary, or whole cloves.
Add some texture with pine cones or bay leaves.
Bag some up or fill a wide mouth mason jar and create some wonderful homemade gifts.