Garden potpourri using flowers from your garden or a fading flower arrangement is easy to make and a great way to extend the enjoyment of your flowers.
Have you ever made garden potpourri from flowers that grow in your garden? If you are growing flowers and herbs you might want to try this age-old craft. After all, it's so easy to make and can be adapted to all kinds of preferences and tastes.
This post contains some affiliate links (that means if you make a purchase after clicking a link, there's no additional cost to you, but I will earn a very small commission.) i.e. as an Amazon Associate, I earn from qualifying purchases. Click here to read my full disclosure policy.
DIY Garden Potpourri
The Materials
Plants (flowers, herbs, seed heads, pine cones, citrus peels... see more below)
Fixative (cellulose fiber, orris root, oak moss)
Essential oil
or Fragrance oil
The Process
A basic potpourri recipe calls for three types of plant materials. Plants for color, plants for scent, and plants for texture. The other traditional main ingredient is essential or fragrance oil and a fixative. Fixatives are materials that hold the fragrance or essential oil for long periods of time. Here I'm using cellulose fiber which affordable and readily available. Other options are orris root, calamus root, and oakmoss.
Gather some flowers, herbs, and seed pods.
Spread them out on an old screen in a warm place to dry out.
Here's what they look like after one week.
In a small bowl add several drops of fragrance or essential oil to the fixative and stir well.
In a large bowl mix together the dried flower heads, petals, scented leaves, and seed pods, discarding the stems. Then add in the fixative and any other materials you have on hand, such as whole spices or other dried materials. In this mixture, I added a few leftover tea rosebuds, small pine cones, and whole cloves.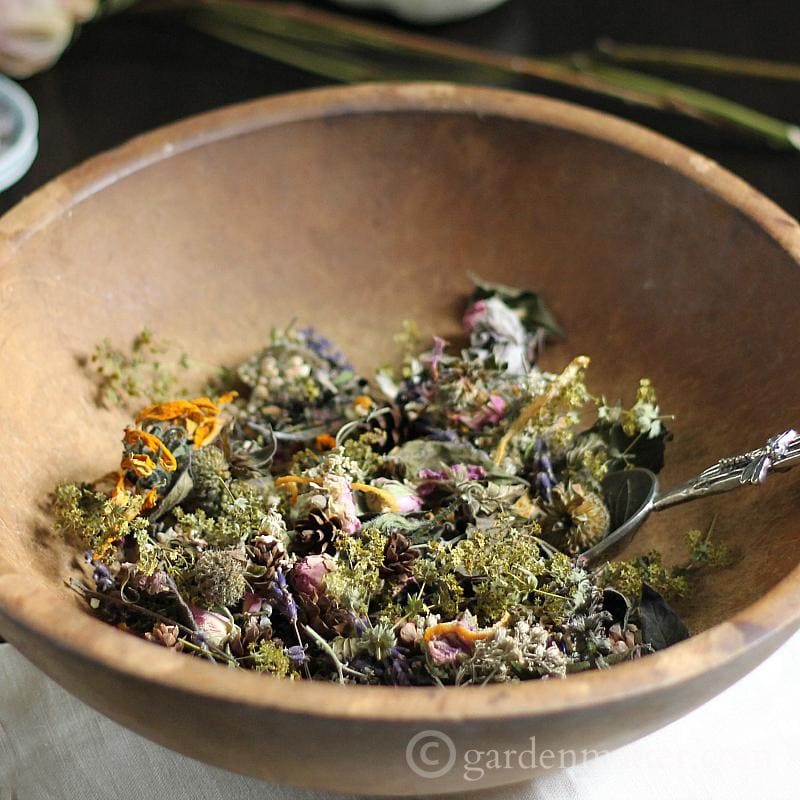 Gently stir together and place in bags or jars for gifts or simply set it out to enjoy.
Mmm, I wish you could smell it.
Here's a list of some ideas you can play with.
Choices For Color
Bachelor's Button
Black Eyed Susan
Calendula
Coneflower
Delphinium
Globe Thistle
Globe Amaranth
Ornamental Salvias
Peony
Strawflowers
Yarrow
Choices for Scent
Beebalm
Citrus Peels
Lavender
Roses
Lemon Balm
Lemon Verbena
Mint
Rosemary
Scented Geranium Leaves

Choices for Texture
Dried Berries
Pine Cones
Rose Hips
Seed pods
Spices
Allspice
Cinnamon chips
Cloves
Coriander Seed
Star Anise
You May Also Like: