Making bath salts is a fun and easy craft, and makes a great gift for any time of year. This project starts with Epsom salts and essential oils. Then you add layers of dried herbs for added beauty and health benefits. Best of all, it looks so pretty in the jar.
Making Bath Salts with Herbs and Essential Oils
may contain some affiliate links for your convenience. Click here to read my full disclosure policy
The materials for this project include Epsom salts, which have long been used to soothe achy joints and sore muscles. Layered with herbs like lavender, known for relaxation, calendula, and rose petals to soften skin, this "salon in a jar," is as wonderful to look at, as it is to use in the tub.
Note: The information on this site is not intended or implied to be a substitute for professional medical advice. If you have any concerns about using these materials please check with your doctor first.
Material List
Epsom Salts
Lavender Essential Oil
Lavender
Calendula
Peppermint
Rose Petals
Muslin Bags
The process for making bath salts is easy.
Pour some of the Epsom salts in a jar. I used about 1 cup to this pint-sized mason jar.
Next add 20 drops of lavender essential oil and stir.
Followed by 1/2 cup of rose petals, lavender, calendula flowers and 1/4 cup of peppermint.
Add a little draw string muslin bag on top.
You can layer the herbs in any order you want. Increase or decrease the amounts. Add or subtract the herbs. Other choices are rosemary, lemon balm, chamomile and sage to name a few. You can also skip the lavender oil, or change it to one you prefer, or already have on hand.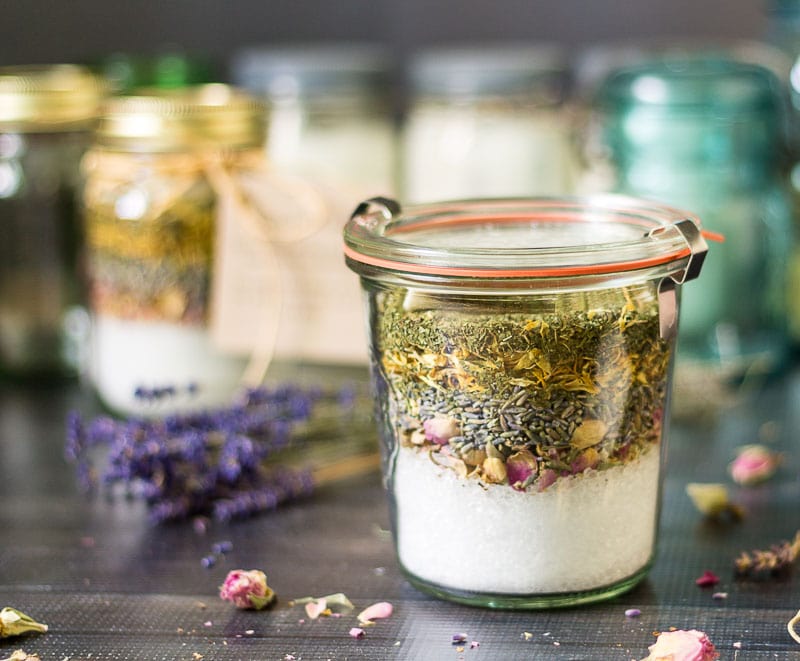 Use a pretty Weck jar like this one instead of the mason jar.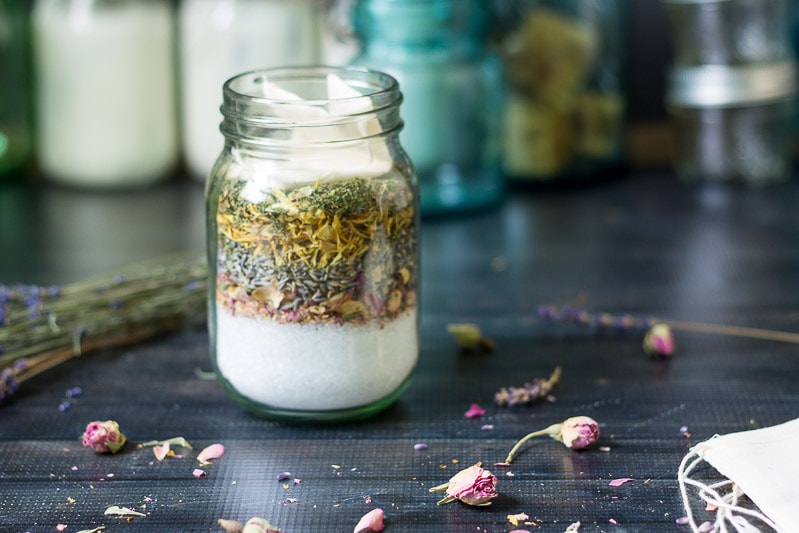 Free Printable:
Click on the image below for a pdf sheet of the tag.
Handmade gifts are some of the best ways to thank those you love during the holidays, and really anytime of year. Making bath salts, like this one in a jar, has the added bonus of looking pretty all on its own. So even if they are a shower person, I think anyone would love displaying the jar as part of their bathroom decor.
You May Also Like