Use herbs from the garden to make little herbal dream pillows that you can slip under or in your pillow for a sweet smelling dreamy night.
If you're growing herbs and flowers chances are you have some that are worthy of using in creating sleep pillows.
This post contains some affiliate links (that means if you make a purchase after clicking a link, there's no additional cost to you, but I will earn a very small commission. ) i.e. as an Amazon Associate, I earn from qualifying purchases. Click here to read my full disclosure policy.
I recently cut back some lavender and lemon balm in the garden and thought that they would be great for creating herbal dream pillows. Lavender is known for helping with sleep and relaxation. Lemon balm is another great herb for helping with anxiety and insomnia.
After cutting the plants just let the herbs hang out somewhere where they can dry. Preferably somewhere shady and cool.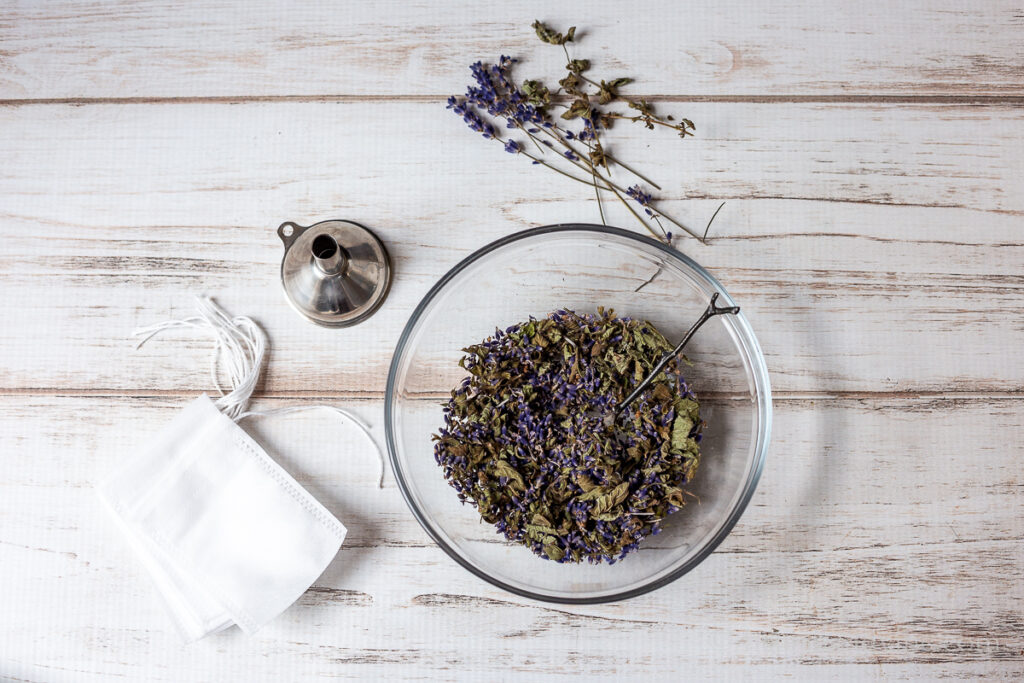 After a couple of days, you can remove the lavender buds and the dried leaves from the lemon balm.
Handy Tip:
To easily remove leaves from fresh or dried stems hold the tip of the stem with one hand and use the other hand to pull down from the top and easily strip all the leaves off.
---
Herbs for Sleep Pillows
Lavender
Lemon Balm
Hops
Chamomile
Marjoram
Catnip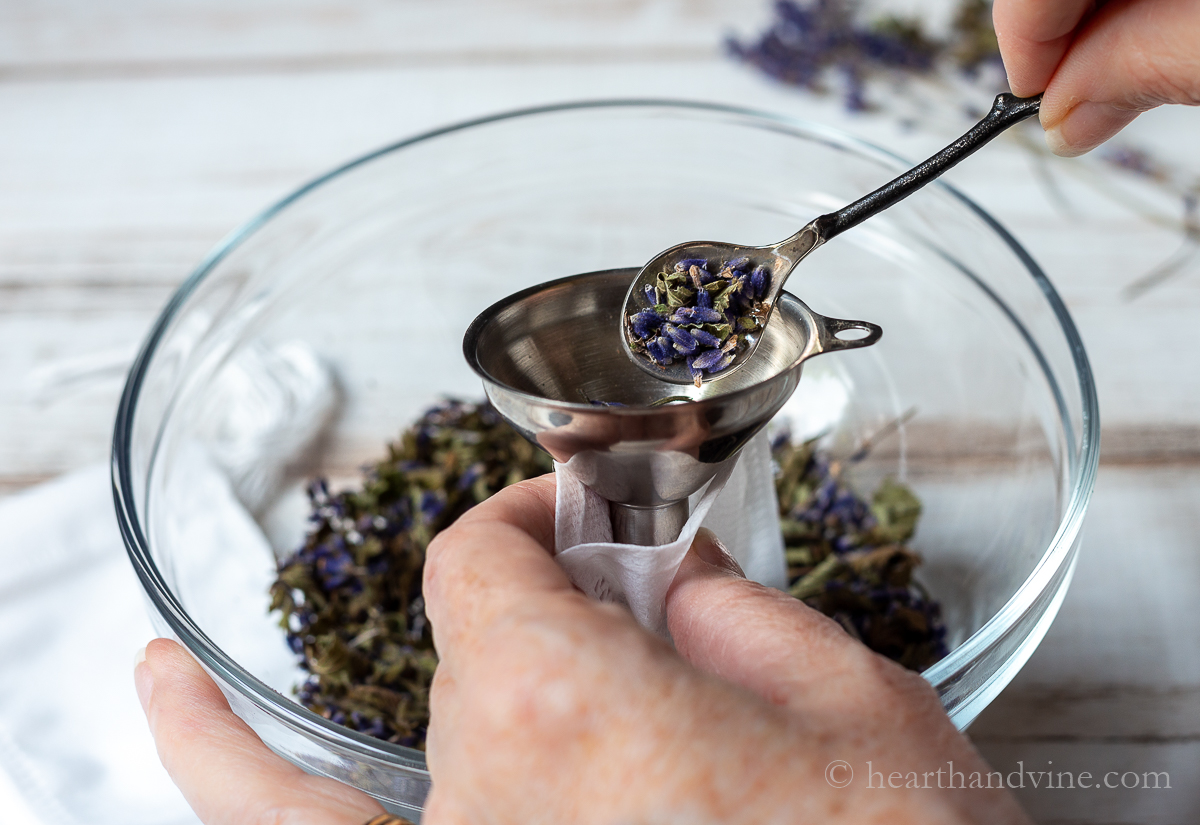 Use a little metal funnel or make one with a small piece of paper to fill small muslin bags or tea filter drawstring bags shown here with the dried herbs. To make a paper funnel just roll the paper into a cone shape and make the bottom opening big enough to fit into the bag.
Tie up the bag and set it under your pillow. Or set it inside your pillowcase. You will be rewarded with a heavenly smell and a better night's rest.
You could also sew a little pouch or pillow with scrap fabric and fill them with the dried herbs.
Wouldn't this make a nice gift? I'm sure you have some family and friends who sometimes have trouble sleeping.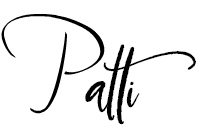 Print
Herbal Dream Pillows
Make these beautiful bags from herbs in your garden to place under your pillow for sweet dreams. Enjoy the herbal dream pillows for yourself and as wonderful gifts for your friends and family.
Equipment
Pruners or scissors

Old screen

Funnel
Materials
Herbs and flowers from the garden

Tea filter or muslin bags
Instructions
Cut flowers and herbs from the garden.

Lay them on an old screen to dry in a cool shady spot.

Remove flower buds and leaves from stems.

Mix the flower buds and stems together in a bowl.

Add the dried herbal mix to a tea bag or muslin bag.

Place the bag under your pillow or in the pillow case before you sleep.
Notes
Good Herbs & Flower Choices
Lavender and Lemon Balm are used in the photos
Chamomile
Catnip
Marjoram
Hops