Make your own hydrosol with herbs and flowers from your own backyard. A great way to make floral water for use on the body or in the home.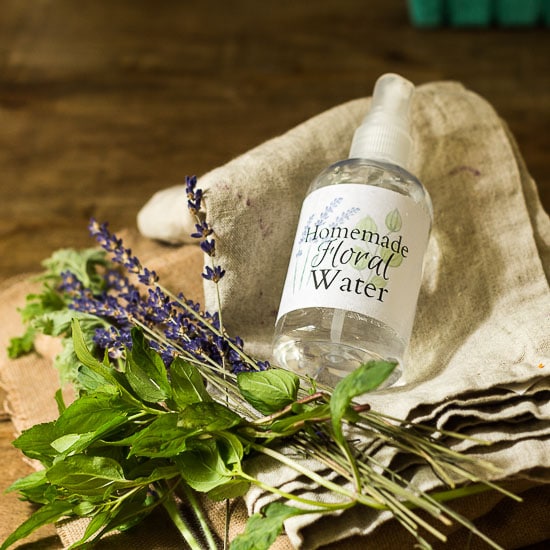 What's a hydrosol? A hydrosol is the floral water that remains through a steam distillation of plant material, and are often a by-product of the production of essential oils. Since I was trimming up some of my herbs, I thought this would be a good time to make a hydrosol.
Make Your Own Hydrosol
This post contains some affiliate links (that means if you make a purchase after clicking a link, there's no additional cost to you, but I will earn a very small commission. ) Click here to read my full disclosure policy.
You've probably heard of rose water before, however, you can use any scented herb or flower to make a hydrosol.
Simply collect your plant material. I'm using lavender, mint and rose scented geranium. Wash them first to get rid of any dirt and pests.
Place the herbs in a large clean pot. Fill the pot with distilled water until you just cover the plant material.
Here, I'm using a crab pot that has a basin, followed by another pot with holes that fits inside the basin. You can use a veggie steamer in a large pot too. Some use a brick to weigh down the herbs and act as a shelf for the collection bowl.
Next, you need to place a bowl in the upper pot, on top of the brick, or steamer. If you are using a steamer you may need to place a heatproof bowl upside down to act as a shelf for the steamer to sit on. Just make sure your collection bowl is not sitting in the water.
Then, place the lid on upside down, and place a bag of ice on top.
Bring the water to a simmer on the stove, checking every 15 minutes or so, to replace the ice as needed.
Note: It would be a good idea to freeze a few bags of water ahead of time.
As the steam from the plants rises, it meets the cold lid and condensation occurs, creating hydrosol droplets to fall into the collection bowl. Pretty cool, huh?
After about an hour I was able to collect about 4 ounces of hydrosol.
I poured it into a spray bottle and set it in the refrigerator.
How to Use Hydrosols
This is perfect for spritzing on my face after working in the yard. It makes a great linen spray or room spray too.
Looking for more? How about Hydrosols and 101 Ways to Use Them.
This is a fun project to try, however, you can also by hydrosols online. Some of them are made from unusual products that you would not likely have access to, such as Ylang Ylang
and Frankincense.
I think this would make a really nice gift, don't you?