Using fresh or dried herbs for face steaming at home is a wonderful way to give yourself a relaxing spa treatment. It's easy to do and is a fraction of the cost that you'd pay at a salon.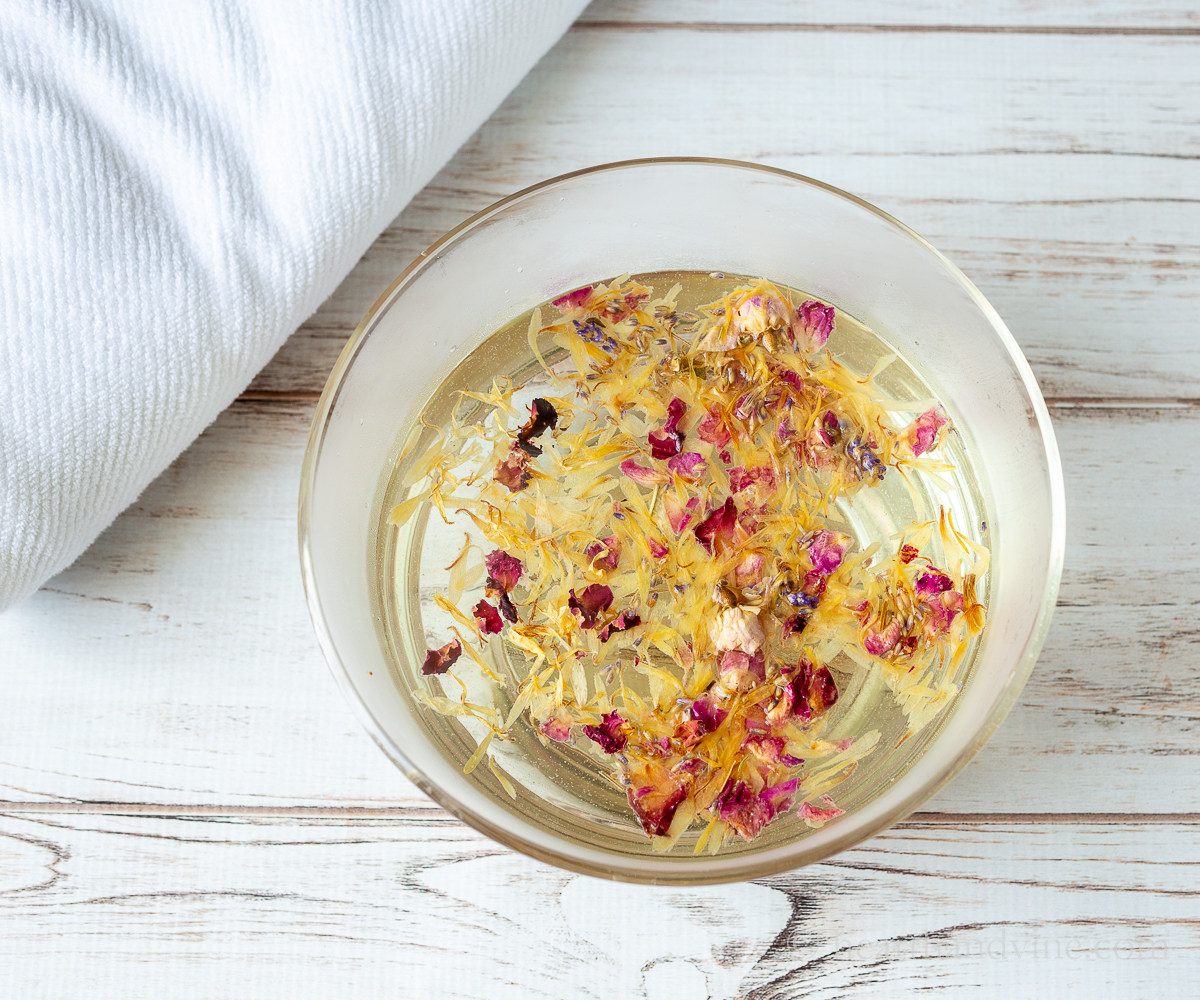 We all need a little pampering from time to time. Creating a simple facial steam treatment with herbs is easy to do at home. Not only is it good for your skin you get the added aromatherapy benefit from inhaling the fragrance adding to your peace of mind.
Disclaimer: People with sensitive skin should be extra careful with steaming. If you have any concerns about your skin or have any known skin issues consult with your doctor first before trying this at home.
Herbs for Face Steaming
Lavender - Lavender is one of the most useful herbs and works on almost all skin types. Lavender is considered to be a very calming herb and is a great flower to use fresh or dried in your face steaming treatment.
Calendula Petals - Calendula also known as Pot Marigold, is good for healing skin and helping with inflammation. Perfect for dry or normal skin types.
Rose Petals - Roses do smell wonderful and their petals are considered to be hydrating as well as a little astringent and are suitable for most skin types.
Peppermint - Any type of mint smells invigorating and has a cooling effect on the skin. It's good for those with oily complexions.
Rosemary - Another great option for normal or oily skin, rosemary leaves will help you feel refreshed and encourages mental clarity.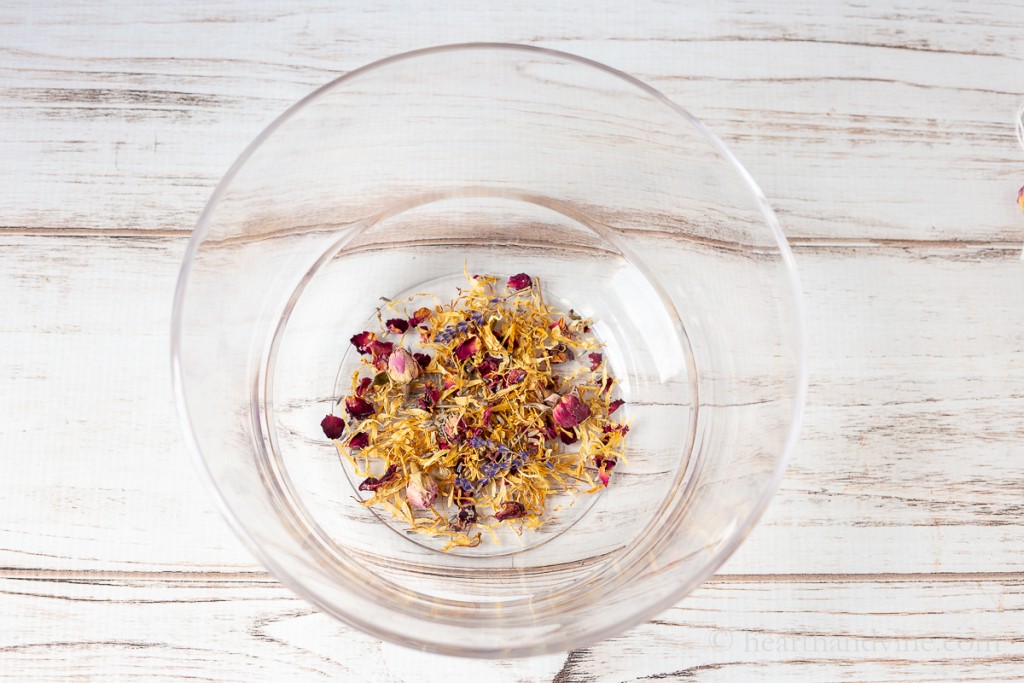 When creating a homemade facial steam treatment at home first choose some flowers or herbs to work with. They can be fresh from the garden or dried. When buying herbs, stick to those that can be used for culinary purposes to avoid any unwanted additives.
You can use some of those referenced above or many other herbs such as chamomile or sage.
How to Perform an Herbal Facial Steam Treatment
Place a few tablespoons of herbs in a large bowl.
Add boiling water and allow the herbs to steep for a couple of minutes.
Pull back your hair and place your clean face 6-8 inches above the steam and cover your head with a towel that drapes over the sides of the bowl trapping in the steam.
Relax, inhale and enjoy the aromatherapy of the herbs for 5-10 minutes. (less if your skin is sensitive)
Lift your face and pat it dry with the towel.
Apply moisturizer if desired.
Safety Note:
Make sure not to put your face too close and that you wait for the boiling water to cool a bit so that you don't burn your face. The steam should be warm, not hot.
FAQs
How Often Should You Steam Your Face?
Once a month or as much as once week if you like.
Can I Use Fresh Herbs?
You can use fresh or dried herbs in your facial steam. Just remember as in cooking with herbs, you need about 3 times more fresh herbs than dried herbs. That means every tablespoon of fresh herb material would be equal to one teaspoon of dried material.
What Do You Do After Steaming Your Face
Allow your skin to cool and pat your face dry. You can then apply your favorite moisturizer or rinse it gently with lukewarm water and pat dry.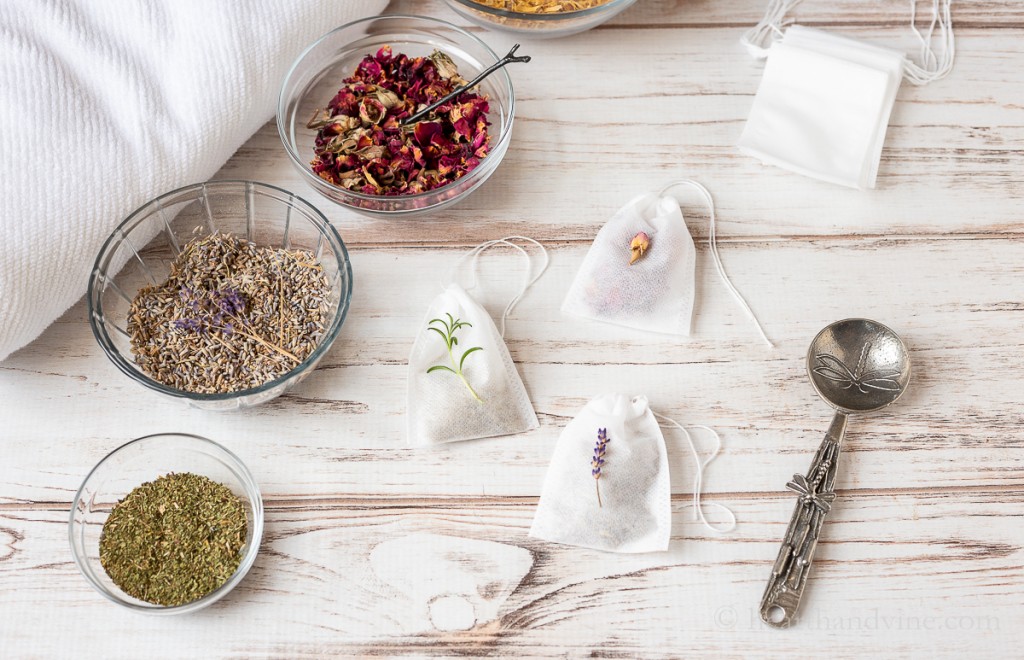 Give the Gift of an Herbal Steam Bag
Buy some fillable tea bags and place a blend of herbs inside to create a gift. You can also give several bags of single herbs for different treatments or desired scents. Of course, you should also bag some up for yourself.
Place the teabag in the bowl or dump out the contents. This also works well in the tub too. Tie the teabag onto the faucet when filling the bath or again, just dump out the herbs into the tub.
Print
Herbs for Face Steaming
Use dried or fresh garden herbs for face steaming to create a calming spa treatment in your own home.
Equipment
Large bowl

Tea kettle to boil water

Large towel for draping over head
Materials
Dried herbs
rose petals

calendula

lavender

rosemary

mint
Instructions
Start with a clean face and have your hair pulled back.

Place a few tablespoons of the herbs of your choice in a large bowl

Pour boiling water over the top of the herbs.

Let the herbs set for 1-2 minutes.

Place your face about 6 inches from the steam.

Cover your head loosely with a towel.

Relax as you breathe in the scent of the herbs for 5 - 10 minutes.

Remove the towel and pat your face dry.

Follow up with a good moisturizer.
Notes
If you have sensitive skin reduce the amount of time under the steam to just a minute or two to see how your skin will react or consult your physician first.
Make sure not to put your face too close and that you wait for the boiling water to cool a bit so that you don't burn your face. The steam should be warm, not hot.