Learn how to use flour sack towels, fabric or craft paint, and fruit from the kitchen to make fun and functional hand printed tea towels.
I have a thing for tea towels. I especially like flour sack towels because they are large and very absorbent. They are also pretty inexpensive and you can buy them in a 6 pack or more.
Today I'm sharing a fun project that's not new, but I haven't tried it before even though I have always loved the look. Printing or stamping on fabric with fruit.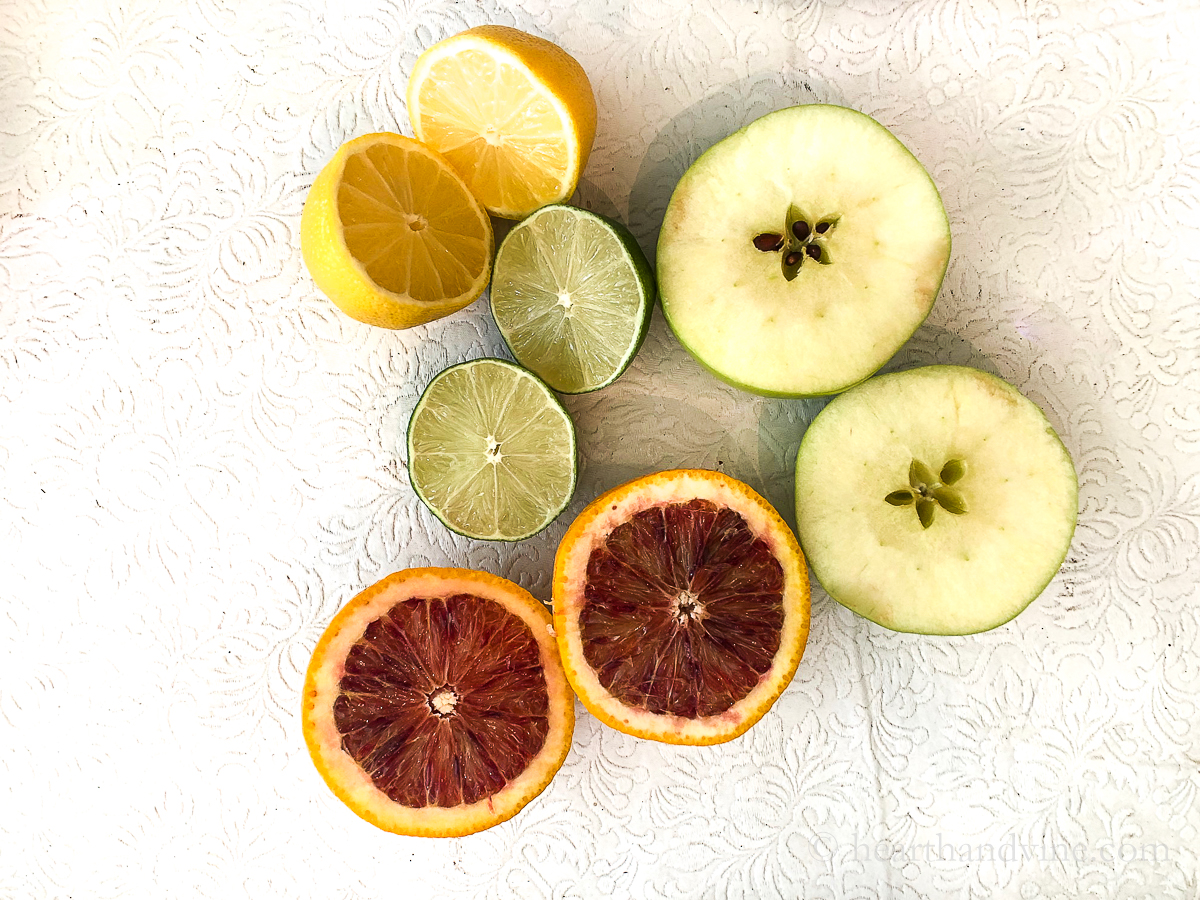 How to Print on Flour Sack Towels with Fruit
Pick out some fruit shapes that you like. I particularly like citrus fruit because they are round and have sections that look pretty when stamping. However, I also used an apple and cut it in half to show off the pretty flower shaped or star shaped seed pattern in the middle.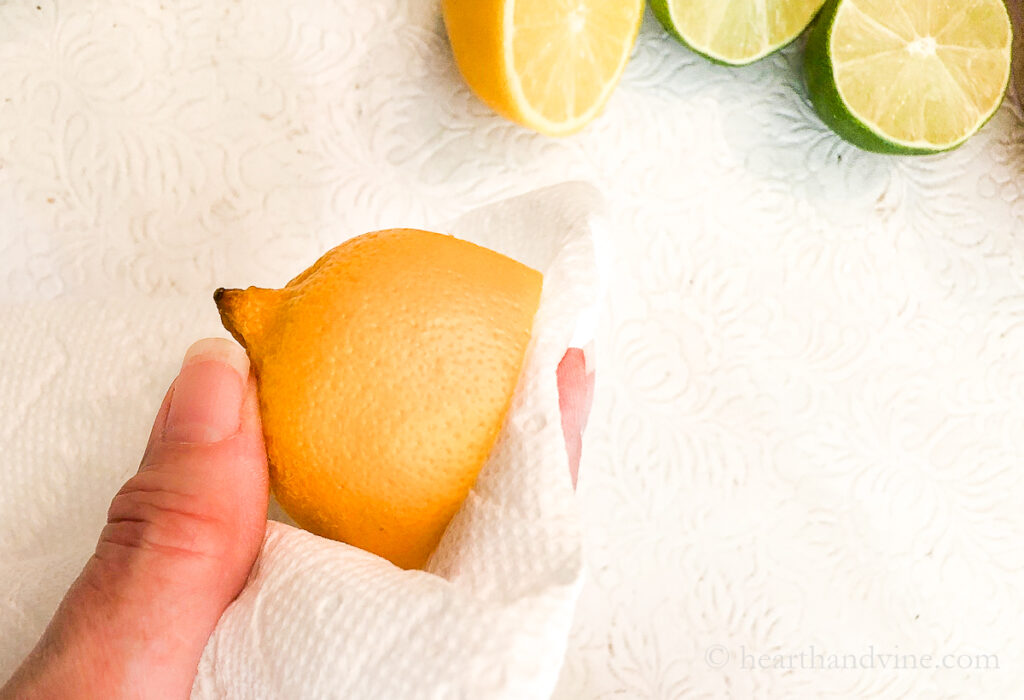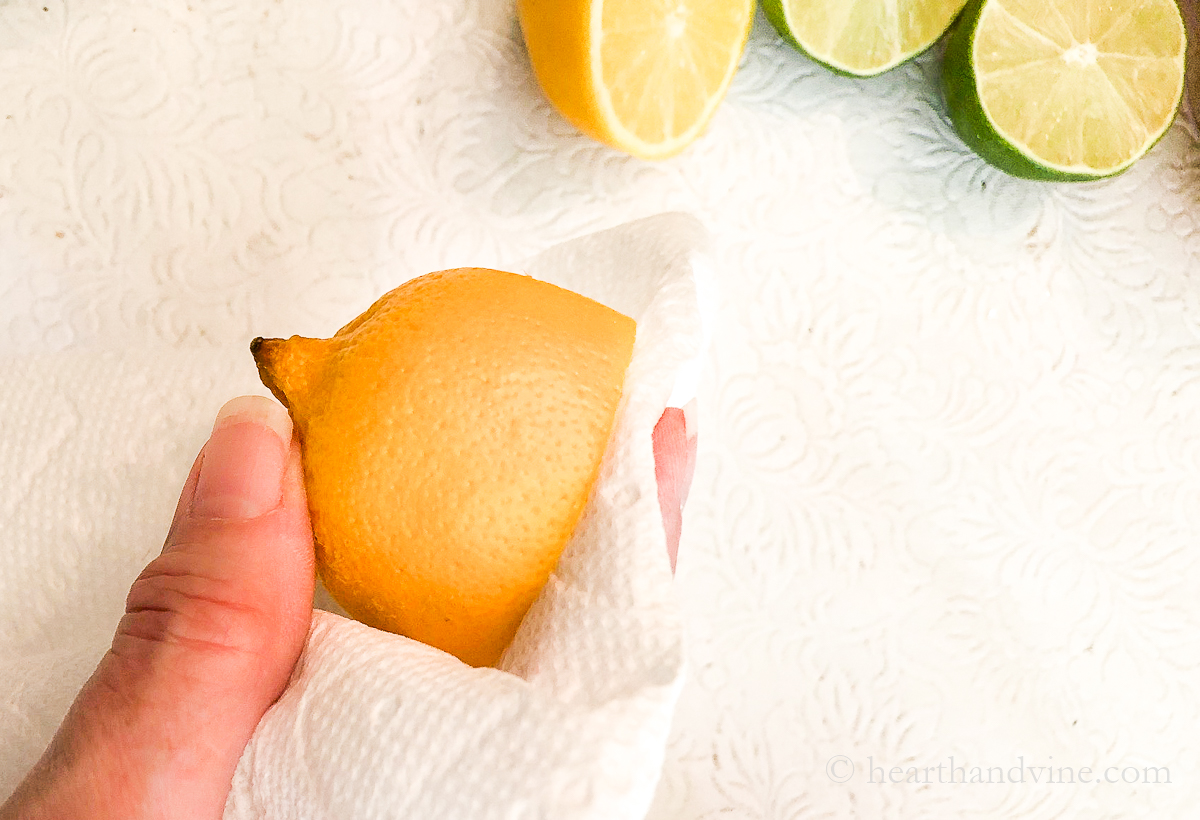 2. Use a paper towel to blot off any excess juice.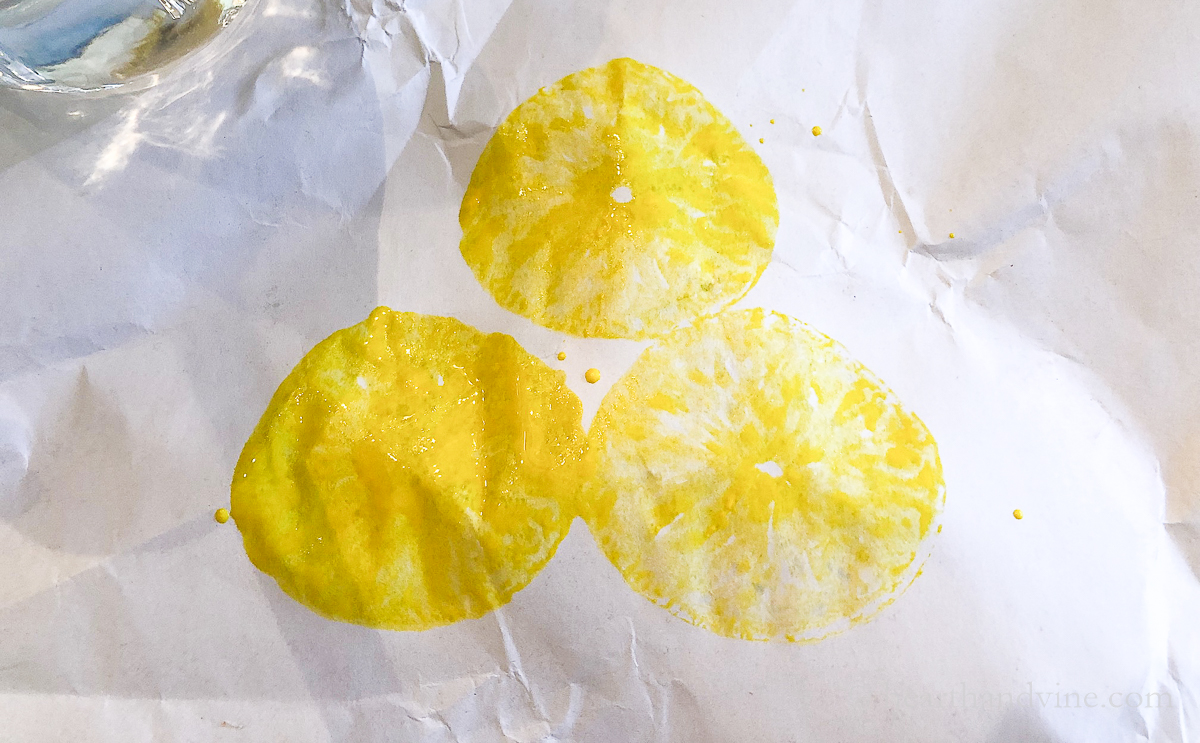 3. Add fabric paint, or craft paint with a fabric medium added, to the fruit with a paintbrush. Then practice on a piece of paper to get the look you want. I found that I needed to reapply a thin coat of paint each time to get the right print.
Note: Feel free to add a little water if your paint is too thick.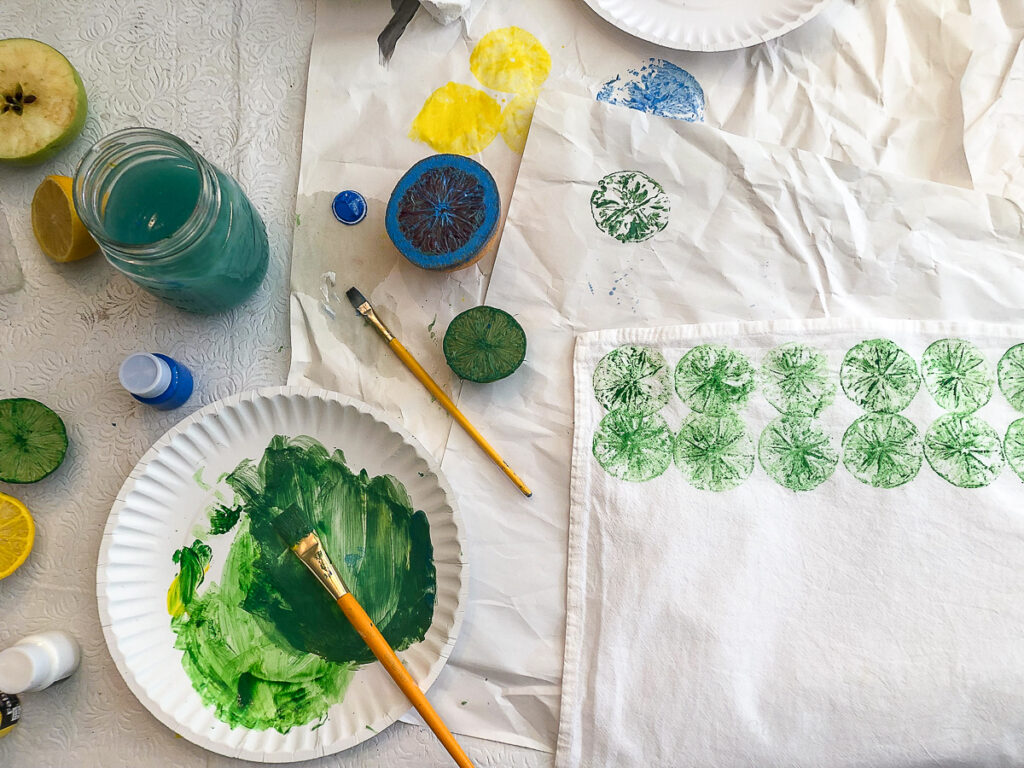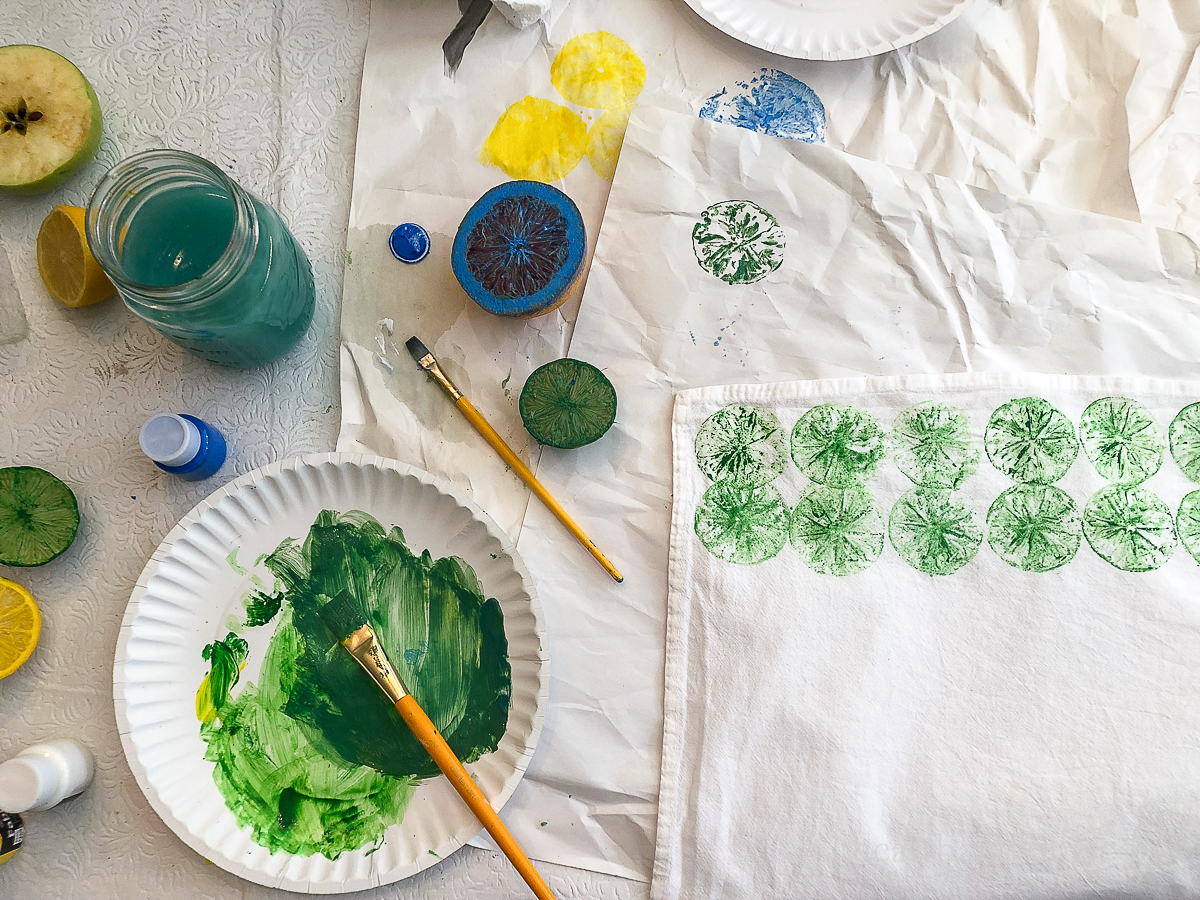 4. Stamp the fruit in a pattern that you like. I went with one to two rows at the bottom. However, you could add fruit prints all over the towel.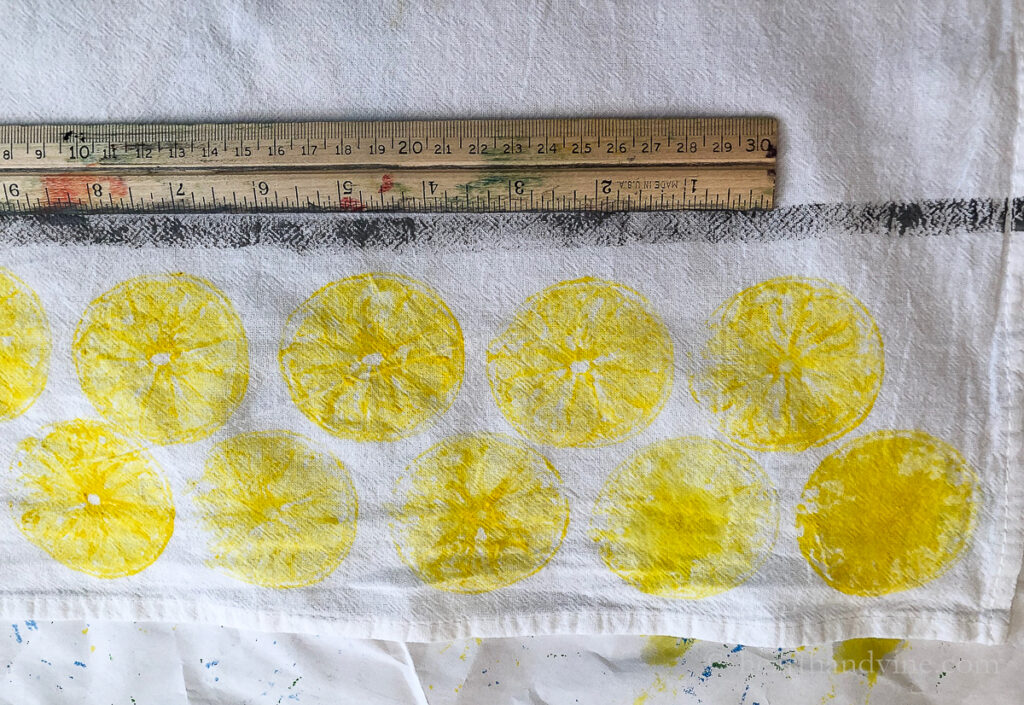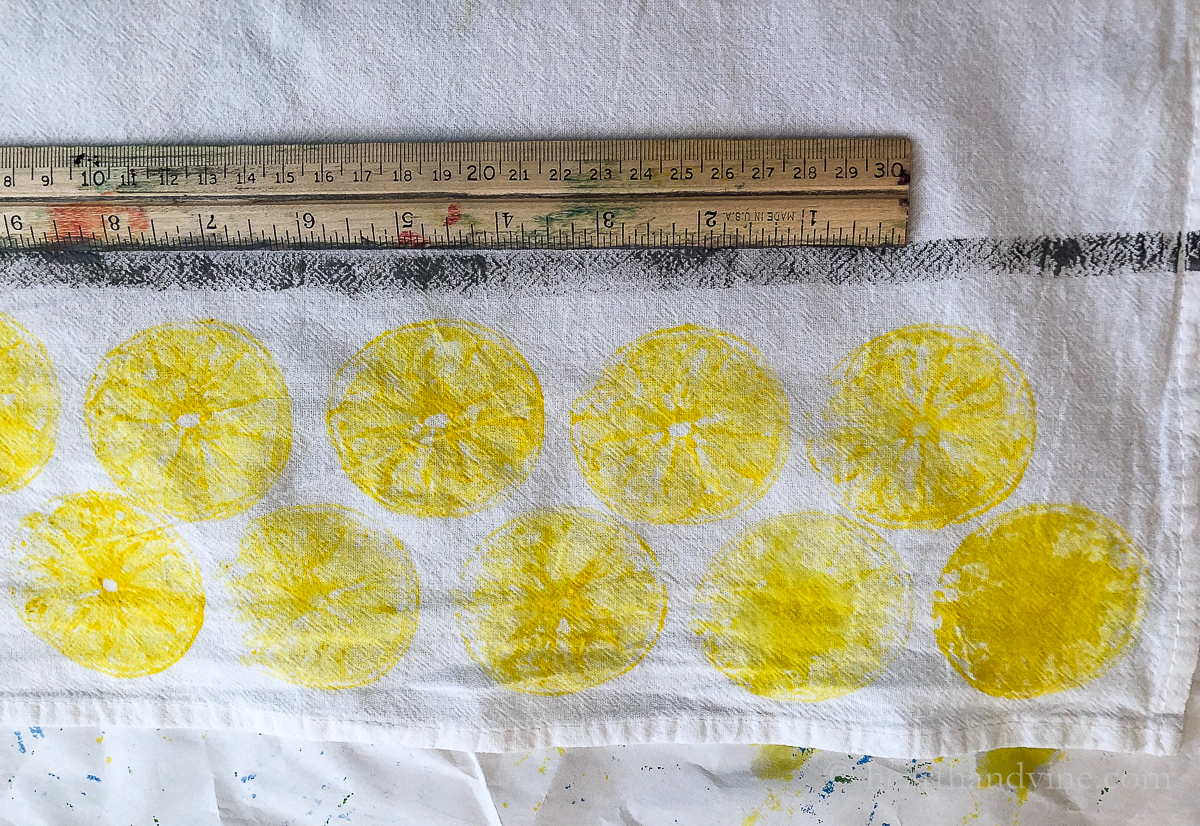 5. Add some linear lines if you like. I used a ruler to help to paint the black lines but anything with a nice straight edge would work fine.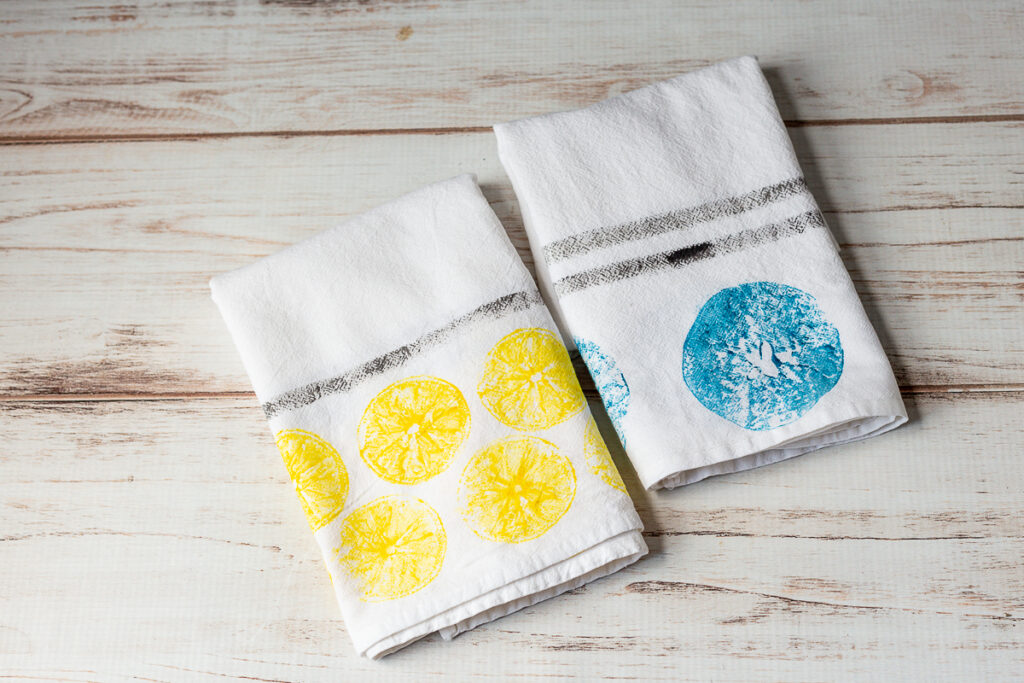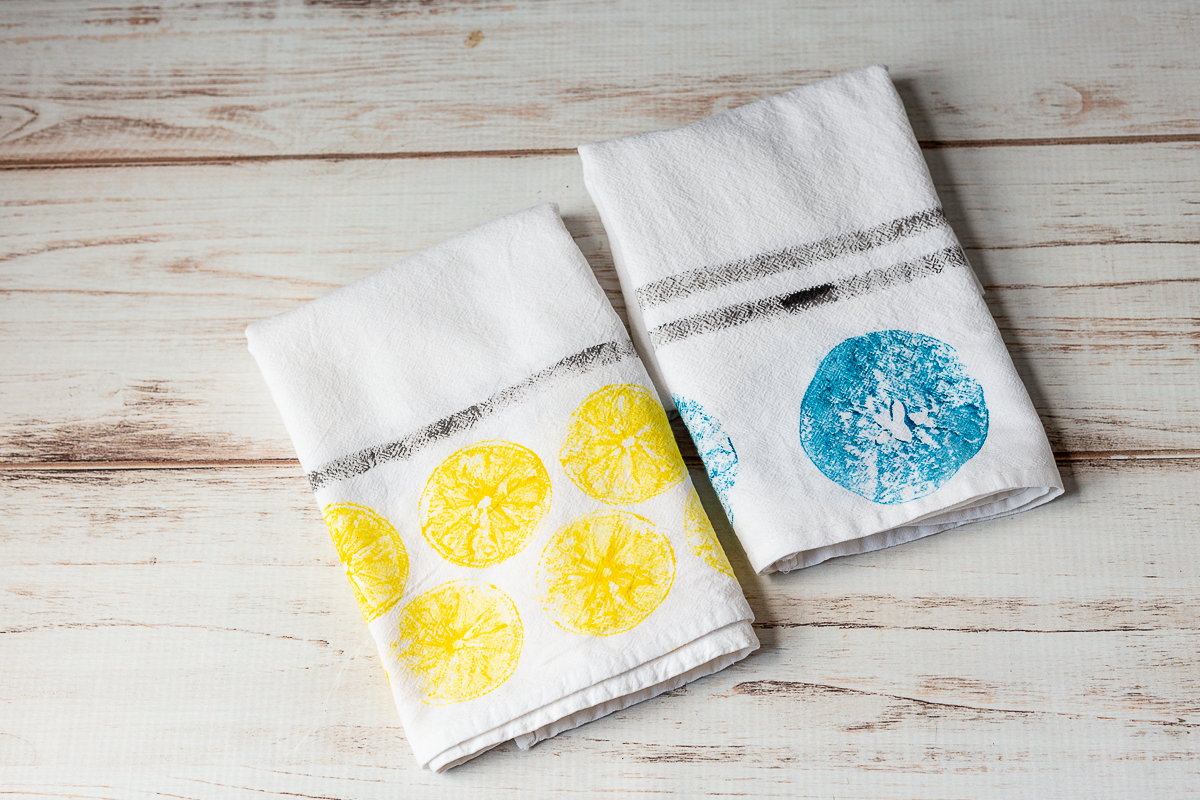 6. Allow the paint to completely dry (usually 24 hrs) before setting it with an iron. Follow the directions according to the manufacturer. For my paints, the instructions say to iron the backside of the fabric for 3 to 5 minutes on a cotton setting.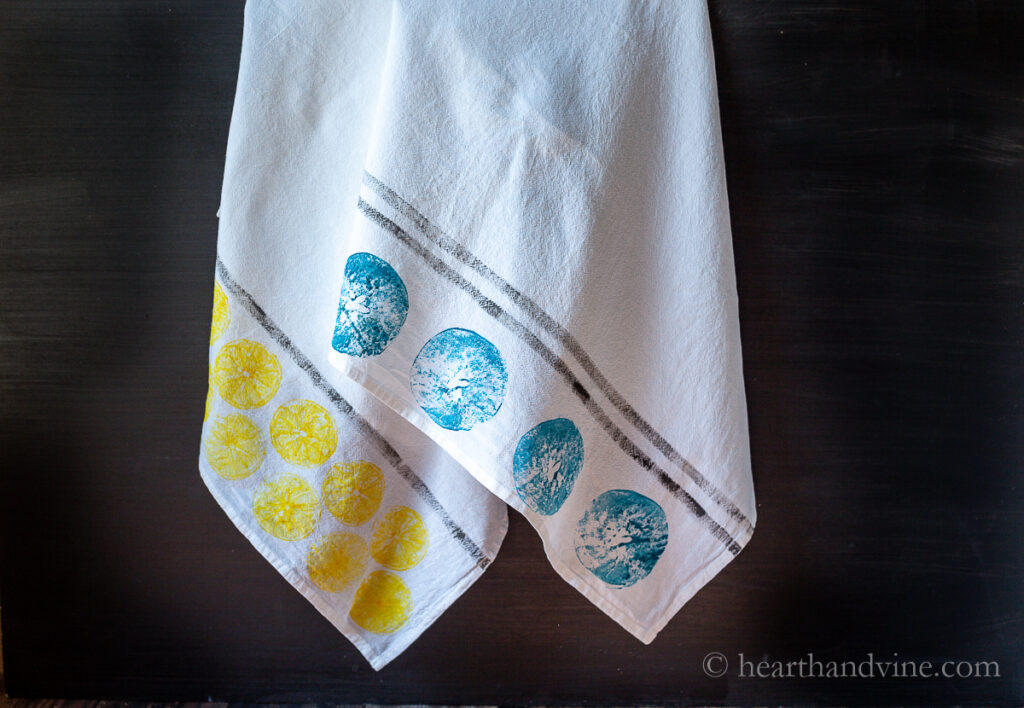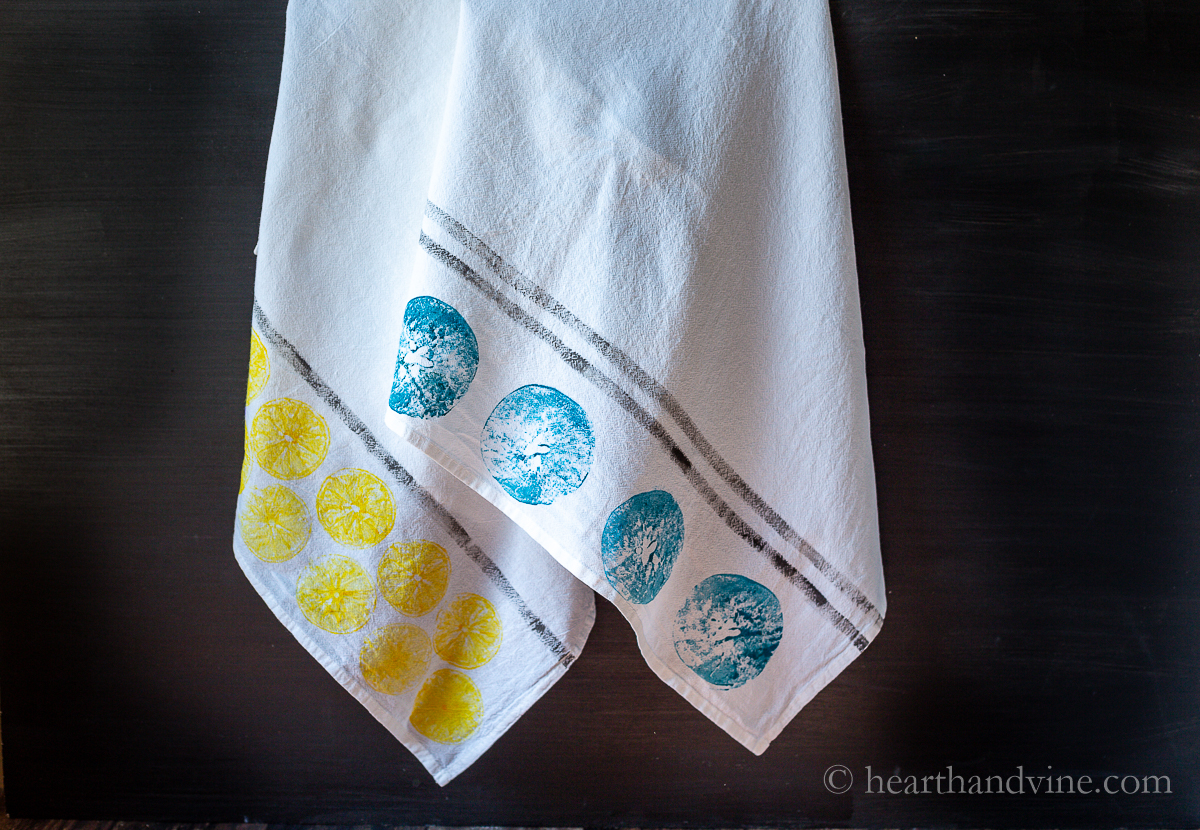 7. Wash on a gentle cycle with mild detergent and do not use bleach unless you need to spot treat an area.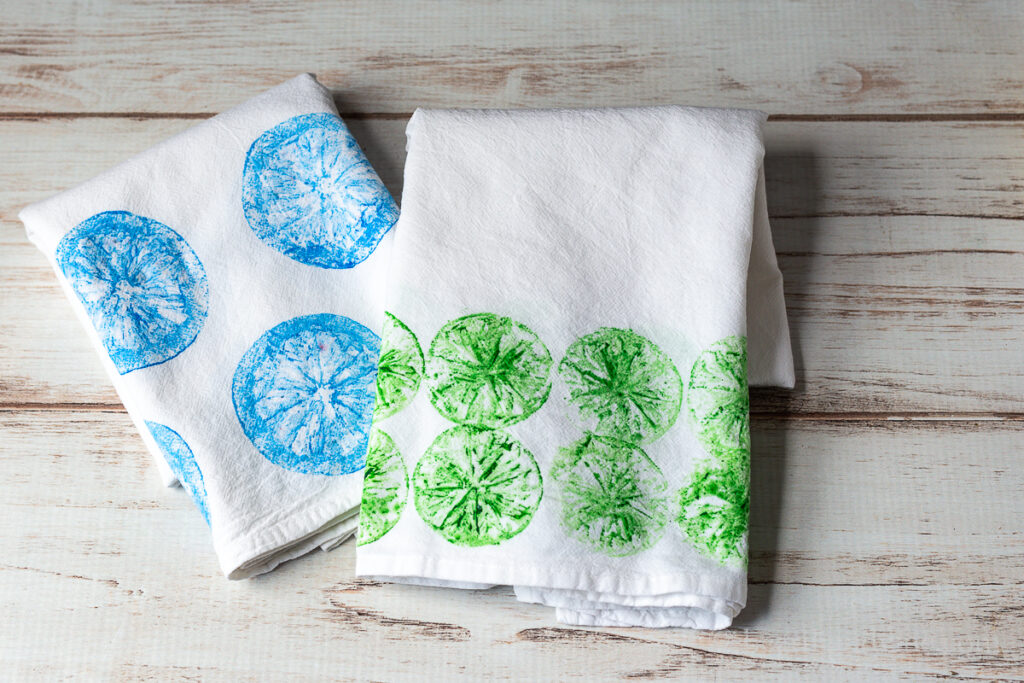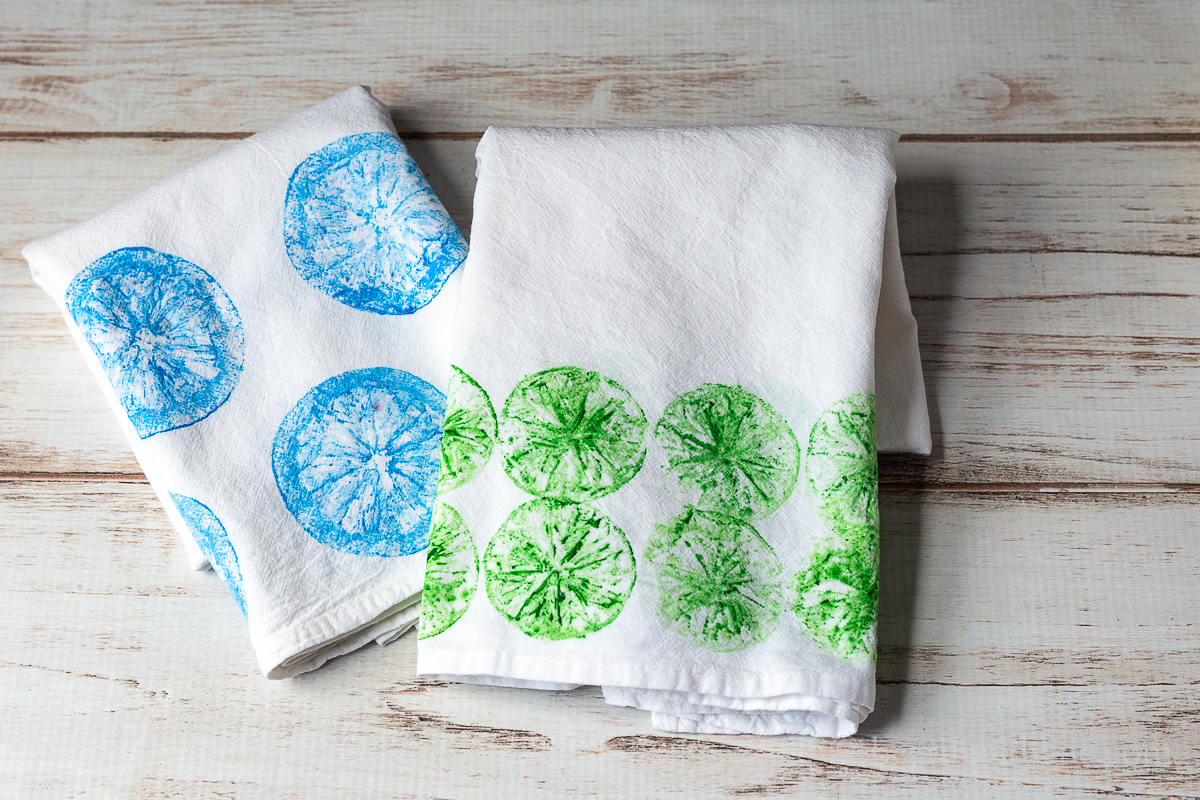 I plan on using these guys for my everyday kitchen towels. I'm pretty sure that they will eventually wear and possibly fade over time but I'm not worried about that. In fact, I think they may look pretty cool with a little wear. Maybe even better.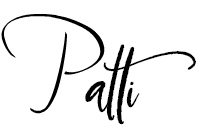 Print
DIY Hand Printed Tea Towels with Fruit
Making original custom hand printed tea towels with fruit from the kitchen, paints and flour sack towels.
Materials
Flour Sack Towels

Fabric Paint or Craft Paint with Fabric Medium

Paint Brushes

Paper Towels

Paper plates
Instructions
Wash, dry and press flour sack towels.

Cut fruit and blot excess juice with paper towels.

Use fabric paint diluted with a bit of water or craft paints with fabric medium mixed in.

Paint on the fabric paint onto the fruit in a thin layer.

Practice on some paper to get the print and thickness of paint that you like.

Press the fruit onto the tea towel in any pattern you like.

Add stripes or other details.

Hang towels and allow them to dry.

Press the towels with an iron to set the paint. Check the manufacturers instructions. You may need to cover the paint with a cloth before pressing.
Notes
Wash the towels on a delicate cycle and line dry to keep them looking their best. You can allow them to wear naturally over time too. In that case, you can wash them in a regular wash and throw them in the dryer.