Fern printed tea towels make great gifts at the holidays and you can use this technique with just about any pretty foliage.
More Tea Towel Projects:
Tea Towel Apron, Family Recipe Tea Towel, Eco Printing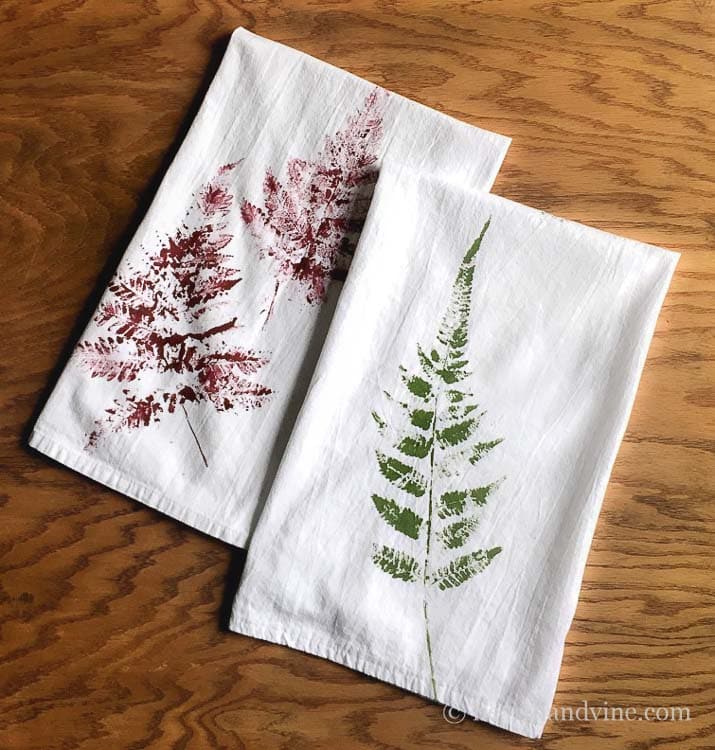 I love using flour sack towels to wipe down the counters and dry pots and pans. They are very absorbent and really get the job done. Here's a project that will turn the ordinary flour sack towels into pretty decorative fern printed tea towels that you can proudly hang in the kitchen using craft paint and plants from your garden.
This post contains some affiliate links (that means if you make a purchase after clicking a link, there's no additional cost to you, but I will earn a very small commission. ) Click here to read my full disclosure policy.
Supplies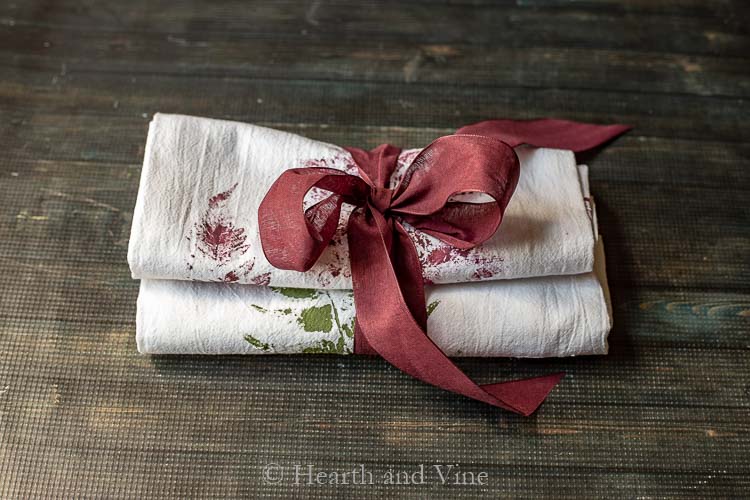 How to Make Fern Printed Tea Towels
Wash, dry and iron the tea towels.
Spread out newspaper over the work area.
Lay the tea towel right side up on the newspaper and mark the area you want to print. For example; I wanted to print the area that shows when the tea towel is folded in half and then into thirds.
Choose your plant material. I used Japanese painted ferns, Autumn ferns, and some Boston ferns.
Gently wipe the leaves with a damp paper towel to remove any debris.
Practice laying out the ferns on the tea towels to see what looks good to you.
Mix the fabric medium and the craft paint together on a paper plate.
Place the fern face down on a separate piece of newspaper and dab the paint generously on the back side.
Carefully pick up the fern, turn it over and lay it down onto the tea towel.
Use your fingers to gently press it onto the towel.
Then take a folded paper towel and press down on the fern.
The paper towel will pick up some paint so be sure to turn it over or use a new piece before pressing down the rest of the fern.
Then carefully lift up the fern and view your masterpiece.
Allow the paint to dry for 24-48 hours.
Heat set the print by placing a thin scrap of material on top and ironing it for 20 seconds.
Note: It takes a few times to get it right so be sure to cut extra plant material and practice on paper first.