This tea towel apron is super simple to make, and it's decorated with fabric houses appliqued at the bottom, for a fun whimsical look. A great beginner sewing project that comes together in an afternoon.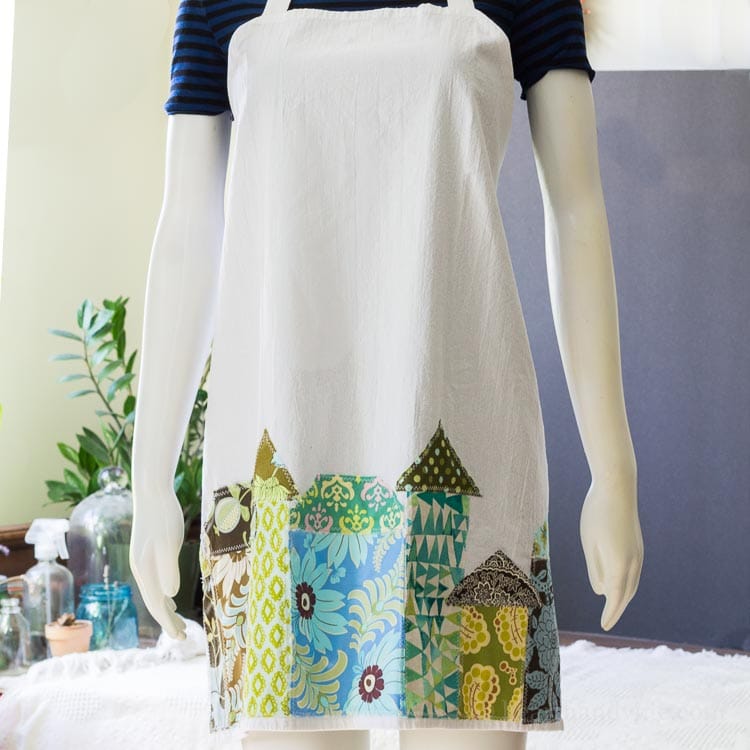 If you know someone who likes to use an apron while they cook, you will love this tea towel apron tutorial. It's easy to make, and you can use some of your scrap fabric to decorate the bottom in the shape of houses. This project uses a standard-sized white tea towel or flour sack measuring 28 inches by 28 inches. I had a couple of leftovers from the handwritten family tea towel project and thought the size worked perfectly for an apron.
This post contains some affiliate links (that means if you make a purchase after clicking a link, there's no additional cost to you, but I will earn a very small commission. ) i.e. as an Amazon Associate, I earn from qualifying purchases. Click here to read my full disclosure policy.
You've seen many of these fabrics on other projects here, like the fabric bowl covers, sore muscle bags, and scented padded hangers. Any scrap fabric would work. Just cut out shapes and have fun creating different sized houses and buildings to fill the space along the hem.
Once the pieces are in place, you can attach them permanently with a simple zigzag stitch. I used white thread but a fun contrasting thread, like a bright blue or green for this fabric, would look good too. Even if you don't have a sewing machine you can hand stitch the edges with a contrasting thread or white in large stitches to give it stability and a cute look.
Creating the apron couldn't be easier. Just fold down the corners at the top (wrong sides together) and stitch along the fold with 1/4 inch seam. Trim off the excess fabric.
Add some twill tape at the top to hang around your neck. I used a piece that was 20 inches.
Then add more twill tape on the sides, to tie the apron onto the body. I used 24 inches for each side to tie a bow in the back. You may want to make these longer if you like to tie the apron in the back, and then around to the front.
This dish towel apron is a fun creative project to make. I bet you already have many of these items on hand. Will you make one for yourself or for a friend or family member? How about one with Christmas fabric, for your favorite holiday baker. Wrap up a bottle of wine in the apron to take to your next party as a hostess "thank-you" gift. Lots of possibilities with this one. I hope you try it.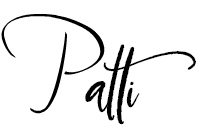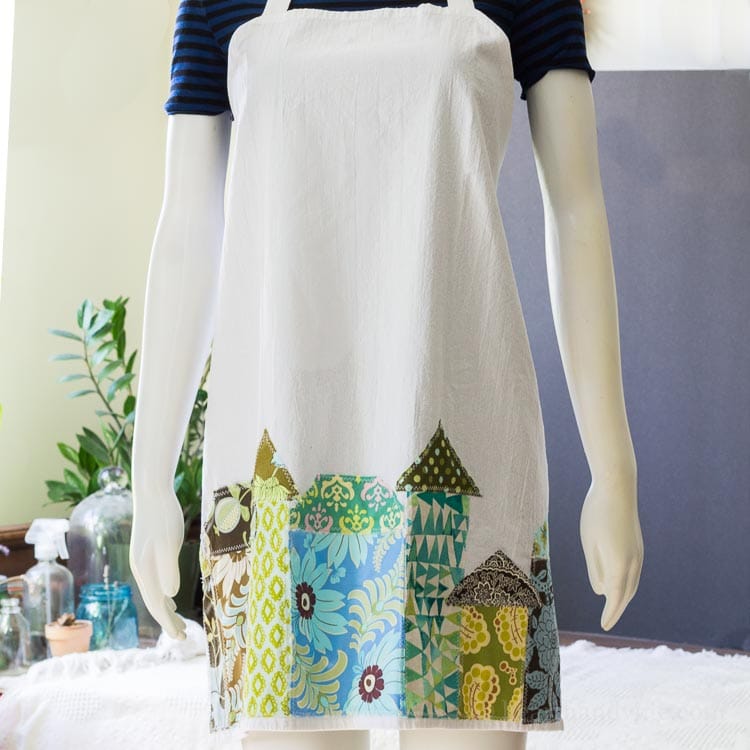 Print
Easy Tea Towel Apron With Appliqued Houses
Learn how to make this easy whimsical apron from a tea towel and fabric scraps.
Equipment
Sewing Machine

Scissors

Iron
Materials
White tea towel or flour sack 28 inches by 28 inches

1

inch

twill tape about 3 yards

Stitchery tape

Scrap fabric
Instructions
Start by cutting out shapes from scrap fabric to fill the bottom of the tea towel using rectangles and triangles to form house shapes.

Set them in place with a little stitcher tape and an iron.

Then using a simple zigzag stitch sew around and outline each shape.

Next, flip the tea towel over and turn down the corners of each side from the top.

Stitch along the folded edge with a 1/4 inch seam and trim off the excess fabric.

Add more pieces of twill tape on the sides of the towel, to tie the apron onto the body. I used 24 inches for each side to tie a bow in the back.
Notes
You can make the ties longer if you want to tie them around the waist.
You could use a thinner fabric tape for the apron ties.