Learn about the technique of flower pounding to create beautiful hammered flower prints on fabrics or paper.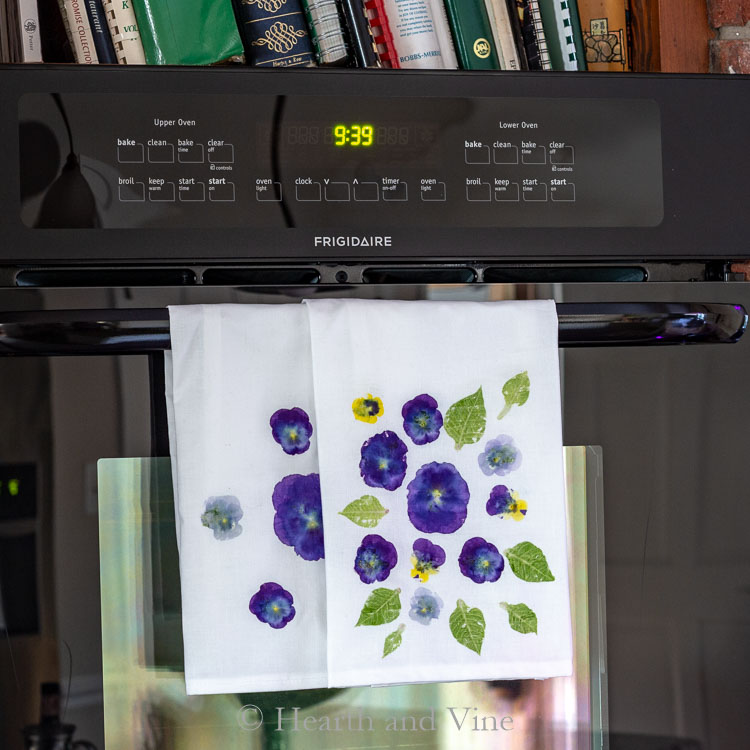 Here's another great handmade gift idea. Mother's Day and teacher appreciation come to mind. Just another way to use the inherent beauty of nature to create something special.
Flower Pounding Art
This technique called flower pounding, flower hammering or sometimes shown as Cherokee leaf pounding has been around for a long time.
Many people use it to make cards or to create textiles for quilting, but I thought it would be nice to make tea towels.
Now, these are purely decorative tea towels. You can't really use them as I'm not sure how well they would hold up in the wash. But, I know I'm not alone when I say I have several tea towels that I used for decoration and not function. If you are like that too then these may be for you.
This post contains some affiliate links (that means if you make a purchase after clicking a link, there's no additional cost to you, but I will earn a very small commission. ) Click here to read my full disclosure policy.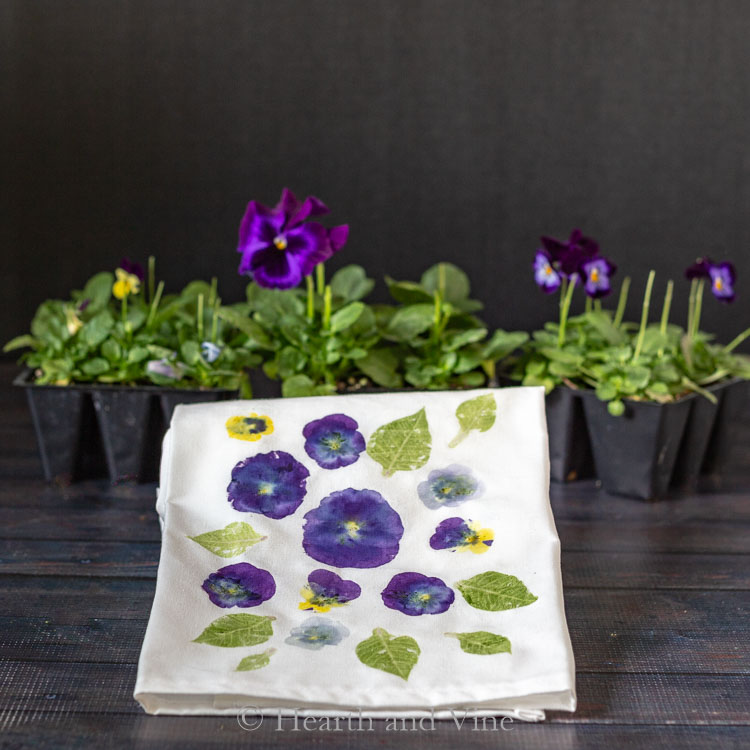 Flower Pounding Supplies
PFD fabric. This fabric that has already been prepared to accept dye. You could use regular cotton fabric and prepare it yourself with soda ash but I decided to go the easy route.
Fresh flowers and leaves - soft flat petals and leaves work best, but practice on a few first to see what you like
Masking tape
Hammers - Large and smaller tap hammers
If you are flower printing on paper I would suggest using watercolor paper because it will absorb the plant dye well.
Steps to Create a Flower Pounded Tea Towel
Cut a piece of fabric out and practice. This will help you get the technique down and determine which flowers or leaves you want to use. The begonia leaves were a little messier than the green poinsettia leaf on the right. They are not as flat and I think that's why they didn't work as well.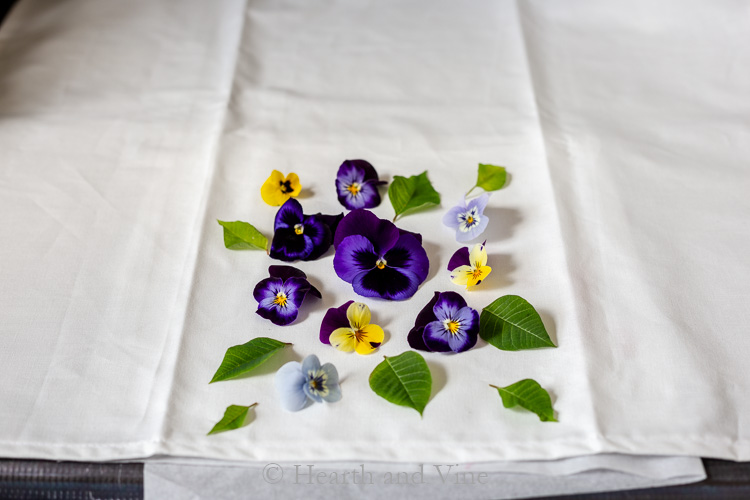 Arrange your flowers and leaves on the fabric.
Then flip them over (on the right side) and tape them down with masking tape. I found that covering them fully with the tape worked best.
Next, turn the fabric over and place it on a hard surface like a cutting board and start hammering. You'll see the print come through as you pound.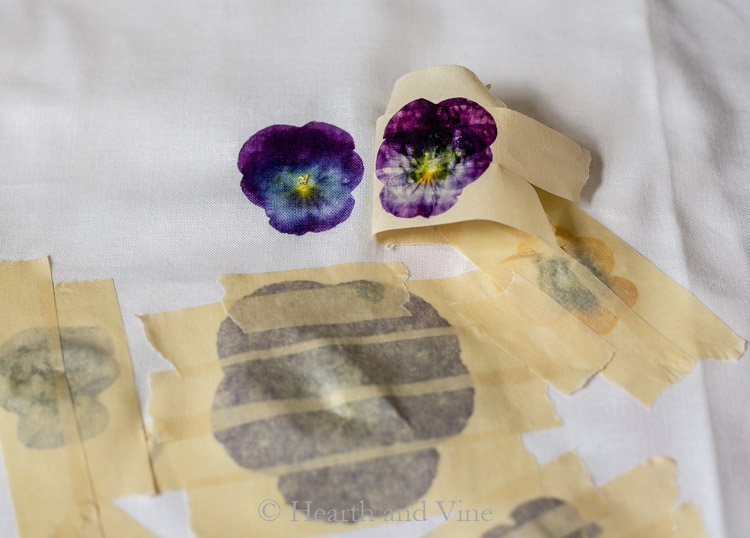 Next, flip the fabric over again and gently remove the tape.
At this point, the print will be a little wet and may have a little bit of the plant material on it.
Let it dry, and then gently scrape away any leftover plant material.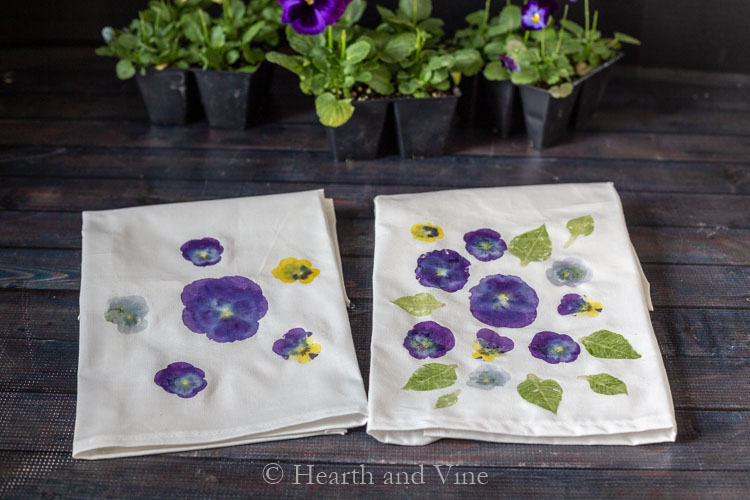 Pansies and violas were gorgeous for this project. I also liked the look of the green leaves that came from a poinsettia plant.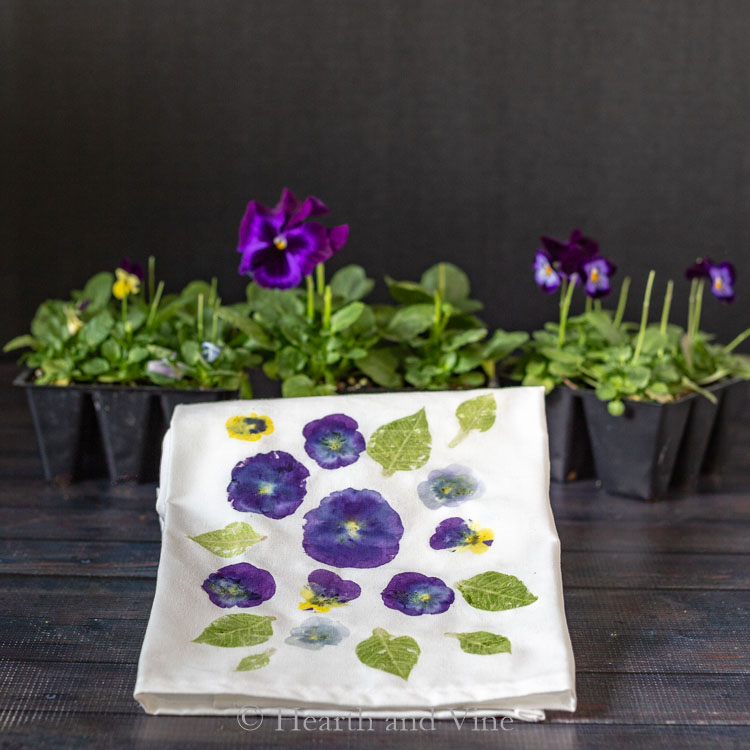 They turned out so well.
It's so easy to let the beauty of the flowers and leaves do all the work.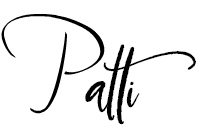 P.S. I really like working with nature and have shared a couple of similar projects such as Leaf Printed Pillows for our back porch and a really fun experiment with Eco Printing on Fabric that you might really like.
Click Here to Save to Pinterest!