Enjoy the beauty of natural Christmas decorations when you make these easy dried fruit ornaments to adorn your tree or packages this holiday season.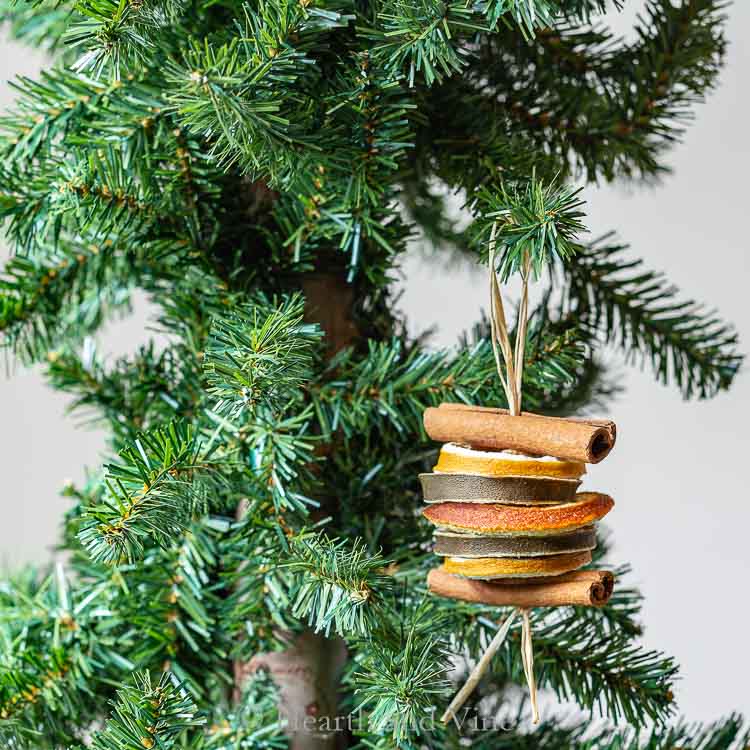 A couple of years ago I made a dried orange garland with orange slices, bay leaves, and cinnamon sticks. This has been one of my most popular posts. It smelled wonderful when I made it. I still have it, and though the scent has faded it still looks pretty. So I thought it would be fun to decorate the tree this year with dried fruit ornaments.
This post contains some affiliate links (that means if you make a purchase after clicking a link, there's no additional cost to you, but I will earn a very small commission. ) Click here to read my full disclosure policy.
Dried Fruit Ornaments
This time I used lemons and limes with a few orange slices thrown in from last year's homemade apple and orange potpourri.
Originally when I dried the oranges I placed the slices directly on the oven racks. However, these citrus slices are too small for that so using a small baking/cooling rack
was in order.
Tips: Use paper towels to dab and soak up as much juice as you can before placing them in the oven. Bake in the oven on a low heat level around 200 degrees for about 3-4 hours, turning every hour until they look dry. Keep an eye on them. If you leave them too long they may start to burn and that's not pretty. If they look good but feel a little sticky go ahead and remove them and let them sit out for a couple of days on the racks.
In the meantime, drill a small hole in the middle of the 3-inch cinnamon sticks
. Use a scrap piece of wood underneath to protect your work surface while drilling.
To create the ornament start by poking a hole in the fruit slices with a large needle or something like a large paper clip would work.
Next, take a piece of raffia
or ribbon about 20 inches long and fold it in half.
Start with the loop end and thread one of the cinnamon stick through, followed by the dried fruit slices.
Finish with another cinnamon stick, and tie a double knot at the end of the raffia.
Complete the dried fruit ornament by trimming any excess raffia.
Wouldn't they look cute on a gift package? It's a gift with a gift!
You can vary the ornament with different patterns and number of slices, creating shorter or longer ornaments.
You can also add cinnamon sticks between the slices or other botanicals like bay leaves
.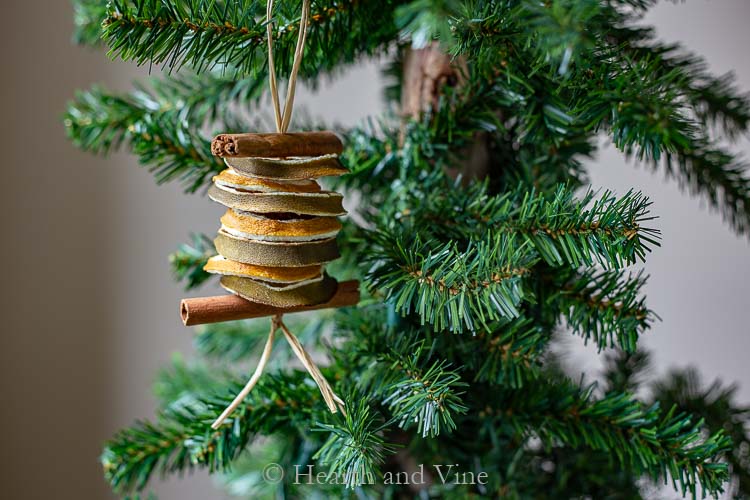 Once again, dried fruits, spices, and other plant materials are so gorgeous on their own.
They make it easy to create beautiful natural Christmas decorations.