This DIY ribbon technique using drop cloth fabric, creates one continuous strip of fabric, which you can use as is, or embellish as you wish.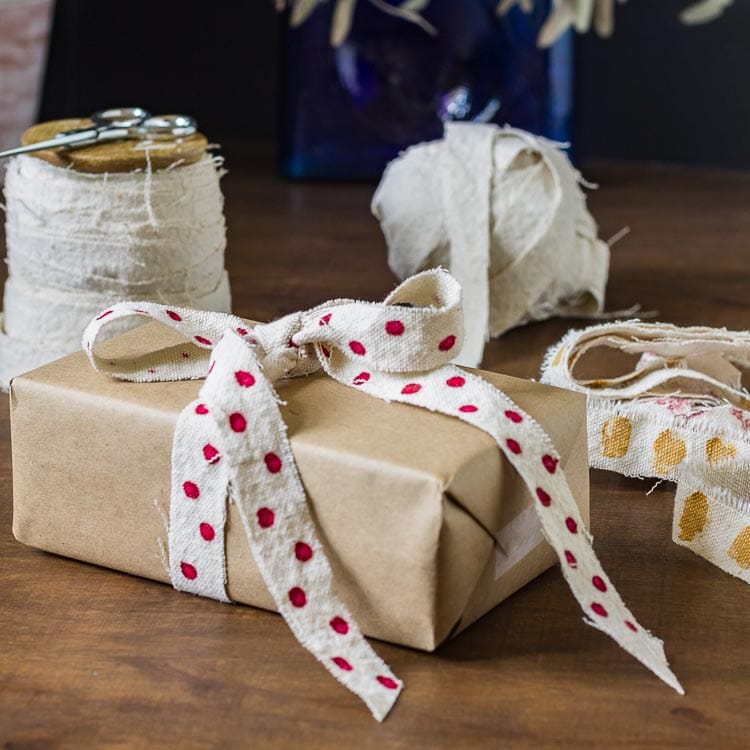 You may already know how to make a continuous ribbon from fabric if you make rag rugs. There are many tutorials and videos online that can show you this technique. I wanted to create some diy ribbon from leftover drop cloth fabric
, and this is the exact technique I used. This was a pretty easy project, and I love the way the ribbon looks with plain craft paper wrapping on our holiday gifts.
This post contains some affiliate links (that means if you make a purchase after clicking a link, there's no additional cost to you, but I will earn a very small commission. ) Click here to read my full disclosure policy.
A yard of fabric can make many yards of ribbon. I didn't actually measure it but as you can see I was able to fill this spool up and create another large ball of ribbon, just from some scrap fabric.
DIY Ribbon Process
To make the ribbon, fold your drop cloth fabric in half and sew a tight seam at the top.
Then bring the bottom up to a couple of inches from the seam. You can do this twice but that makes it a little harder to cut through.
Cut from the bottom to the top stopping just after the top fold, about and 1.5 inches from the seam.
This what it looks like when you have all the strips cut.
Next open the folded fabric at the seam and make your first cut from the top of the seam at the edge on the back side, to the cut opening of the next strip.
Set that part aside and start cutting the remaining strips as shown above.
You will end up with one very long continuous strip of ribbon.
DIY Ribbon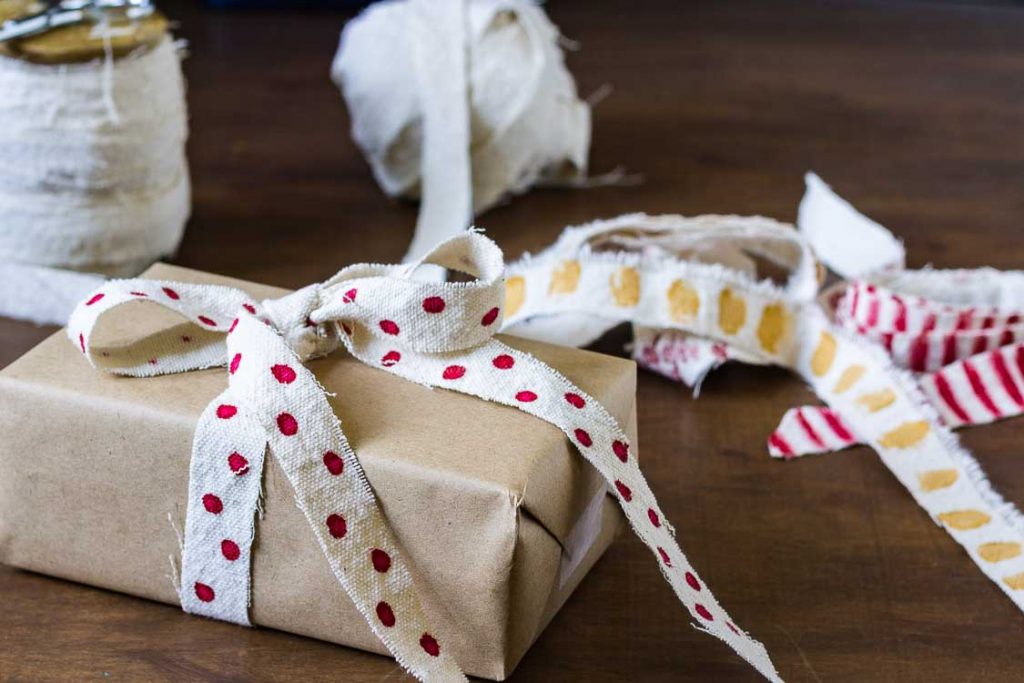 Then you can further embellish the fabric with craft paint, glitter, or leave it plain. (These polka dots were made with craft paint and the eraser end of a pencil.)
This works with any type of fabric, printed or plain, though I do think cotton is easier to work with than knit fabric.
Try it out with a small scrap first to get the hang of it, and then go to town.