Learn how to easily create inexpensive flower baskets for your Easter table centerpiece, or any part of your spring decor.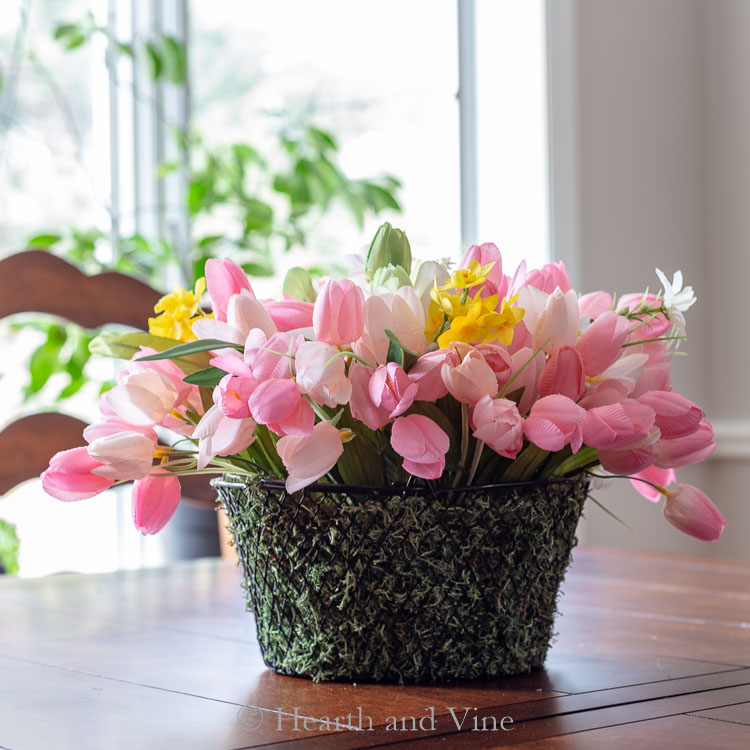 Here's another fun project which doesn't rely on fresh flowers to make.
These artificial spring flowers were purchased at Michaels during their spring sale. That same day I bought all the flowers for my Spring Peony Wreath.
I just can't wait for the real deal so I went with artificial, and I'll say it again. Artificial flowers are so much prettier now than they used to be.
This post contains some affiliate links (that means if you make a purchase after clicking a link, there's no additional cost to you, but I will earn a very small commission. ) Click here to read my full disclosure policy.
Supplies for Spring Flower Baskets
Small wire basket (Dollar Tree)
Moss (2 bags - Dollar Tree)
Foam blocks (2 - Dollar Tree)
Adhesive spray or liquid white glue
5 - 6 Spring tulip bushes and other spring flowers (Michaels)
Wire cutters or heavy duty scissors
How to Make A Spring Flower Basket Centerpiece
First, glue the moss to sides of the basket from the inside.
The first time I made this I used white glue but I needed to wait a bit to move from one section to the next or the moss would fall off. The solution is using spray adhesive
. It worked much faster. However, if white glue is all you have it works just fine.
Next, cut your flowers from their thick base.
Breaking them up helps to make the basket look full and position them where you want.
Cut foam to place on the bottom.
Use some foam placed in the bottom of the basket to hold the flowers in place. One and 1/3 blocks fit nicely in this basket.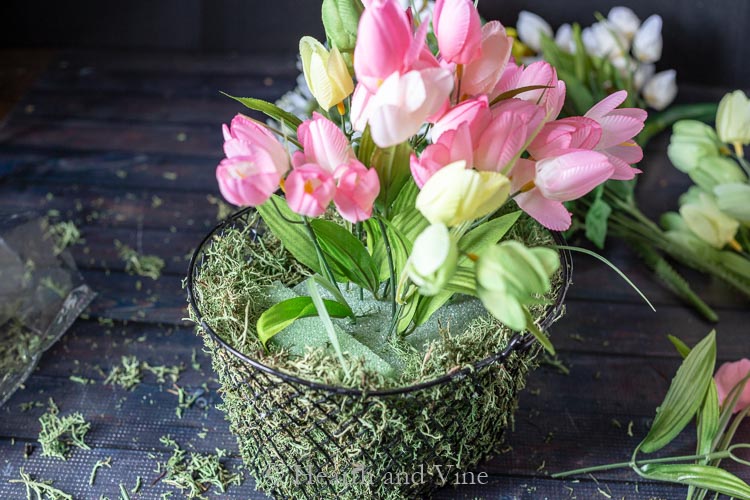 Place individual flowers into the foam.
Start in the middle, pushing your flowers a few inches in the foam.
Choosing the colors and pattern is a matter of choice.
Get creative. Place a few and stand back and look at the result.
You can move them if you want but don't do this too much or you may end up with too many holes.
Step back and look at the basket from all angles, filling in and adjusting where necessary.
I like having some of the tulips hanging over the sides just like real tulips.
You could use one of these flower baskets for your Easter table as a simple table decoration or centerpiece. Or use it in a pretty spring vignette on a side table. Either way, it is sure to bring some spring flower beauty to your home that you can enjoy for a long time.
P.S. This was the craft we made on our girls weekend getaway this year. Didn't they turn out great?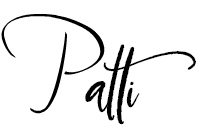 ---
P.S.S. A couple of years ago on our weekend getaway we made Easy Spring Wreaths with artificial flowers. You can find them, the Spring Peony Wreath, and many more creative ideas on my DIY/Projects page.
Click Here to Save to Pinterest!