Learn tips growing hydrangeas – Specifically Hydrangea Macrophylla, how you can get them to grow and bloom in your garden and alternative choices too.
Hydrangeas are one of the most popular garden flowers are coveted by many, including me. Many people have asked me about growing hydrangeas, and though there is tons of information out there I thought this was a good time to give you my experience in a nutshell. I hope it will help with some of you and maybe shed some light on what you can do going forward.
Tips on Growing Hydrangeas
Blooming on Old vs New Wood
For most, this is the main issue. The beautiful hydrangeas with big leaves and huge flowers like the ones you see in florist shops, bloom on old wood. Hydrangea macrophylla, commonly called "mopheads" with blooms in hues of blue, pink and purple aren't always easy to grow.
What does this mean?
It means that the flower buds for this year's plant were formed last year and will need to get through the winter for your shrub to produce flowers this year. So you've read the label and it says hardy to USDA zone 4. You buy one and plant it carefully, but the next year there are no blooms. Here in zone 6a, I have this problem too. My mopheads make it through the winter, but in the spring once the weather warms up, my H. macrophylla start coming to life, only to have a frost literally nip them in the bud-and guess what?-No flowers.
What Can You Do?
Well you could cover them with landscape cloth or burlap, or you could bury them with mulch for the entire winter. Landscape cloth should let the light in and theoretically could be kept on through all danger of frost. I don't do this. Did you notice my tagline, "for the casual gardener"?
You could-and I've done this once or twice-run outside and cover them with plastic bags, tarps or anything on hand, when there is a frost warning in the spring. But it you have several plants or if you get busy with the many other things in your life that may not be doable.
What I Do
I enjoy the beautiful foliage on a couple of mine that are pretty on their own and if we have a warm spring, the flowers are a bonus. Check out H. macrophylla "Variegata and Lady in Red" in the gallery below.
I continue to buy mopheads that are newer varieties that bloom on both old and new wood such as the "Endless Summer" and "Forever and Ever" series.
I also enjoy growing hydrangeas that only bloom on new wood such as H. paniculta varieties and H. arborescens. They are different from the mopheads and I don't believe there are any that are blue, but there is a newer H. arborescens, 'Invincibelle Spirit,' that is a reliable bloomer with pink flowers shown above.
More tips:
If you do have any H. macrophyllas (mopheads), and this is also true for H. quercifolia or oakleaf hydrangea, don't prune them unless there are dead branches or if it really needs shaping realizing that you may lose some blooms if you do. Deadheading spent flowers is okay.
If you have H. arborescens or H. paniculata you can, and I do, prune them in the late winter. The pruning keeps them in line and prevents them from getting too big and floppy.
Here in zone 6a, I've found planting mopheads near the foundation of the home seems to work well in normal winter conditions. I don't know if it's the heat from the home or the protection it provides, but unless we have an unusually brutal winter, they perform well even with a frost.
Hydrangeas seems to love water, maybe that's why they have the word "hydra" in their name, and will droop during a hot afternoon. A little drooping is okay. Some stress may actually push them into to flowering more, but if they still are drooping when the weather cools down, get out the hose.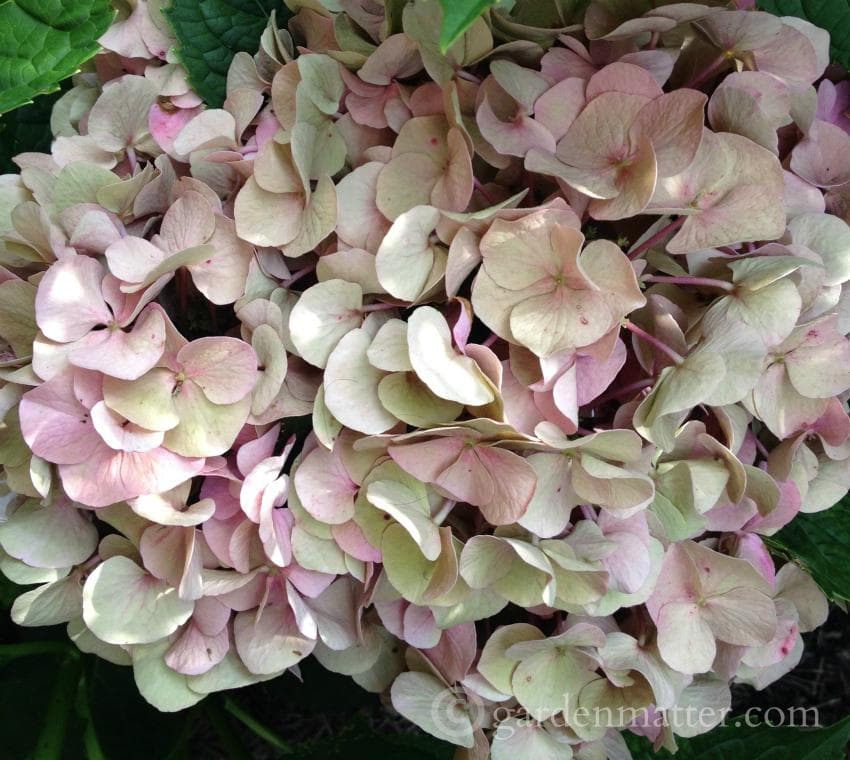 Love dried hydrangeas? Wait until the flowers begin to dry out a bit on their own, then cut them and place them in a vase with two to three inches of water. Once the water dries out, they will begin to naturally dry, and in a short time, and you will have an everlasting bouquet. Read more about drying hydrangeas.
Final Note:
When it comes to growing hydrangeas, or just about any plant I often think of my mother saying, "patience is a virtue." Well, I don't think she or my father passed that gene along to me, however when it comes to plants, it is sadly true. If your plant is a new one, do not be surprised to have to wait one year or so for it to come into its own. The saying, "first year sleep, second year creep and third year leap," is so true. Enjoy the gallery of my hydrangeas below.