These easy spring wreaths are made of grapevine, wooden letters, and artificial spring blooms. A little hot glue and imagination is all you need.
Every year I go away for the weekend with two of my very good childhood friends. We talk a lot, laugh a lot, shop a lot, eat a lot and sleep very little. Always soooo much fun.
Because it's late winter it seems like we are always looking for something bright and cheery for our homes when we shop. So this year one of them suggested I bring a craft idea to make and I thought, why not an easy spring wreaths?
I didn't want it to take too much time away from our time together. I also didn't want to make too much of a mess so I picked up some grapevine wreaths, silk florals, and a nice initial for each of us from Hobby Lobby.
How to Make Easy Spring Wreaths
The letters were made of particle board so I painted them ahead of time. Two were painted with white chalky paint and the third with acrylic paint in a midnight blue.
The white ones were also sanded on the edges revealing the brown underneath to give them a distressed look. On mine (the E) I added a little tinted wax.
The advantage of using a grapevine wreath, outside of its natural beauty, is that it has many surfaces to glue things on, as well as lots of nooks and crannies that you can insert and use to attach the artificial florals.
We played around with the placement of our letter then used a hot glue gun to adhere it to the wreath. Then we cut up the flower bunches and vines and attached them to the wreath.
They turned out great. It was a nice sunny morning so we took them out to the porch to photograph and hung them, one at a time, on the front door.
Here's what mine looks like on my own front door. I love the airy feeling of the faux spring blossoms on the dark wreath and door, and the softness of the chalky paint on the letter E for Estep.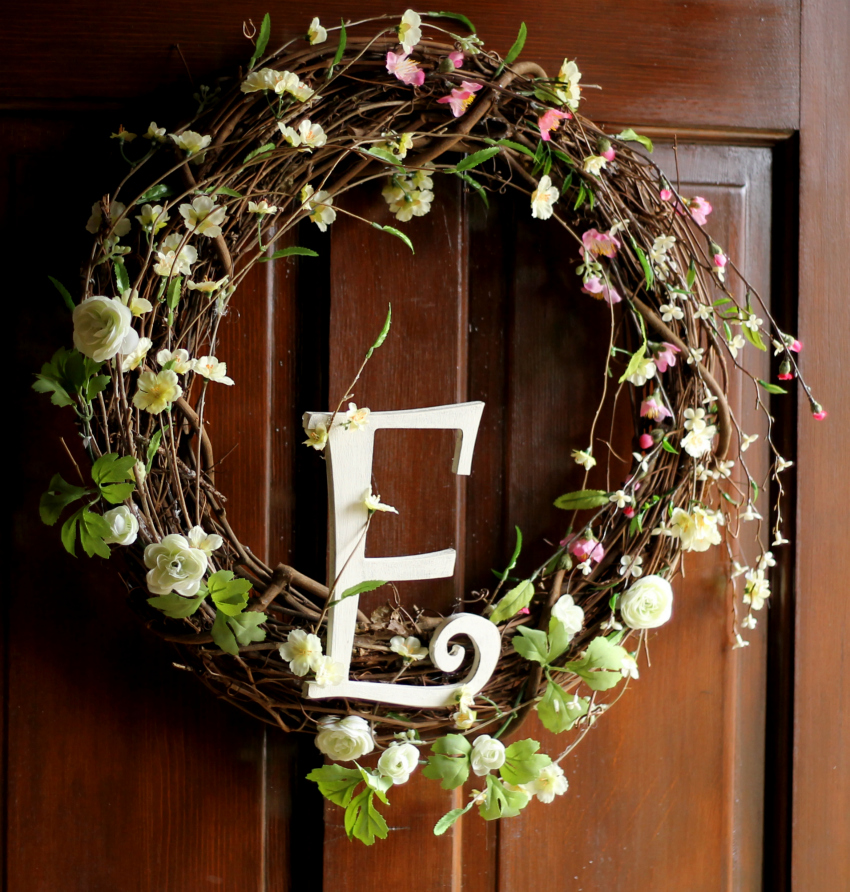 The whole project took about an hour and was so much fun to make, especially with my girlfriends. Could be a great Easter craft or a girls' night out party activity, though really, anytime with friends and family is certainly a good time.
For More Wreath Inspiration See: