This simple tutorial for a dried peony wreath is a great way to preserve all your beautiful peony blooms in the spring.
We went on vacation in May, and the peonies were already starting to bloom. When we got home they were just about done blooming.
Normally I will cut them, and use them in bouquets in the home or bring them to a friend, but this year I decided to cut as many as I could, to create a lovely dried peony wreath.
This post contains some affiliate links (that means if you make a purchase after clicking a link, there's no additional cost to you, but I will earn a very small commission. ) i.e. as an Amazon Associate, I earn from qualifying purchases. Click here to read my full disclosure policy.
Make a Dried Peony Wreath
Some of the blooms were getting old. Ideally, you would want to cut them in bud, or when they are still tight. They seem to dry better that way. Like the peonies, I dried for the Shadow Box Peony project. Still, I thought, what did I have to lose?
First I removed as many of the ants that I could, by swishing the flower heads in a large bowl of cold water.
Then I let them dry out a little.
Then I grouped them together, using rubber bands to secure the bunches, and were hung to dry in the basement.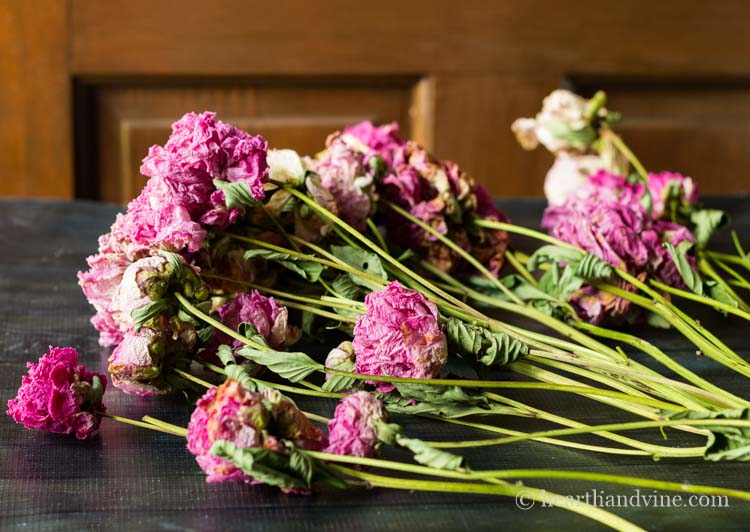 After about two weeks the peonies were nice and dry.
This time-frame may vary depending on the humidity in the house. Some of the peonies were too close to each other and did not look as good as the others.
If you can, keep them a little more separate when drying. Here is where my impatience gets in the way.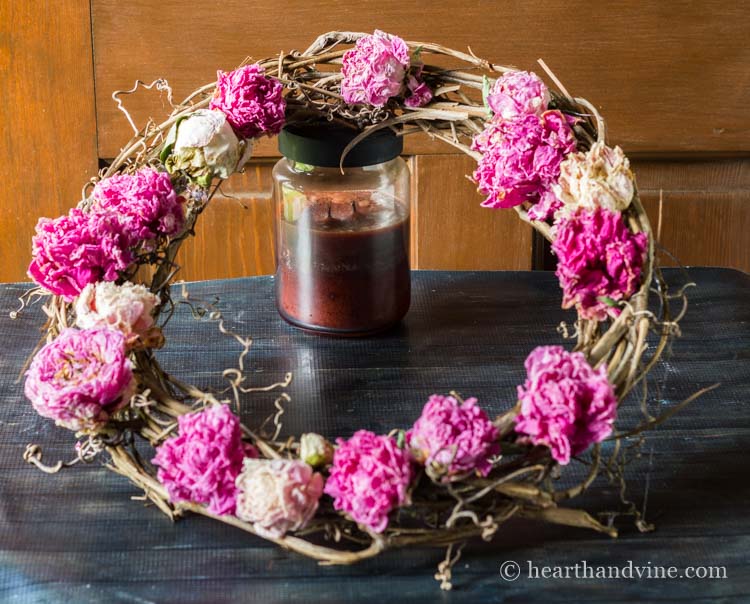 To make the wreath, use a grapevine base.
I made a grapevine wreath from vines in the garden.
Start with the larger flowers first.
Using a glue gun,
attach them to the wreath. It helps to use something to lift and support the wreath as you work, like the candle here.
Continue adding smaller flowers, and fill in with some of the leaves.
If you don't have enough peonies, you could also add in some different dried flowers such as hydrangea or roses. A smaller wreath base would help too.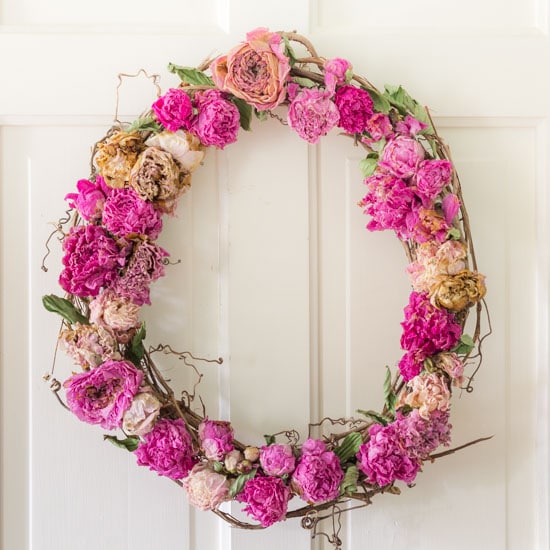 To help protect the wreath, give it a spray of polyurethane, matte or semi-gloss. It will still be very fragile, so you may want to find a spot indoors to hang this dried peony wreath. Some peony even use hairspray.
I think it has a very shabby chic romantic look, and I am happy to extend the life of all those pretty peonies.
This project didn't cost me a dime and it was fun to make.
You could also make a wreath like this with flowers from a special occasion, such as a wedding, or a pretty bouquet you received from someone special.
Not all flowers will dry as well as others, but if your only other option is to throw them out, why not give it a try.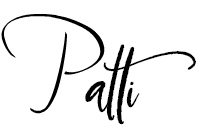 Click Here to Save to Pinterest!