Growing microgreens is a great easy and rewarding project to try indoors. The best part is that they can be harvested in about 10 days.
this post contains affiliate links for your convenience. Click here to read my full disclosure policy
I decided to try growing microgreens as a fun winter gardening project. It's a little too soon for seed starting in my area, so why not grow some indoor greens to harvest. I remember tasting bean sprouts as a kid and I never really liked them. However, I realized that microgreens taste nothing like bean sprouts.
Growing Microgreens
The basic difference between the two is that with sprouts you are eating the seeds and stems that typically grow in water. Microgreens are grown in soil, and are snipped off at soil level. Here you are eating the leaves and the stems. Also, sprouts can be eaten in just a few days where, microgreens take 10 - 14 days to harvest.
Steps to Growing Microgreens
Start with a nice soilless potting mix, or better yet, a seed starter mix
. You can find this just about anywhere. Many times seed starting soil and some everyday potting soil is very dry and dusty. It's always a good idea to wet the soil before planting seeds. Just make sure it's not soggy, but just enough to come together.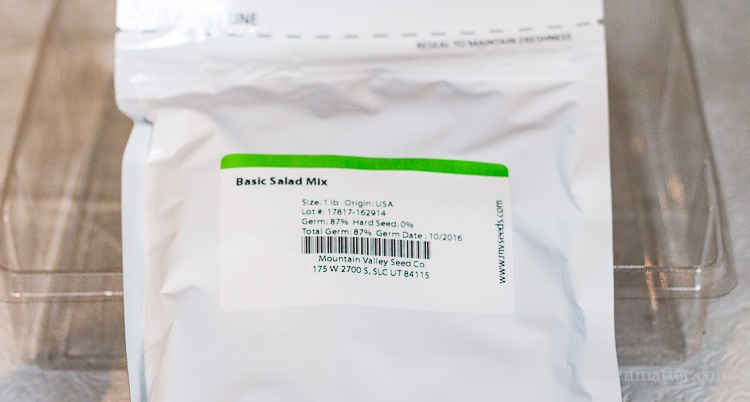 I purchased this bag of basic salad mix for my microgreens, but you can use almost any vegetable seed. Herbs like basil are easy to grow. Also watercress, pea shoots or even melscun mixes.
You can use different types of containers. The one on the left is a simple clam shell from a take out salad bar. The one on the right is a Jiffy seed starting tray that came with a dome.
All you need to do is liberally sprinkle on the seeds, and then lightly cover with more soil.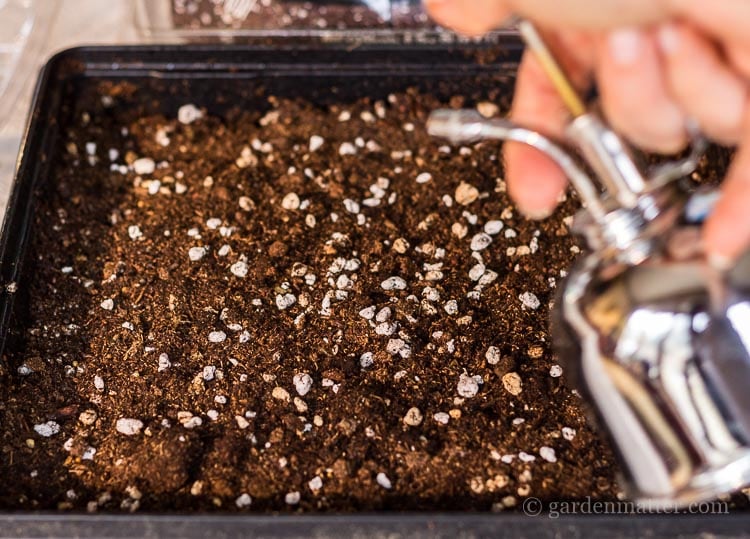 Use a spray bottle or mister to water them and cover. Place them in a really sunny window or under artificial lights.
This is what they looked like after only three days. Continue to mist the microgreens when the soil looks dry, about once a day.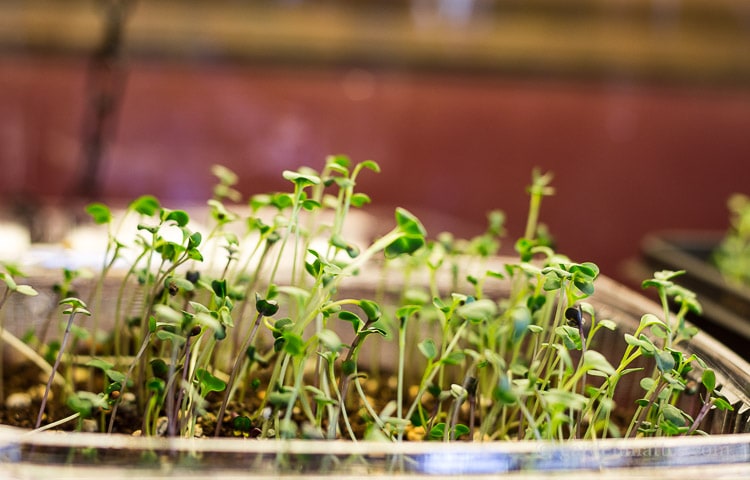 At ten days they are ready to be harvested. Just snip them off just above the soil.
Toss the remains in your compost and start again. Easy, huh?
The one thing I would change is, the amount of seeds I scattered. I think I could have used more seeds for a more dense harvest.
These microgreens are great for topping salads, and garnishing just about any dish, but my favorite way to eat them is on sandwiches.
They add great flavor and you know you are eating a super fresh, nutritious and healthy food that you grew yourself.
If you liked this post, you may be interesting in one called Grow Your Own Salad Bowl, where I show you how to grow mesclun, also known as "cut-and-come-again" lettuce in a large bowl.