Transfer your favorite scene from an image onto muslin to create a beautiful piece of landscape embroidery hoop art. Basic hand stitching is all you need for this interesting art form.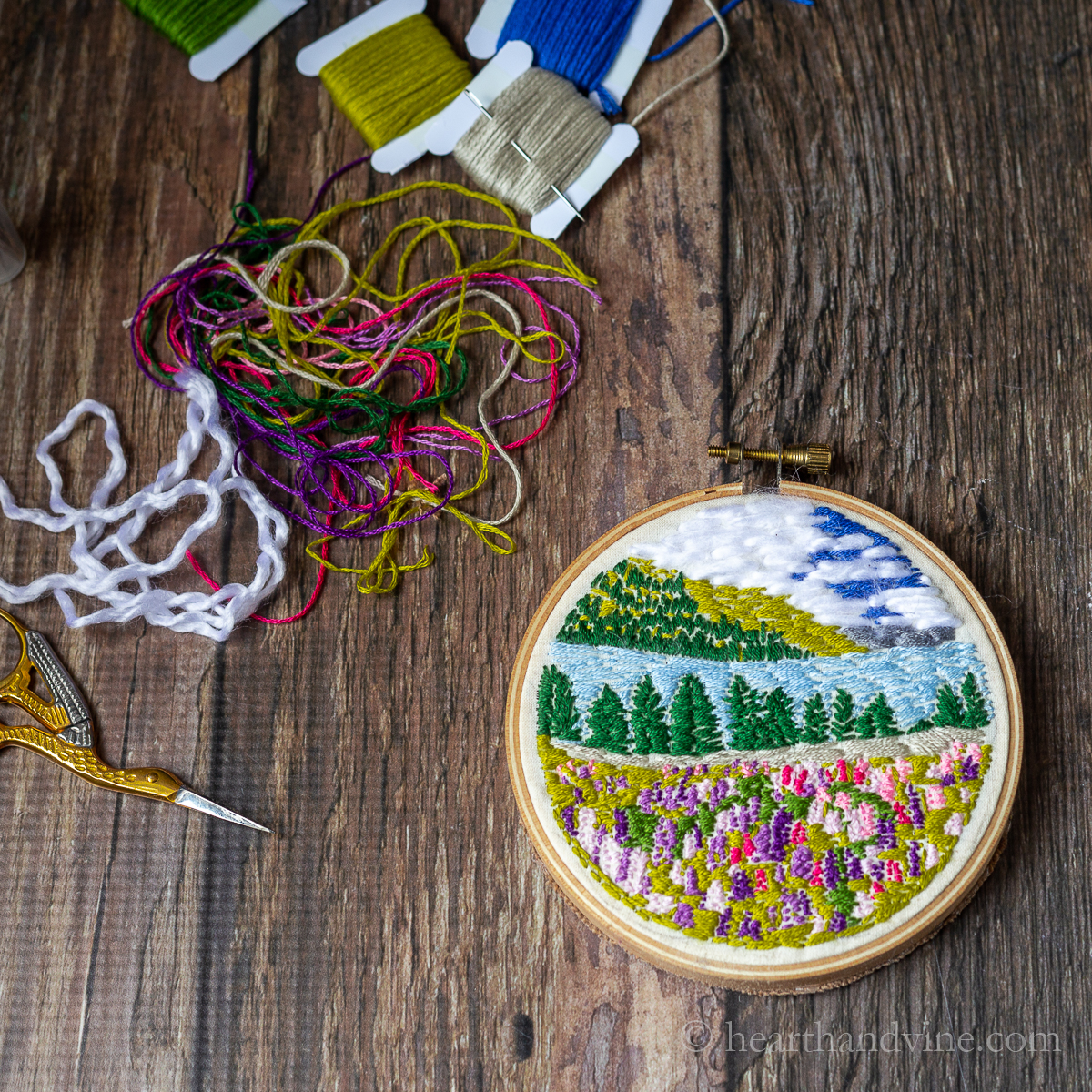 Have you seen this yet? It's a new art form using embroidery to create a beautiful landscape. Well, at least it's new to me.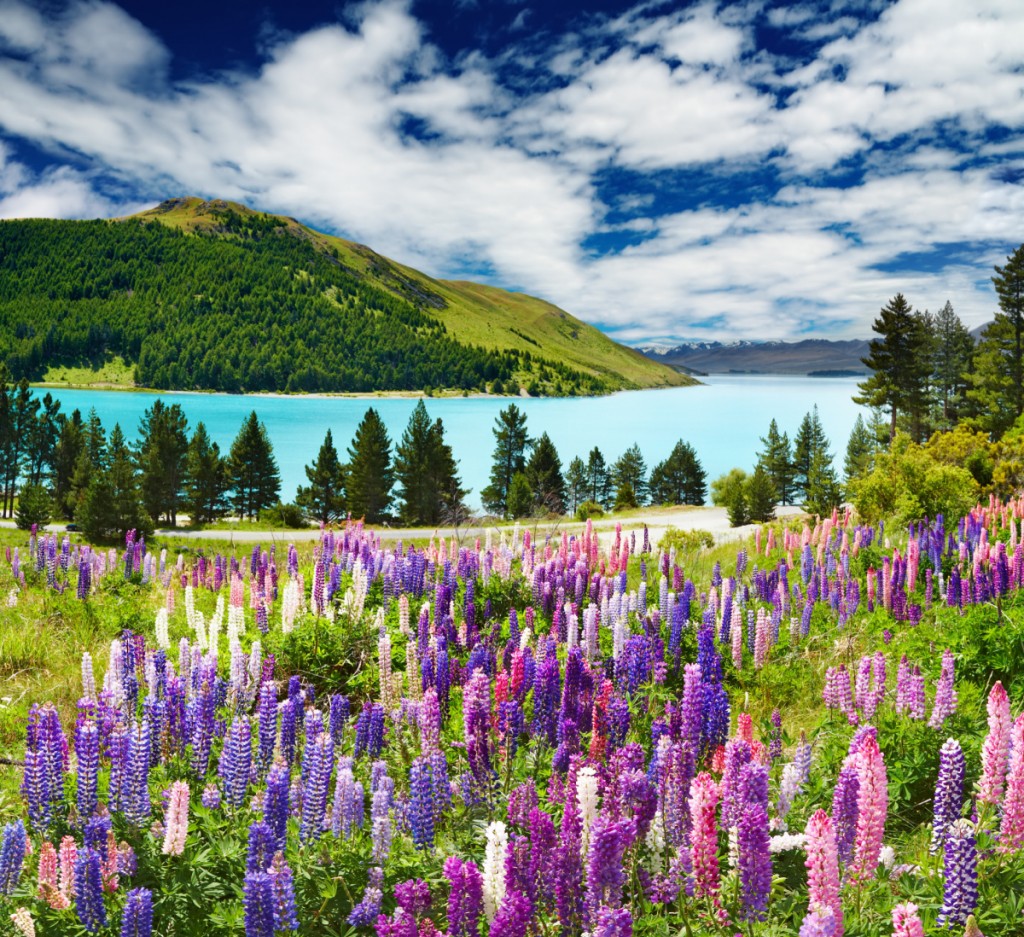 How to Create Landscape Embroidery Art
Supplies
Other thin yarn
Fabric for backing
Glue gun and sticks
Landscape image
Use a photo from a trip or something online as your landscape. I used one from Deposit Photos, though I think one from a special trip would be even better.
Next, turn your image into a coloring book page. You can use this free online source: Lunapic.com. Upload your photo. Then click on effects and choose coloring book.
Place the embroidery hoop on top of your image and draw a circle around it.
Then trace the image roughly onto muslin using a bit of tracing paper between.
Attach the embroidery hoop to the muslin image and pull it taut.
Then start stitching the image. I used strands of embroidery floss mainly and a few times only two. Most of my stitches are made horizontally, close together, somewhat like the satin stitch. You can mix up the stitches as you see fit. I did use some vertical stitches for the trees in the background as you can see in the completed hoop.
All of this project was made with standard 6 strand embroidery floss except for the clouds. I used some of the leftover yarn from the punch needle pillow project and used just one of the threads to create the clouds. I really like the texture effect this yarn had on the piece.
It doesn't have to be exactly like the original image. This is somewhat free-hand embroidery. Just use the original photo as a guide. Start with some of the larger images and main features. Then fill in the rest.
It did take several evenings to complete but I like the way it turned out.
How to Finish the Landscape Embroidery
Cut the muslin around the hoop leaving about 1.5 inches.
Then flip over the hoop and use some coordinating thread to create a running gathering stitch about 1/2 inch from the raw edge making sure to leave some of the thread out when starting. Do not use a knot.
Then pull on the thread at the beginning and end to gather the fabric together and tie in a double knot. (see image above)
Then, cut a piece of backing fabric and glue it onto the back. This can be anything you have in your scrap box. Just make sure it has some weight to it and is dark enough so that the threads do not show through.
Now you have a beautiful piece of hoop art embroidery to hang anywhere in the house. Wouldn't it make a nice gift for someone if you used a pic from a special trip?
More Embroidery Hoop Projects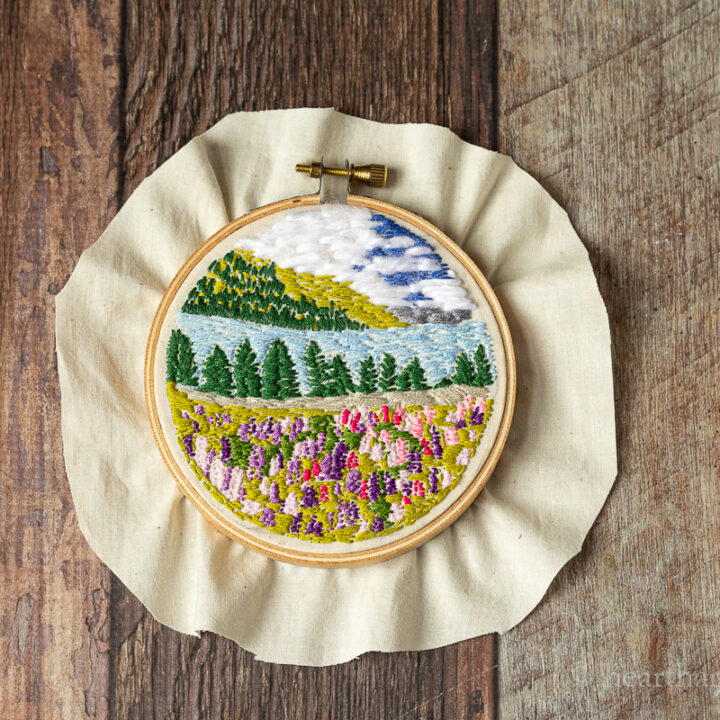 Print
Landscape Embroidery Hoop Art
Transfer your favorite scene from an image onto muslin to create a beautiful piece of landscape embroidery hoop art. Basic hand stitching is all you need for this interesting art form.
Equipment
pencil

Scissors

Computer and printer

Embroidery needles

Glue gun and glue sticks
Materials
Mini 4 inch embroidery hoop

Muslin to cover hoop approximately 8 x 8 inches

Tracing paper

Embroidery floss in different colors

Yarn

optional

Backing material
Instructions
Find a landscape image.

Use online software to create a coloring book black and white image of your landscape. Lunapic.com is free.

Edit the image to fit the hoop.

Trace the hoop circle over the center of the image.

Cut a piece of muslin about 2 inches larger than the hoop. (8x8 inches)

Trace the image with tracing paper onto the muslin.

Fit the muslin tightly onto the hoop.

Start stitching the image using different colors and simple straight stitches.

Consider using thicker yarn to stitch some areas like clouds for a textured look.

When complete trim the muslin about 1.5 inches from the edge of the hoop.

Turn the hoop over and use a running gathering stitch close to the edge.

Pull both ends of the thread and tie into a knot.

Cut a piece of backing fabric to cover the back.

Hot glue along the edges.