Here are several last-minute entertaining hacks that will set your mind at ease during this hectic yet special time of year.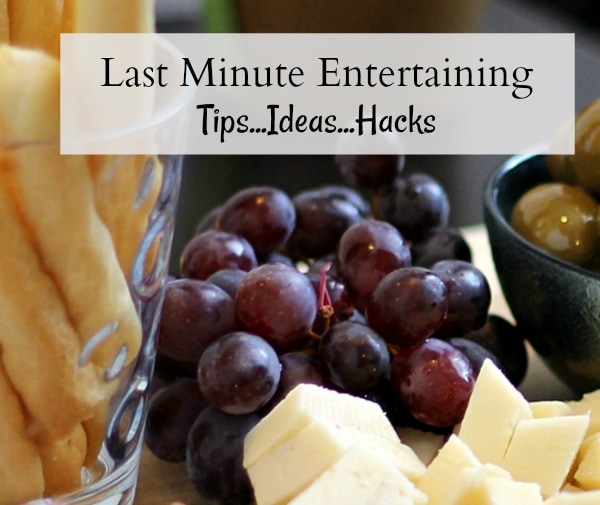 While it's always wonderful to see old friends and family, an unexpected visit can cause a lot of panic and anxiety. So today I'm sharing some easy ways to whip up your home into shape to entertain guests at the drop of a hat.
Last Minute Entertaining Hacks

No one has a spotless home all the time so cleaning up before guests arrive is the first order of business.
Hide Extra Clutter
Stacks of magazines, mail, and kids toys are examples of extra clutter. Grab a large bag or basket to stash them away in a closet or other room while you entertain.
Fake it With Scent
Even though you don't have time to really clean you can make your house smell clean by quickly spraying the furniture and kitchen with fresh smelling cleaners.
Tip from my girlfriend: Lemon is a great scent that gives your home a clean smell. Spray it in your sink and use a lemon-scented dusting spray quickly on the furniture in the main living area.
Candles in scents of cinnamon or apples give your home a cozy smell. Have some simmering potpourri on hand to quickly heat on the stove for a warm and comforting atmosphere.
No-Iron Shortcut
Tip from my sister-in-law: Keep a spray bottle of water on hand to help remove wrinkles from your tablecloth quickly. Just lightly spray the cloth and use your hands and palms to stretch the fabric and press out the wrinkles.

It's always nice to be able to offer your guests something to eat. A few staples in the pantry and refrigerator can make this a simple task.
Stock Your Pantry
Charcuterie boards are all the rage and it's no wonder. You can easily throw these together in minutes and make them as simple or complex as you want.
Originally a charcuterie board was a plate of cured meats, however, now it seems like it has evolved into much more. A while back I wrote about antipasto trays which is very similar and something my mother-in-law always had at the holidays.
All you need is a nice big board. Even a wooden cutting board would be great. Pull everything you have from the pantry and refrigerator and have fun arranging it on the board.
Include:
cured meats
cheeses
olives
nuts and seeds
salsa
crackers of all shapes
breadsticks
mustards
chutneys
fresh fruit slices
dried fruits like raisins
Many of these items can last in the pantry for quite a long time, stock up so you'll always have something to serve.
Hit the Freezer
Another girlfriend tip: Keep frozen bread dough on hand. Defrosts it in the microwave to easily make quick pizzas, rolls, and calzones for last minute guests.
If you have the room, frozen mini quiche and other fancy hors-d'oeuvres are great to serve last minute.
Here's a super yummy and easy snack I learned years ago from my cousin's wife. Place a block of cream cheese on a plate or bowl and cover it with your favorite salsa or chutney. Serve with crackers or bread rounds. So easy.
Finally, I hope you enjoyed these last minute entertaining hacks. Just remember your guests are there to spend time with you, not to judge. So, relax and enjoy this special time.