Learn about 7 easy to grow shade loving perennials, a little out of the norm that you will definitely want to add to this year's wish list for the garden.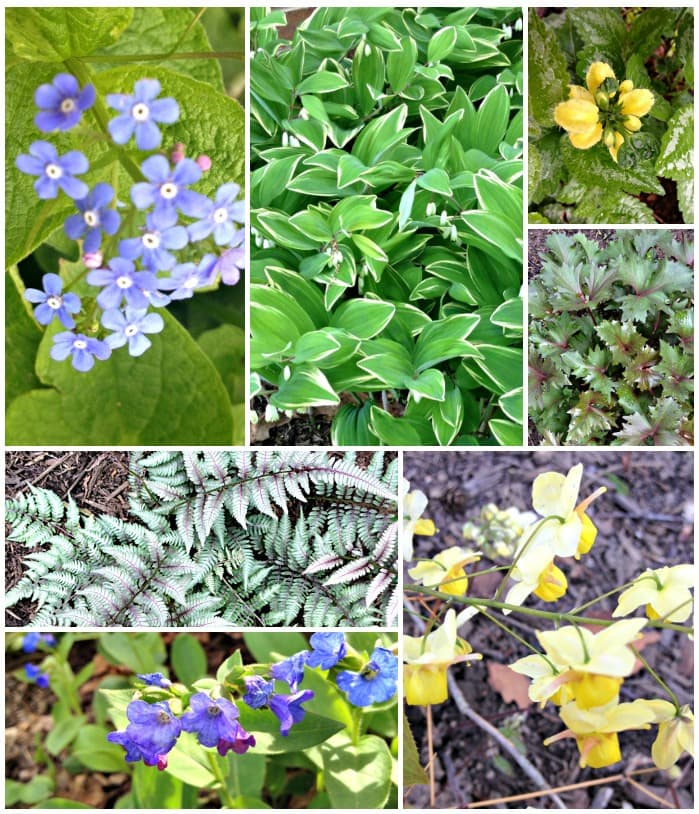 I have a good deal of shade on my property. My home was built in the mid-eighties so much of the original landscaping is mature, including the trees which offer quite a bit of shade.
This is great for our electric bill in the summer, but not so great for someone who wants to grow sun-loving flowers and vegetables. That being said I have found many great plants that work well in the shade. Here are seven shade loving plants that are not the run-of-the-mill plants, which just might work for your shady areas.
All of these perennials grow well in my Zone 6 garden and come back year after year in full vigor.
7 Unique Shade Loving Plants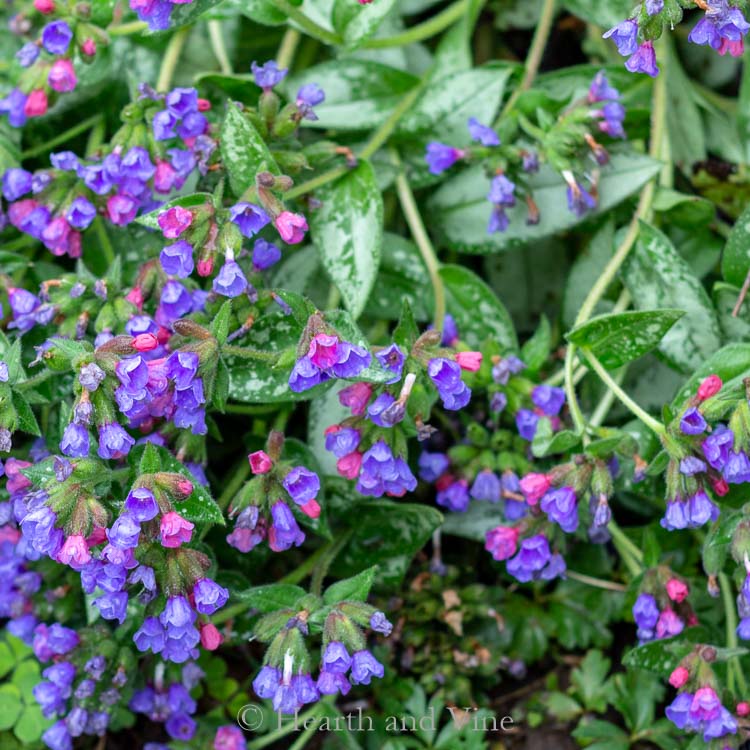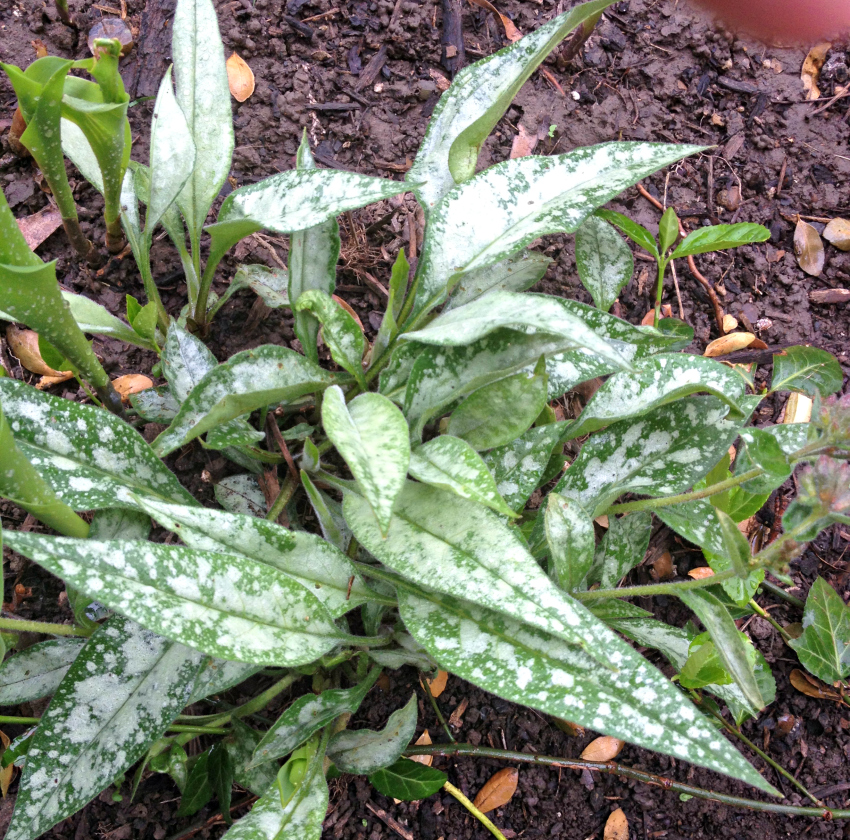 Pulmonaria aka Lungwort
Lungwort is a perennial that comes up early in the spring. I love the bright flowers. Many varieties have spotted leaves for great visual interest. Learn more about Pulmonaria aka lungwort its history and growing habits.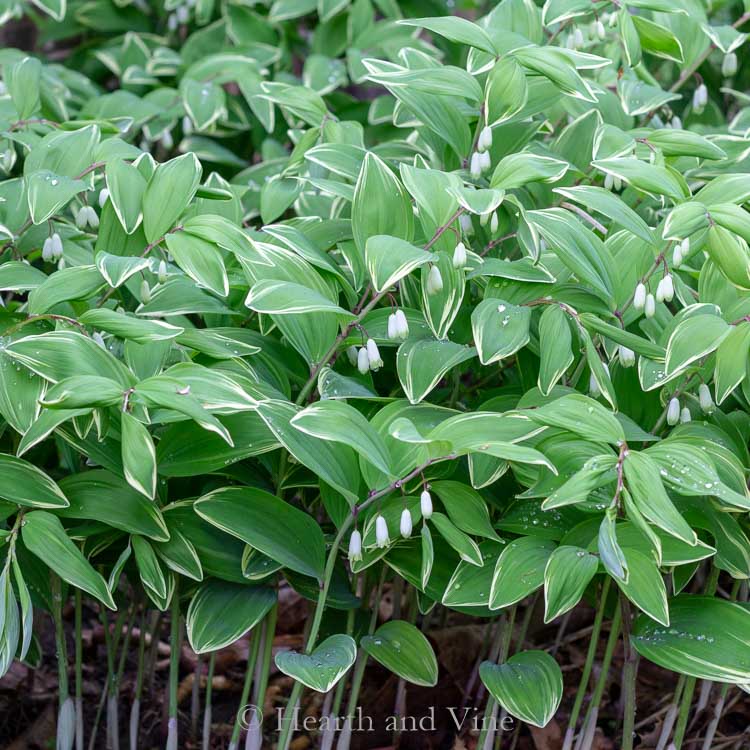 Solomon's Seal
I have this beauty in two spots. The first one is located in heavy shade, under a dogwood tree, next to a pine. The other is close to our foundation in the back of the house. They both perform well and last throughout the season with dainty flowers in the spring. This is a variegated one. There are also varieties in different sizes and color combinations. One called 'Ruby Slippers' has beautiful dark red stems.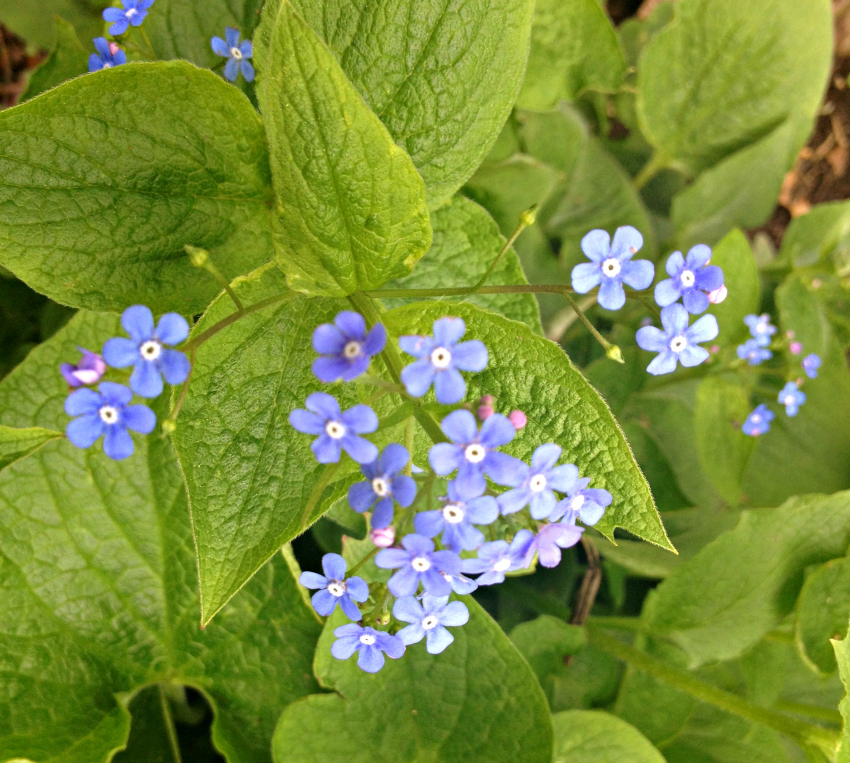 Brunnera aka False Forget Me Knot
I really love the blue flowers and the nice mounding habit that fills a space nicely in the garden. "Jack Frost' is a variety of Brunnera with beautiful frosted leaves and veining.
Note: I have found this one to be somewhat invasive. But oh that rare blue color of the flowers makes it hard for me to get rid of.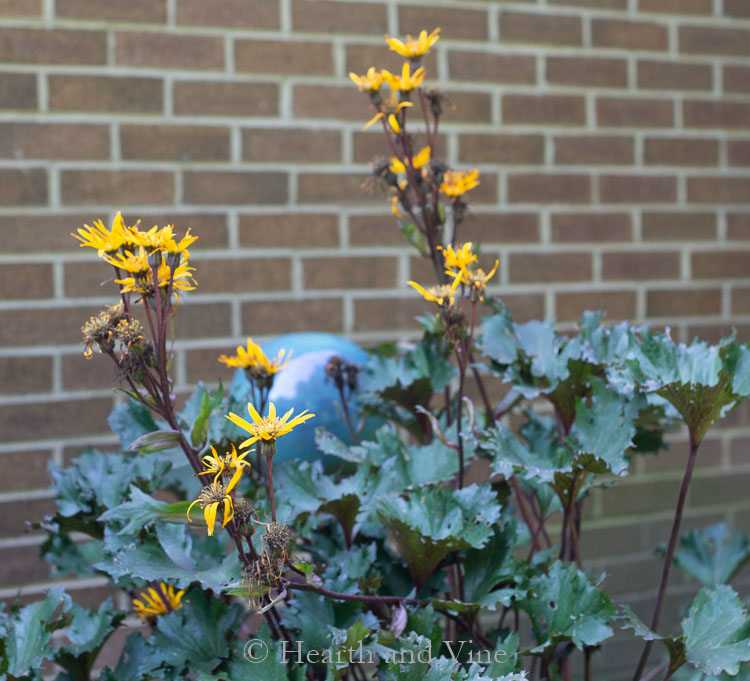 Ligularia
This is a variety with very dark leaves which I like and sometimes use in flower arrangements. It blooms in late summer when many of my other plants are fading, with bright golden flowers.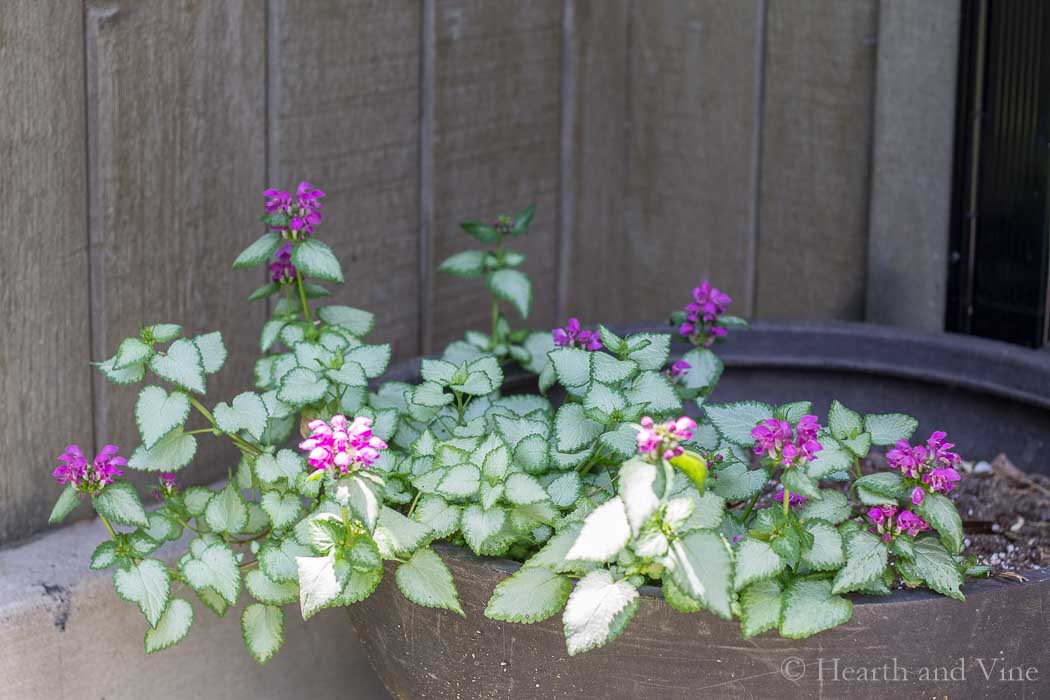 Lamium aka Dead Nettle
This is a ground cover that seems to grow anywhere. The gold flowered one was here when we bought the house. The second one I often buy for containers as it trails nicely and will bloom on my shady front porch. Lamium will actually over-winter for me in pots. This is another one that is said to be invasive in some parts of the country. However, I have not found this to be an issue for me.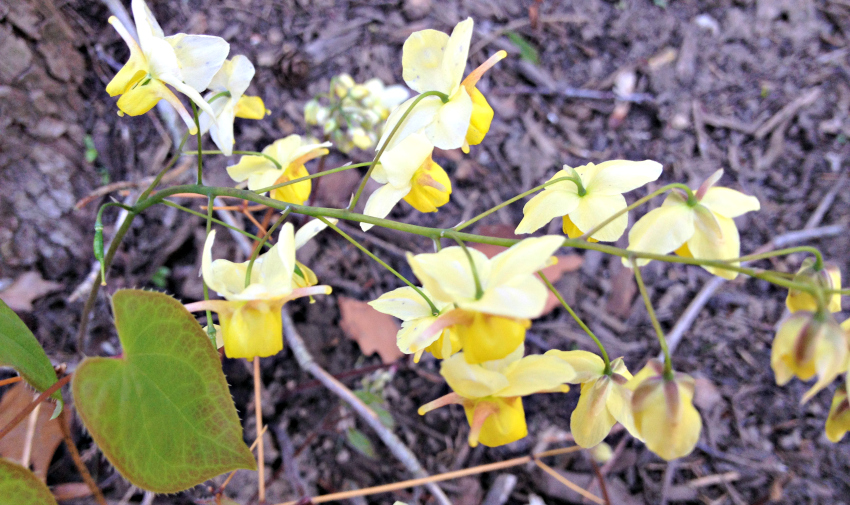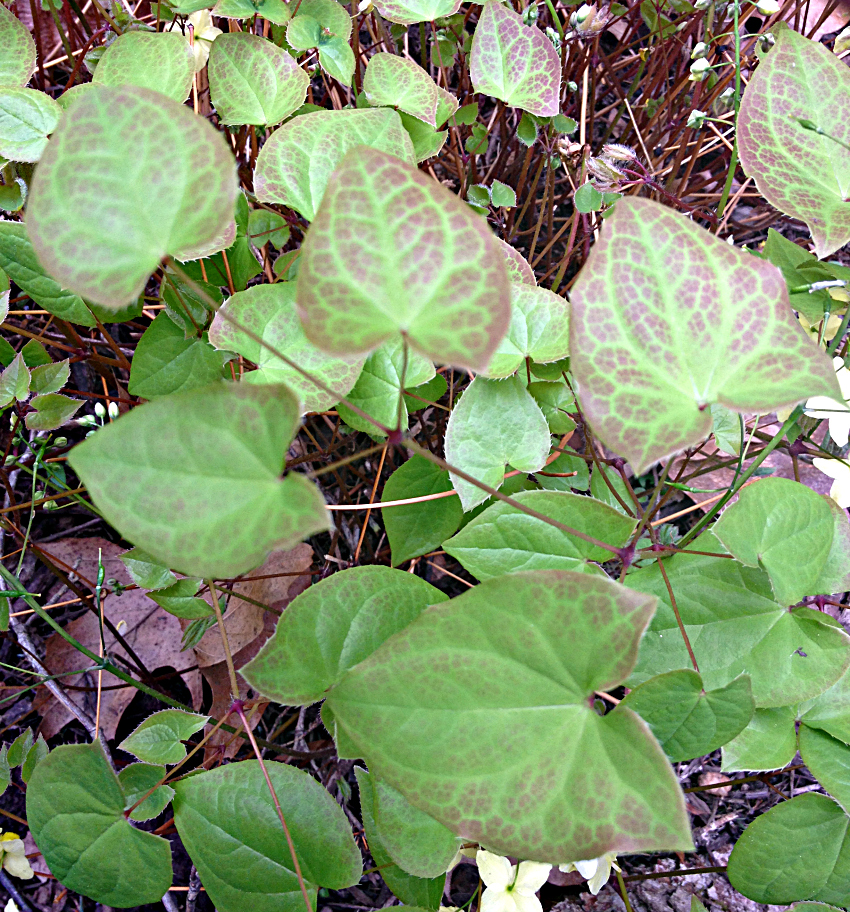 Epimedium aka Bishop's Hat
This sweet perennial has pretty red-rimmed heart-shaped leaves. It blooms in the spring with small yellow flowers that are shaped like a bishop's hat. This one will grow well under trees and in dry shade. This is a basic one but more and more hybrids are being created every year with flowers not only in yellow but pink, red, and deep purple.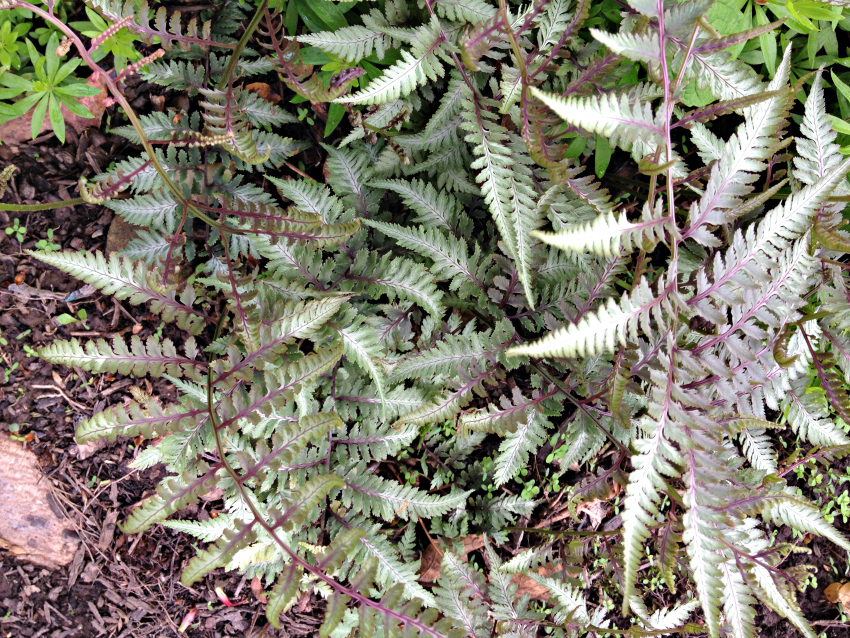 Japanese Painted Fern
This last one is more well-known but great for the shade. In fact, the Japanese painted fern was named Perennial Plant of the Year in 2004. It grows well even among the roots of our huge red maple. You can see it here enjoying the tight space with sweet woodruff.
I hope you enjoyed this handy list and maybe now you'll have a few new shade loving perennial flowers to add to your shopping list.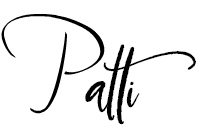 Click Here to Save to Pinterest!