Try this blue cheese burger with fig jam for your next barbecue. The sweetness of the fig pairs great with the savory blue cheese.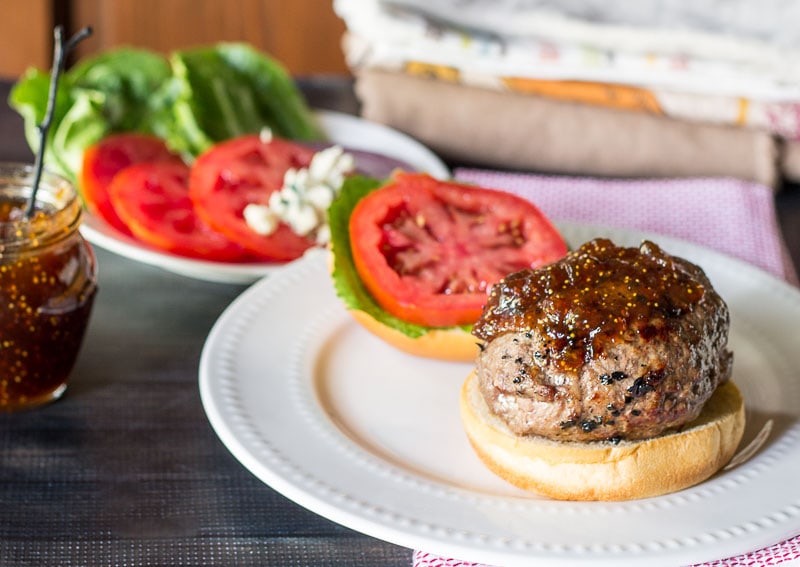 Blue Cheese Burger with Fig Jam
I remember having quite a few backyard picnics growing up, with hamburger and hotdogs as the main event. It seems like people are not making them as much today, but I still love this menu.
It's always fun to have a bunch of different toppings and let everyone choose what they like. Often my father would buy two different kinds of buns from a local bakery. One that was hard and crusty and the other was soft and sweet like a brioche.
I really love the combination of blue cheese and figs. Something about the saltiness of the cheese, and the sweetness of the figs that make a winning combination.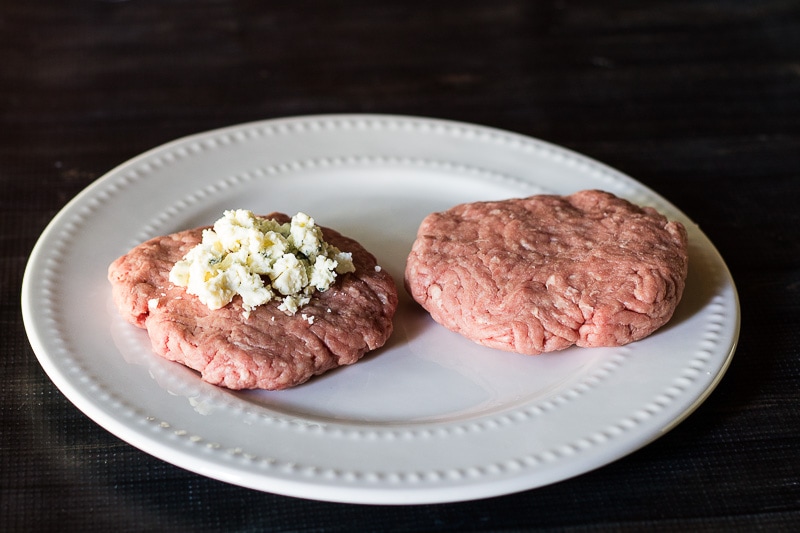 You can see I just make two patties. Try to make them thin, even thinner than the ones I did here. Also, I use a fairly fatty meat at 85%, but you can use a leaner cut. I learned this from a friend when we lived in Nashville. She said you just can't make a juicy burger with anything more than 85%.
See how fat this burger is. If you can take your time and make thinner patties it will be better in the long run, and easier to cook.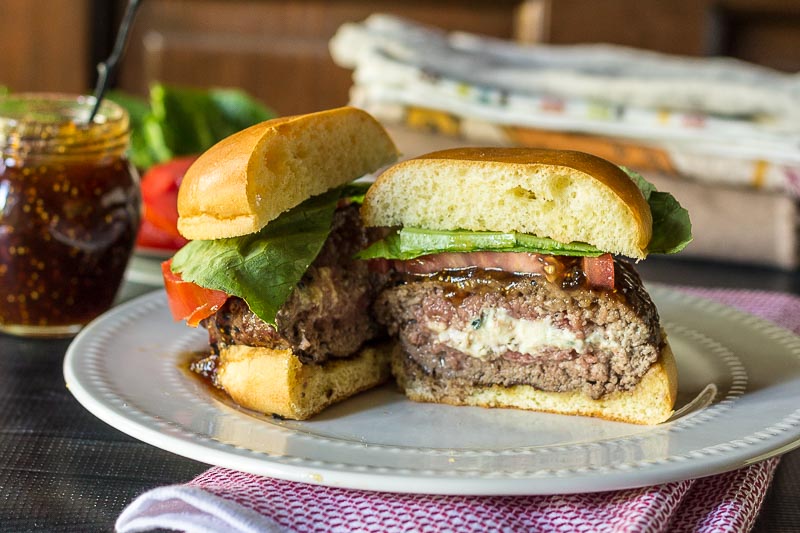 Still, I can honestly say we absolutely loved this burger. It was big enough for my husband and I to split but I could have eaten the whole thing.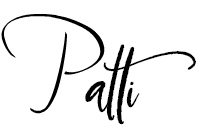 ---
P.S. Another popular burger recipe is my Southwest Turkey Burger that's a little healthier but just as tasty.
Blue Cheese Stuffed Burger with Fig Jam #SundaySupper
Ingredients
1/2 pound of 85% ground beef
1 Tablespoon of Gorgonzola cheese
salt & pepper
Fig Jam
Lettuce & Tomato slices, optional
Instructions
Pat out two 1/4 pound patties very thin.
Place the cheese evenly in the middle of one of the patties.
Place the other patty on top of the one with cheese.
Carefully pinch the edges together to enclosed the cheese.
Grill on medium-high heat for 6-7 minutes on both sides.
Coat with the fig jam and place on a bun with lettuce and tomato and serve.
Nutrition Information:
Yield:

1
Serving Size:

1
Amount Per Serving:
Calories:

741
Total Fat:

42g
Saturated Fat:

17g
Trans Fat:

2g
Unsaturated Fat:

20g
Cholesterol:

208mg
Sodium:

619mg
Carbohydrates:

22g
Fiber:

4g
Sugar:

14g
Protein:

65g