This lovely new book, "A Woman's Garden" is filled with many inspiring creative ways to enjoy all kinds of plants in your everyday life. Edible plants, plants for health and beauty, and some wonderful ideas for the home.
My friend Tanya from Lovely Greens has written an amazing new book coming out very soon about women gardeners and all the wonderful things they create with their plants.
The best part;
She's offering this amazing new book to one lucky reader.
I'm eagerly awaiting my own pre-ordered copy but until then, Tanya has given me a sneak peek so that I can share it with all of you.
This lovely book is broken down into three exeptional sections:
The Edible Garden
Health and Beauty
Home and Crafts
Within each section, Tanya gives us an account of further niched areas from some of her gardening friends' individual expertise. Each section also includes recipes, tutorials, and valuable charts to get you involved at any level.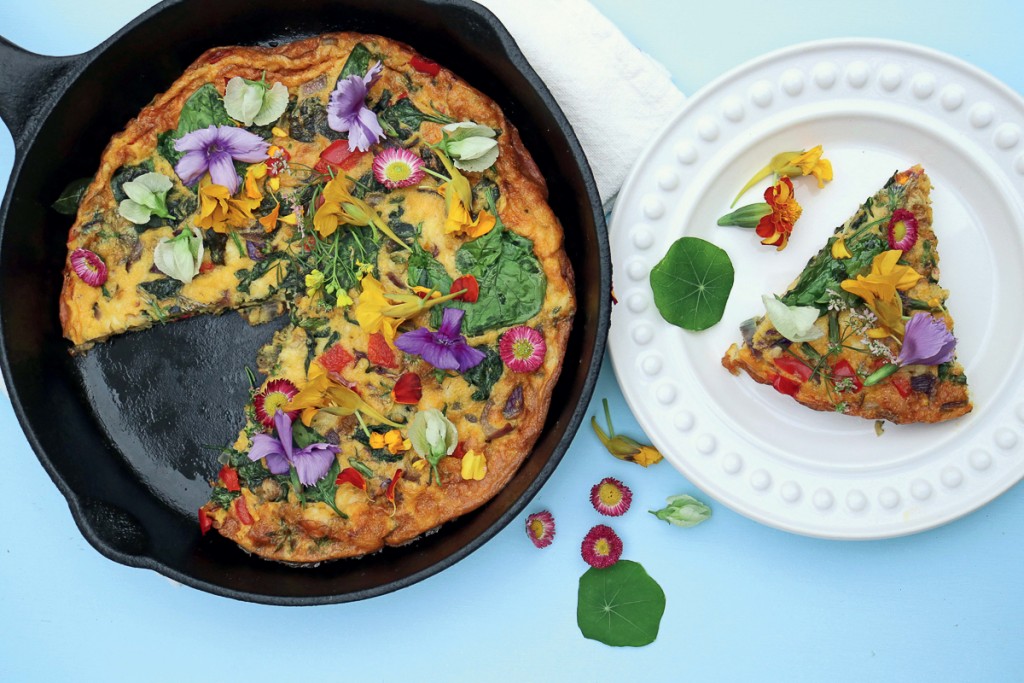 The Edible Garden
The edible garden features three different garden experts including one on kitchen gardening, one on edible flowers, and one specifically about culinary herbs. How delicious does this edible flower frittata (above) look? I can't wait to make one.
Plants for Health and Beauty
Under the health and beauty section, Tanya is the expert on plants for skincare. She has been making her own soaps and other skincare items for years including teaching others how to do it too. You will love making some of her favorites from the book that includes a great chart portraying the benefits and uses for each plant.
Herbal medicine is covered next with ideas and recipes on creating tinctures, salves, and other helpful natural plant remedies.
Plants for the Home and Crafts
The last section is all about ways to use plants in the home from cleaning products to natural dyes and creative garden art. How gorgeous is this yarn dyed with onions?
This section also includes my fantastically creative garden blogger friend Melissa. You may know her as The Empress of Dirt. Her beautiful gardens, filled with creative garden art in Ontario, Canada are a sight to see.
If you have been following me then you will not be surprised to know that this book is right up my alley. I have dipped my toe into many of these areas and am looking forward to learning and trying more from this talented group of expert women gardeners.
This post contains some affiliate links (that means if you make a purchase after clicking a link, there's no additional cost to you, but I will earn a very small commission. ) i.e. as an Amazon Associate, I earn from qualifying purchases. Click here to read my full disclosure policy.
FREE Ebook Giveaway


Leave a comment below for a chance to win the book for free.
giveaway
details:
No purchase necessary.
U.S. residents only
Must be 21 years of age or older
Entries must be received by Monday evening, March 8, 2021, at 11:59 pm EST.
The winner will be randomly chosen and contacted by email and posted here on Tuesday, March 9, 2021.
One entry per person and/or IP address.
The prize includes the paperback book "A Woman's Garden: Grow beautiful plants and make useful things" --retail value $24.99 US.
The number of eligible entries received determines the odds of winning.
The winner will be selected randomly from eligible entries.
Void where prohibited by law.
To enter, leave one comment [below] on what interests you most about this book.
By entering this giveaway, you agree to the terms and confirm you meet the entry requirements.
---
This Giveaway is now over.
Congrats to the winner: Anne Marie Cardone!