My friend Carole from GardenUp Green invited me to participate in a super fun challenge. Nine bloggers purchased the same crate and were assigned the task to style it for the holidays. Thus the holiday crate x10 project began.
I'm always looking for crates and boxes for decorating and gardening, so this challenge could not be more perfect. After much consideration, I decided to make a Partridge in a Pear Tree shadow box with my crate.
Here's where it all started.
First I went to Home Depot to buy the required 18 in. x 12.5 in. x 9.5 in crate.
Next I wanted to make it look old. So I printed this french graphic from the Graphics Fairy on wax paper and placed it on the box.
On the sides I used a couple of other botanical prints from the public domain, and again using wax paper, transferred them onto the crate. You can find a list of some places to find botanical prints on my Beautiful Botanical Prints article.
Then I purchased some dark brown creme wax from Americana Decor at Hobby Lobby and covered the entire crate, giving it a more muted and worn look.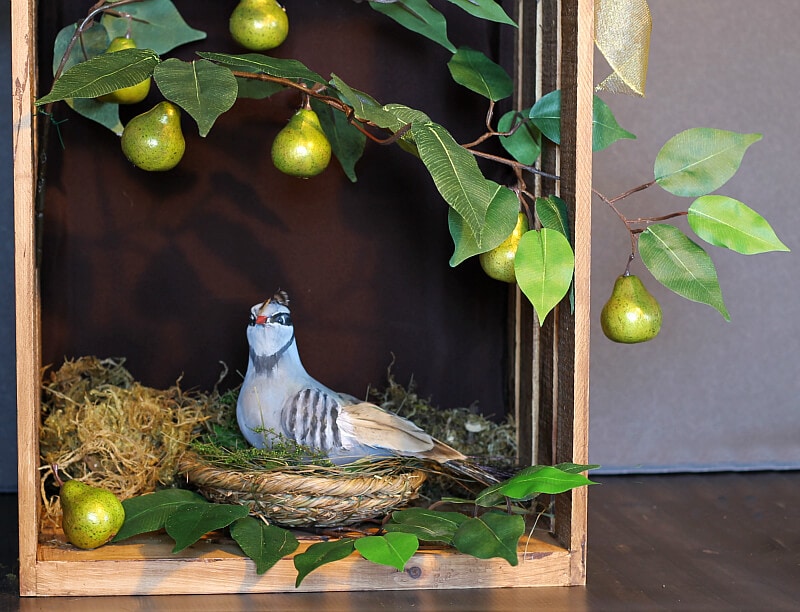 Finally I set up the shadow box by first placing some brown fabric in the back. I purchased a peacock, leafy stem bunch, bag of pears and a nest from Hobby Lobby. Then I cut off the peacock's tail and used a little craft paint to make it look more like a partridge. It all come together with some wire, hot glue, a little moss, and shiny a gold bow.
Here it is on my covered front porch, ready to greet everyone who comes by. I just hope we don't have any crazy wind storms in the near future or it will have to move indoors.
Are you curious how the other bloggers used their crates?
Stop by and check them out!
You're next!
What will you do with your holiday crate?