Learn how to make wire hanger boxwood letters that work great at Christmas or really any time of year, with simple materials and little time and effort.
This project, wire hanger boxwood letters, couldn't have been easier and it cost me nothing to make. I have this somewhat awkward wide space above my mantel that needs something, especially at Christmas. This year I thought I'd hang the word Joy, in big letters, to complement the space.
Wire Hanger Boxwood Letters
I couldn't decide if I should pick up some paper mache letters from a craft store, or try to make some myself with fresh greens. Of course, fresh greens won out, and I used boxwood which lasts a long time. All I needed was a foundation to adhere the boxwood too, so I used good old wire hangers.
Materials
Sprigs of Boxwood – pine and cedar work well too.
Wire hangers
Paddle of floral wire
Start with your hangers. I used black so that the wire wouldn't show as much with the boxwood.
Shape your letters by twisted the hangers open and using your hands to bend them into the letters you want. I knew I wanted mine to be very large so I used one hanger for each letter, but you could easily cut the wire to make smaller letters.
Next gather sprigs of boxwood in 4-5 inch sprigs and starting with one use paddle of floral wire to attach the stem to the wire letter, wrapping several times to secure it.
Add a second sprig of boxwood slightly overlapping the first, and continuing to wrap the wire paddle around it and the hanger. Repeat until the entire hanger is covered with boxwood.
Within minutes the J is complete!
Here's the finished project. I'm using this project on the brick above my mantel, but as you can see, the letters would look really pretty on a white wall.
Still, I think it fill the empty space well and I couldn't love the message more.
Here's another project using cheap wire hangers: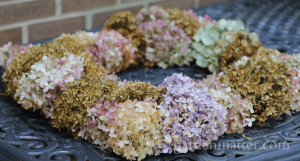 Dried Hydrangea Square Wire Wreath Tutorial