This DIY Holiday Planter tutorial can be put together in little time. Also, there's a good chance you have everything you need making this project free.
I really like using fresh greens to decorate during the holidays. First of all, because nothing compares to the beauty of nature, and second because I can cut a lot of my own materials saving me a ton of money. This DIY Holiday Planter tutorial can be put together in a very short time and costs next to nothing to make.
DIY Holiday Planter
All you need is a container, a couple of branches and some greenery. I'm using a resin urn that I grew annuals in this past season. The dirt is still in the pot. I had a long birch branch that I found on a hike, so I cut it in two and stuck them as far down in the soil as I could. For greenery, I cut several branches of the various evergreens on the property. You can also find bunches at many garden centers this time of year.
Using the dirt that was already in the pot, I simply inserted springs of greens around the top of the urn. If you don't have a pot with soil in it you can use floral foam, or styrofoam, to hold the branches. For this first layer make sure the branches are coming out to the sides, and somewhat flat.
Next, insert varying greens inside of the first layer.  Add some more soil if needed. Then add more branches and working toward the middle.
When it was getting pretty full I added a few red barberry branches and some seed pods.
Continue added greens, turning the pot to see it from all sides to see if there are any obvious holes and insert more as needed. It super quick and easy and should last for several weeks.
You May Also Like:
How to Make a Fresh Evergreen Wreath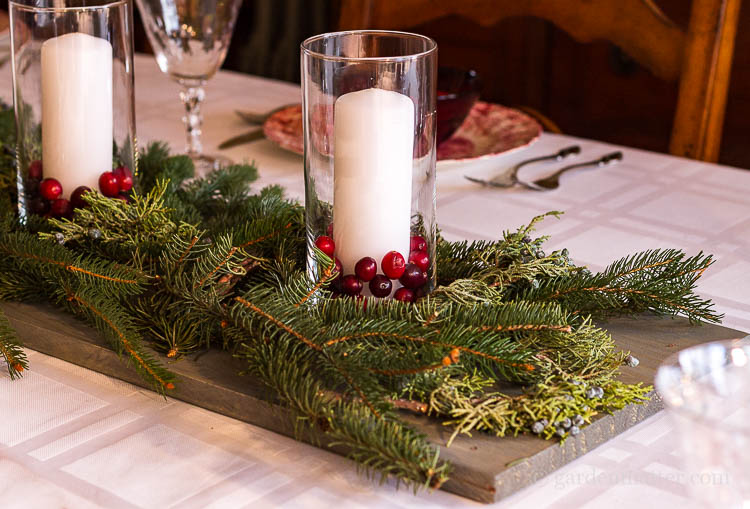 Fresh Evergreens, Wood, Berries and Candles Centerpiece