Here's a great homemade gnocchi recipe that you can try at home for an authentic Italian dish everyone will love. Yes, it's a little time consuming but homemade pasta is always worth the effort.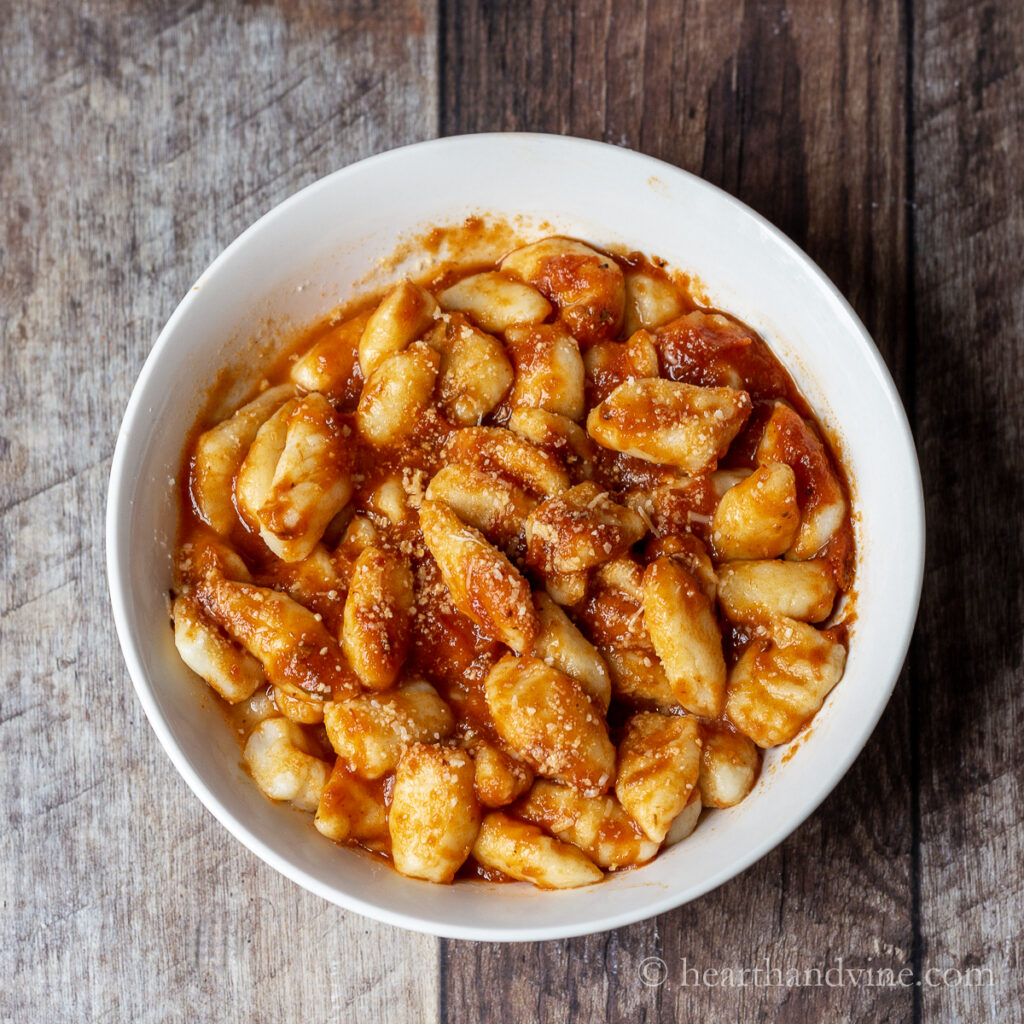 My friend Carole was gracious enough to share her grandmother's homemade gnocchi recipe. Carole and I became friends through blogging. She originally blogged at GardenUpGreen and now she is launching a new blog under her own name, CarolWest. Carole is an experienced gardener and homesteader and has written many articles and books on raising quail, gardening techniques, and creative woodworking projects.
Carole's Homemade Potato Gnocchi Recipe
It starts with mashed potatoes. If you have a potato ricer you could use it for this recipe. However, I used a standard hand mixer. Also, I used russet potatoes but you can use Yukon gold potatoes. Just don't use a waxy potato such as a red potato.
I think some people make gnocchi with ricotta cheese but I'm most familiar with potato gnocchi and that's how Carole makes it.
Add an egg to the center of the potatoes and flour to make the dough.
The dough bowl is quite large so I cut it into four sections and worked on one at a time.
You roll out the dough and cut it into 1/2 slices. Then roll the slices and cut them into "bite-size" pieces. I made mine about 1 inch. However, I think a little smaller might be even better.
Next, you roll them using the back of a fork to give them that signature gnocchi look. I believe the reason you do this is not only decorative but the tines of a fork make ridges that help the pasta hold more sauce.
This takes some practice. I think the one above turned out pretty good.
However, as you can see there is quite a bit of variation in my work. Don't worry, they still taste great.
Carole says you should freeze the gnocchi first. Once they firm up in the freezer you can place them in ziplock bags or cook them.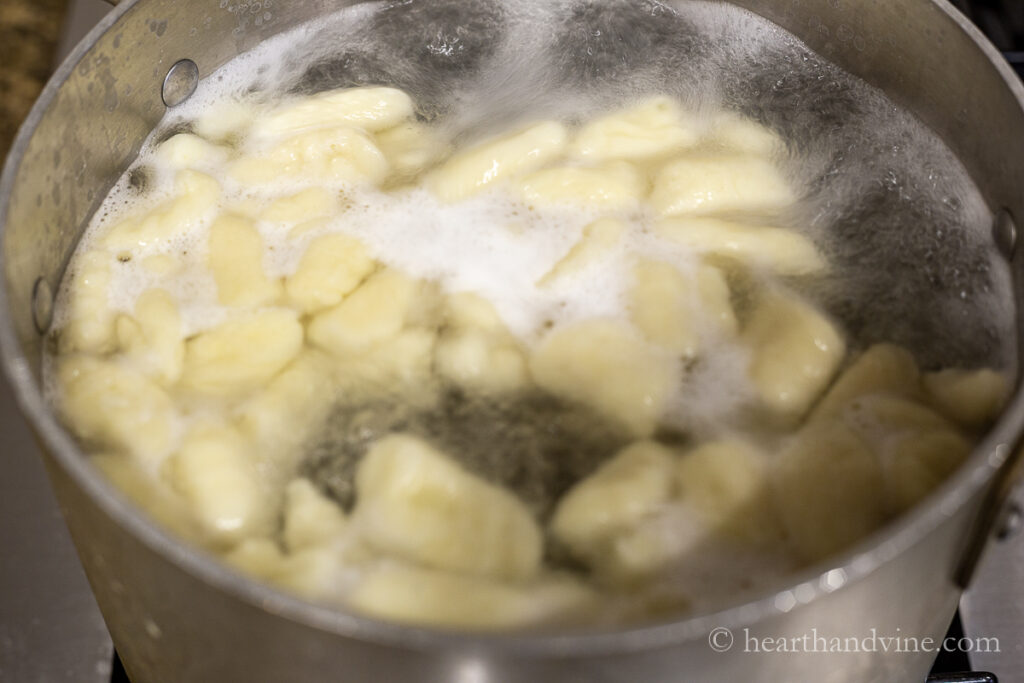 When cooking gnocchi you will know that they are ready when they float to the top of a large pot of boiling water.
We had some of my husband's homemade tomato sauce in the freezer so that's what I used with this batch of gnocchi. Topped with lots of Parmesan cheese of course. One of these days I will post his famous pasta with meatballs and sauce. It's really good. However, you could use a pesto or brown butter and sage sauce. Whatever pasta sauce you like.
Carole's gnocchi was really good too. This recipe made more than enough for two hearty meals for us. Of course, they are gone already. I'll have to make a new batch very soon.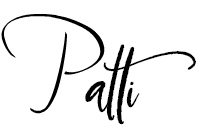 More Classic Pasta Recipes
Homemade Gnocchi Recipe
This delicious homemade gnocchi recipe is a great Italian classic made with a potato base.
Ingredients
2.5

pounds

russet potatoes ~ 6 medium potatoes

1

large egg

2

cups

of all-purpose flour

plus more for dusting

salt
Instructions
Peel and boil the potatoes with a little salt.

Mash the potatoes and allow them to cool slightly.

Sprinkle a little flour on your work surface.

Mound the mashed potatoes on the surface and create a well for the egg.

Mix the egg into the potatoes.

Add 2 cups of flour and mix with your hands. The consistency should be similar to a moist pie crust.

Cut the dough into four pieces.

Roll out one of the pieces about 1/2 inch thick.

Cut into strips.

Roll each strip then cut into bite-size pieces about 1 inch long.

Use the back of a fork to press and roll the gnocchi to give it a design and a place to hold the sauce.

Place the gnocchi on a baking sheet with wax paper or parchment and freeze.

Continue working on the rest of the dough.

After about 20 minutes you can remove the gnocchi from the freezer and place them in plastic bags or use them for dinner.

To cook bring a large pot of salted water to a boil and drop in the frozen gnocchi.

Boil the gnocchi until they float to the top and for 1 additional minute.

Drain and serve with your favorite sauce.
Notes
I'm using a meat based red sauce here but a good marinara, pesto, brown butter or any pasta sauce would work with these tender yummy dumplings.
Nutrition
Serving:
1
g
Calories:
381
kcal
Carbohydrates:
82
g
Protein:
11
g
Fat:
1
g
Polyunsaturated Fat:
1
g
Cholesterol:
23
mg
Sodium:
115
mg
Fiber:
7
g
Sugar:
3
g
Nutritional information is provided as a courtesy and is an estimate only. This information comes from online calculators. Although attempts have been made to provide accurate nutritional information, these figures are only estimates.
Tried this recipe?
Tag @hearthnvine on Instagram