Learn how to easily create a fresh flower garland that you can use as an outdoor centerpiece, or as hanging decor for your next event.
If you have a special outdoor occassion and access to fresh flowers and other plant material you will love creating this fresh flower garland. 
This post contains some affiliate links (that means if you make a purchase after clicking a link, there's no additional cost to you, but I will earn a very small commission. ) i.e. as an Amazon Associate, I earn from qualifying purchases. Click here to read my full disclosure policy.
Fresh Flower Garland Supplies
Flowers, herbs, branches from shrubs, even store bought bouquets
Scissors or pruners
It's helpful but not totally necessary to have a base plant to use as filler. I had a bunch of wayward mint growing wild after we had a large shrub removed. This mint was perfect for the base of my garland.
You can use more than one plant material such as branches of other shrubs or even a long piece of rope.
Start the garland by wrapping some of your base material and a flower together with floral wire.
Continue by adding more flowers and branches on top, and sides, wrapping with more wire as you go.
Next, move down a little to the right and add different flowers, branches, and decorative seed pods on top, covering the wire from the previous group. Add in more base material as you go.
When you come to the center you may want to build up extra flowers for a focal point. These purple coneflowers were perfect for the focal center.
When you get to the end you can tie off the wire by looping it through itself and pulling tight. Then use a couple of larger flowers to hide the wire.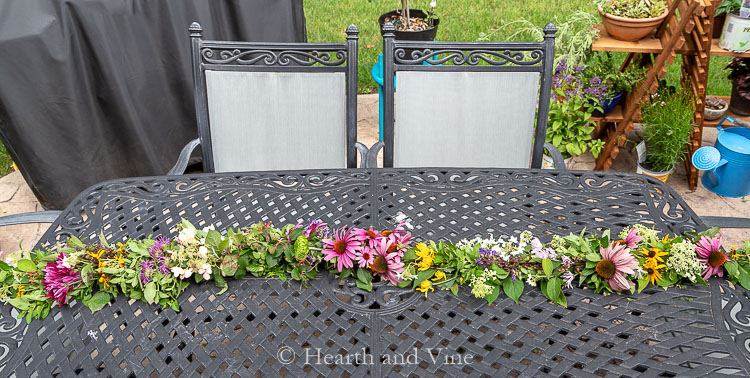 This flower garland looks great as a centerpiece to our patio table. It should stay looking nice for a good 5 hours depending on the heat and humidity.
If you want to make it earlier in the day for an evening event, mist the entire piece, place it a large plastic bag, such as a dry cleaner bag, and keep it somewhere cool like a basement or garage.
Keep in mind that this fresh flower garland works best with flowers that hold up once picked. Mophead hydrangeas, while beautiful, don't work as well. However, their paniculata (i.e. Limelight) cousins hold up great.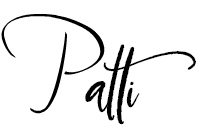 P.S. You may also enjoy making this DIY Winter Wreath or this easy Moss Covered Wreath. You can find them and much more on my DIY Projects Page.
Click Here to Save to Pinterest!