This flower pot centerpiece can easily be made for around $10 in less than an hour. A beautiful gift using dollar store items and a six pack of annuals.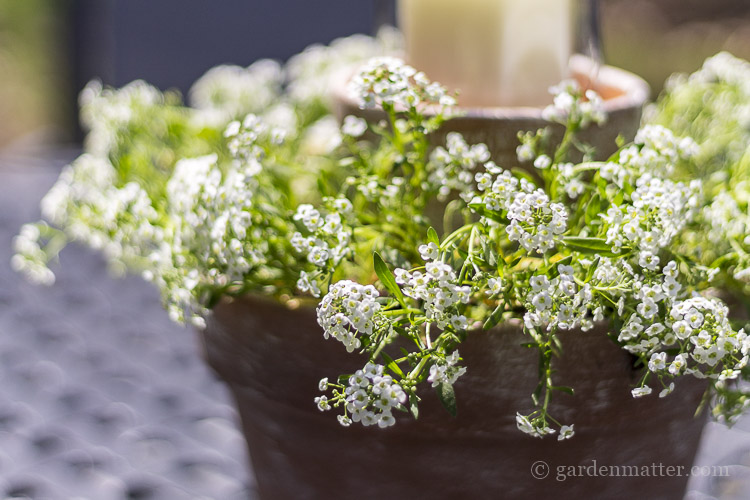 My sister showed me a picture of something a friend of hers made. It was a flower pot centerpiece. She knew I would want to make one too, and of course, I did.
This particular photo showed a terracotta pot within a pot, planted with pansies and a candle in a hurricane vase. I thought this would make a great gift and the total materials cost just under $10.
This post contains some affiliate links (that means if you make a purchase after clicking a link, there's no additional cost to you, but I will earn a very small commission. ) Click here to read my full disclosure policy.
How to Create a Flower Pot Centerpiece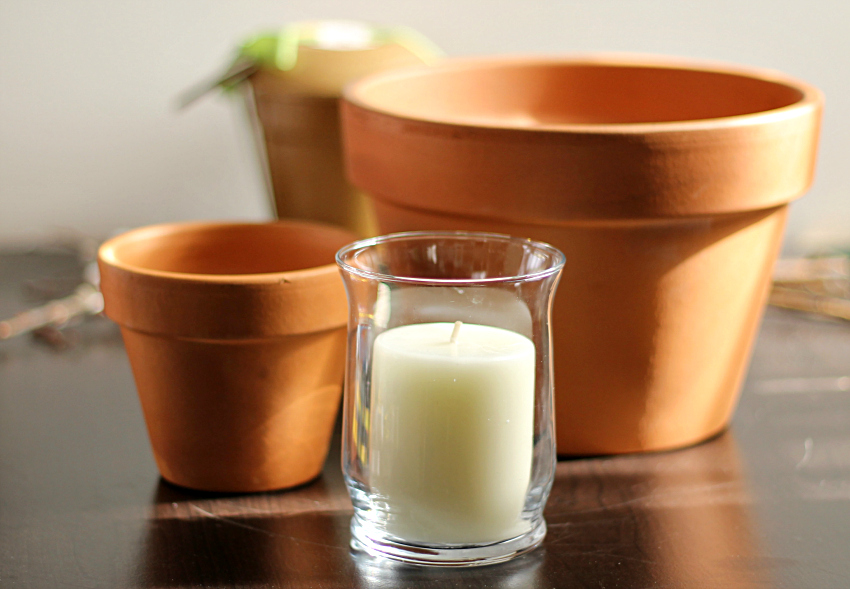 I purchased a pillar candle and small vase from the dollar store. The pots were purchased at Lowes and the flowers came from a local nursery.
I already had some gravel and potting soil
on hand so if you may need to purchase them or borrow from a friend or relative.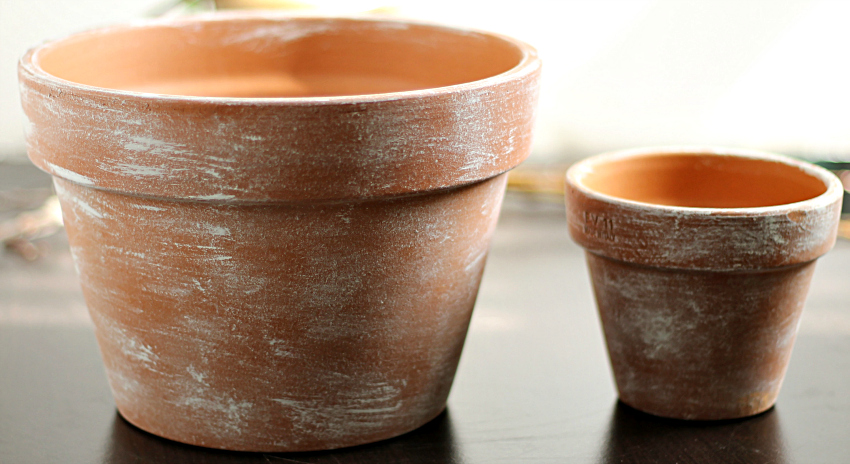 First, dry brush the pots to give them an aged look.
The original project did not do this. It's totally optional. I just wasn't feeling the orange color of these particular pots and used some white chalk paint
with a bristle brush to add a vintage feel to the pot. This does not take long and the paint dried in minutes.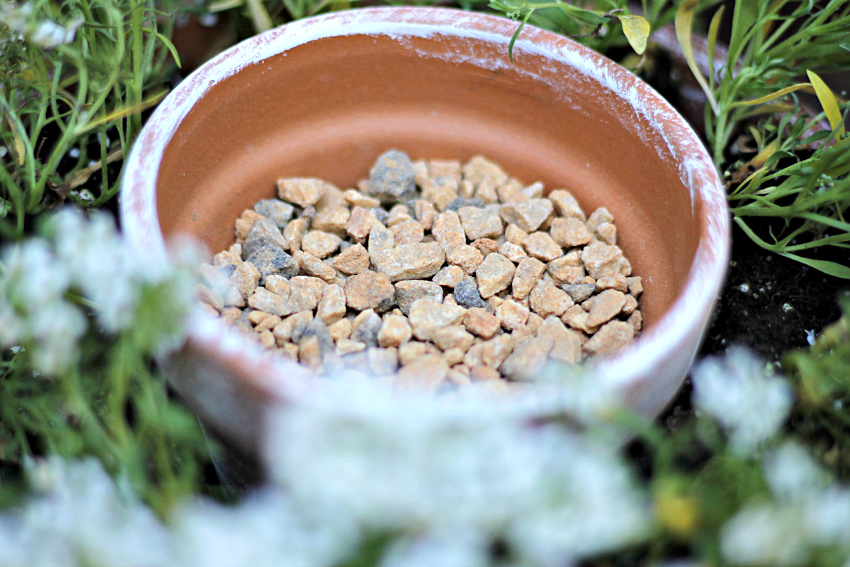 Next, I fill the large pot about halfway with soil.
Then fill the small pot with some gravel up an inch or so from the top.
Place the small pot in the middle of the large pot. Make sure to tamp down on the soil and get it level.
Add your plants and fill in the space between with soil.
Place your candle in the vase and set on top of the gravel and your project is complete.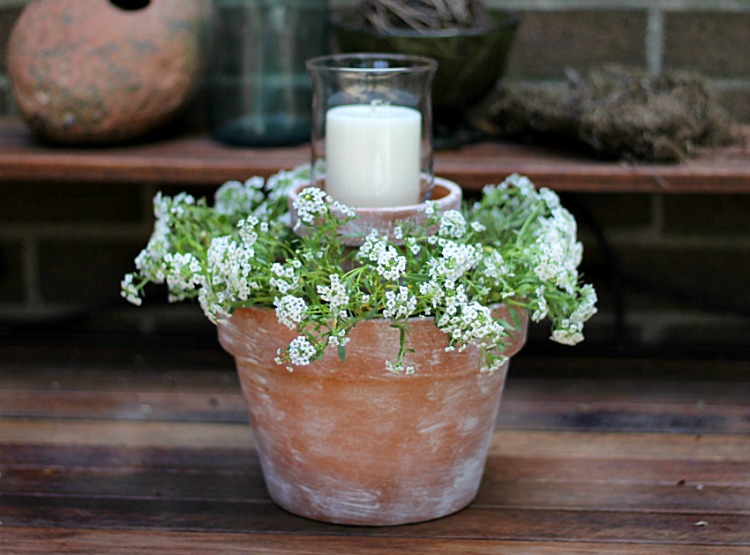 I chose sweet alyssum for my flowers. They should stay nice and low and trail over the side. This annual plant also comes in a pretty purple too.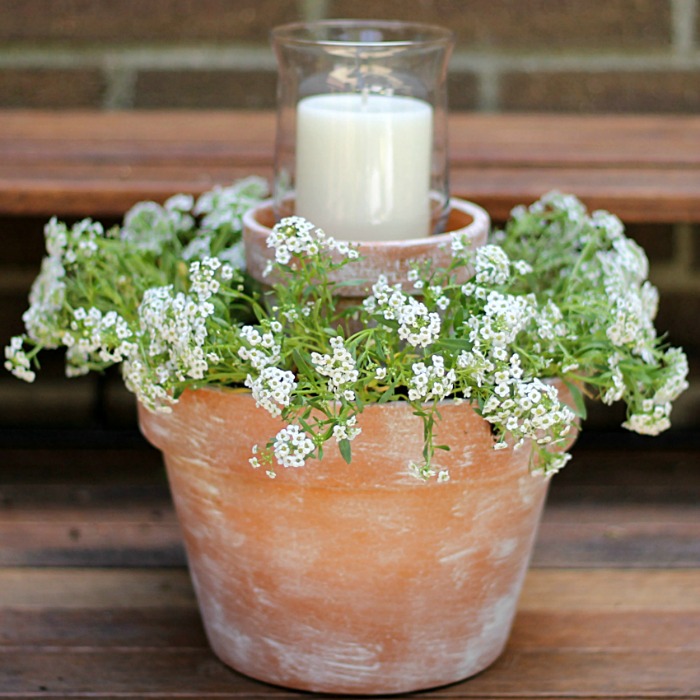 You can play around with the height of the small pot in the large pot and the height of the gravel to find a look that is pleasing to you.
Wouldn't this flower pot centerpiece look beautiful at a wedding or shower?
Save it for yourself or give to a friend. It's an easy and affordable gift.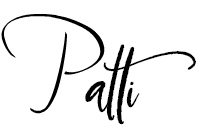 ---
P.S. You may also like the way I created a Cement Look Planter from a nursery pot or this pretty Bird Cage Succulent Planter.
Check out the DIY/Projects Page,
for more great project ideas.
Click Here to Save to Pinterest!