Learn 3 ways to age terra cotta pots with readily available and inexpensive items. The project is very easy to do and can be completed in less than an hour.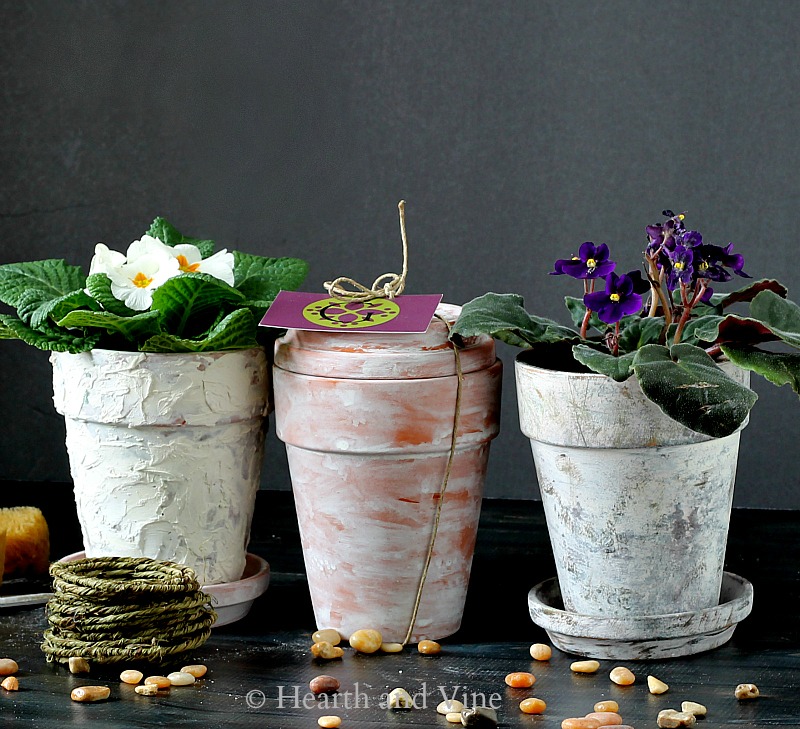 Do you love the look of old weathered pots? You know the rustic looking ones which have taken on a chalky appearance from minerals and salts leaking out over the years. Some have hints of green from moss or lichen.
Here are three different techniques or tricks to age terra cotta pots, and give them the beautiful patina of old vintage planters.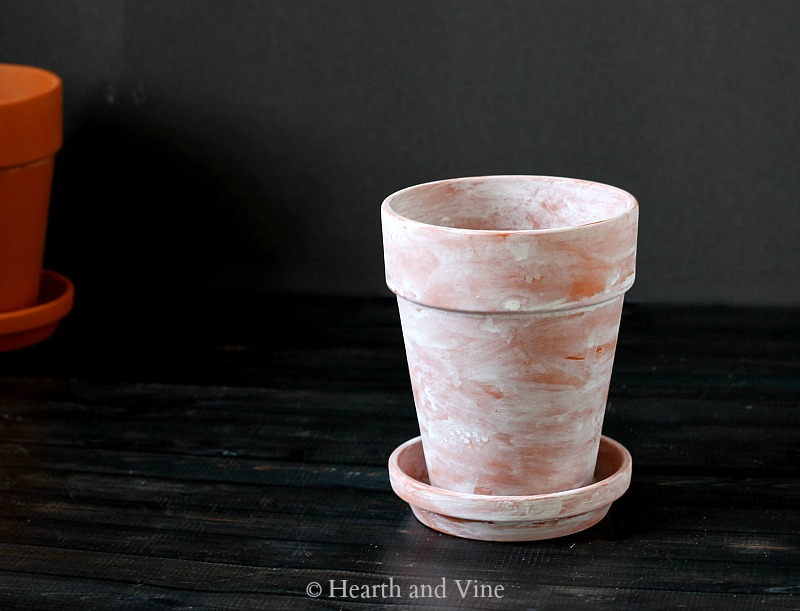 Three Ways to Age Terra Cotta Pots
1. Whitewash
This is the easiest of the three.
You can easily whitewash a pot by using white or cream craft paint and water, about a 50/50 solution.
Simply wash the entire pot using a sponge brush. This is kind of messy, so make sure you have plenty of newspaper to cover your work surface.
Apply the watered down paint liberally, keeping a cloth or damp paper towel nearby, to catch drips, remove excess paint, and dab until you get the look that pleases you.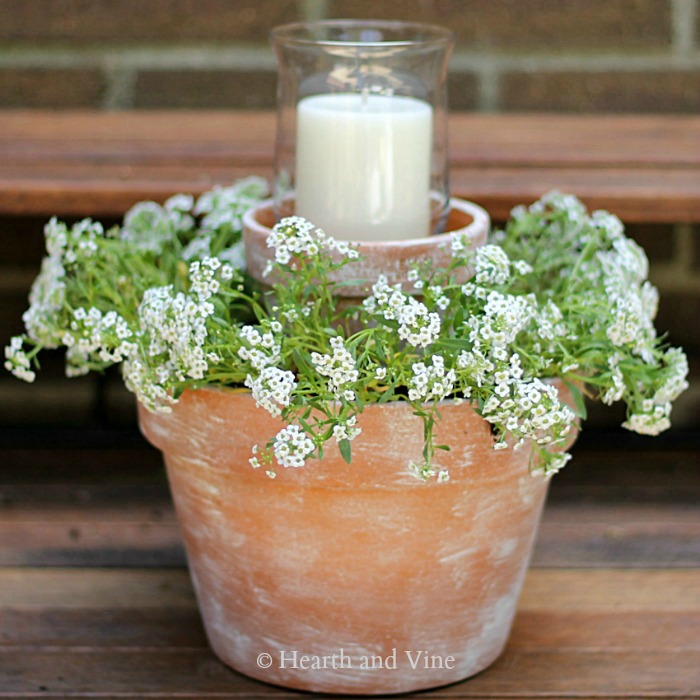 You can also get a similar effect by using a dry brush technique for a subtler look. Take an old bristle brush and a little bit of full-strength paint. Wipe most of the paint off onto newspaper so that only a little remains, and then sparingly brush the paint onto the pot as shown in the picture above of my flower pot centerpiece project.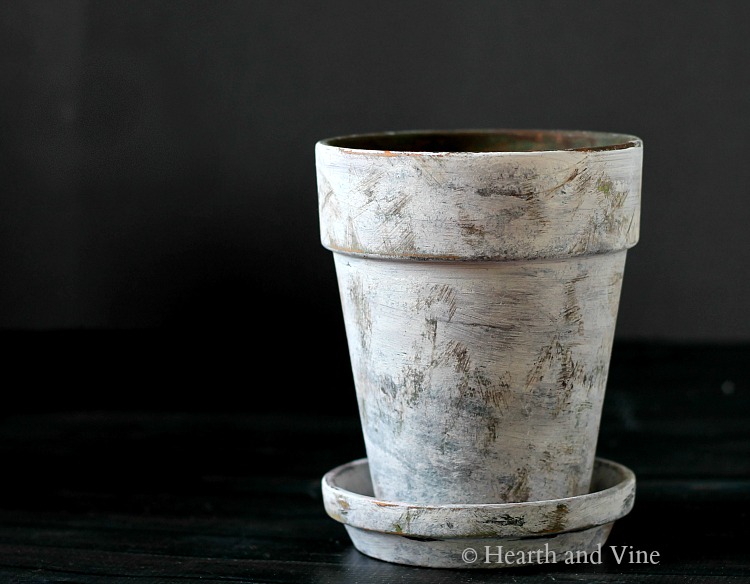 2. Sgraffito
The second technique is called "Sgraffito," which comes from the Italian Sgraffire, which means "to scratch."
In this method, you paint your pot with one or more colors.
Let it dry and then apply a second coat or more, on top.
Then using sandpaper, simply remove or scratch some of the top layer revealing the color(s) underneath.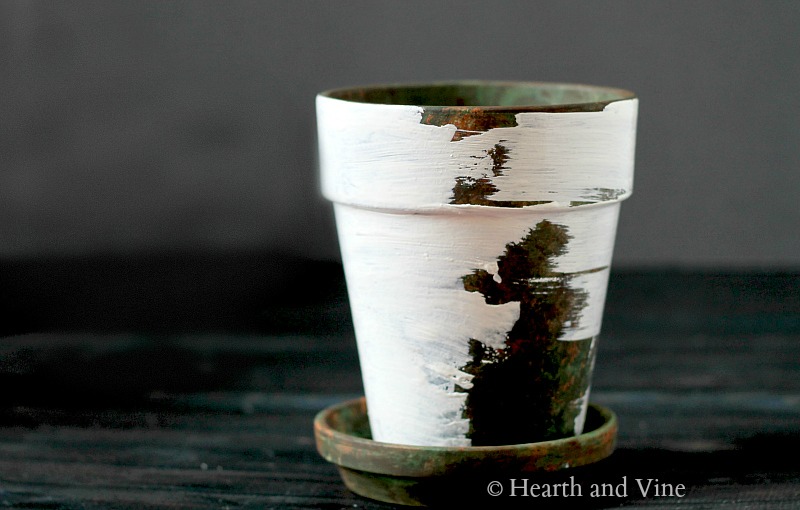 Originally I thought I would create a moss effect for a natural look with paint and sponges but I wasn't happy with the results, and I wanted something that coordinated with the other pots, so I painted it white and used sandpaper to distress the pot and now I love it.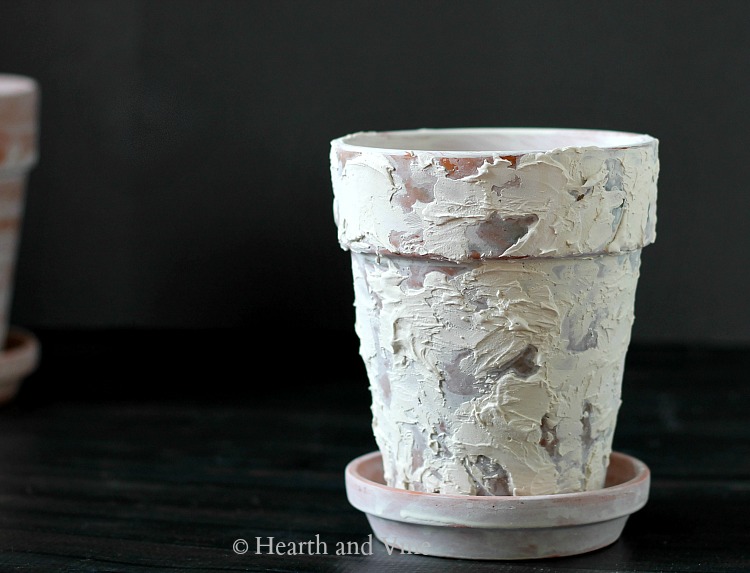 3 Fresco
The third and final technique is a Fresco method, created by using ready mixed plaster.
Using a knife or the back of a spoon, work the plaster on to the pot.
Let dry and paint the entire pot with watered down white paint.
Yes, it's that easy.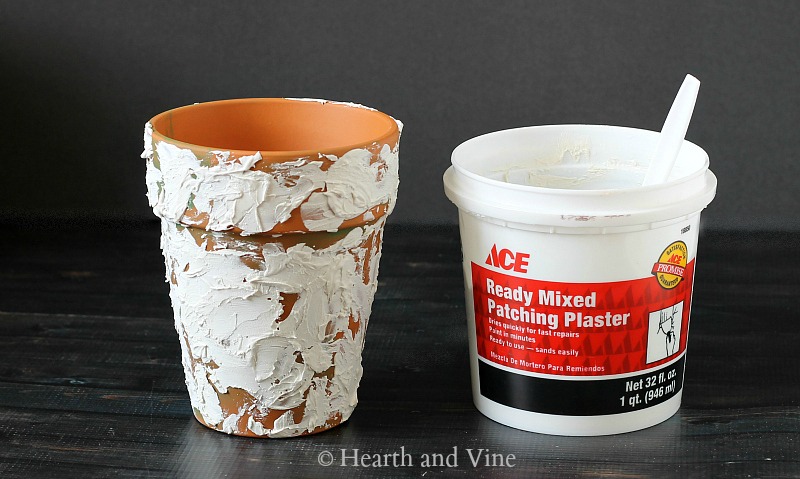 This will give the pot a unique stucco effect, similar to those old barnacle-like styles you often find at expensive garden shops.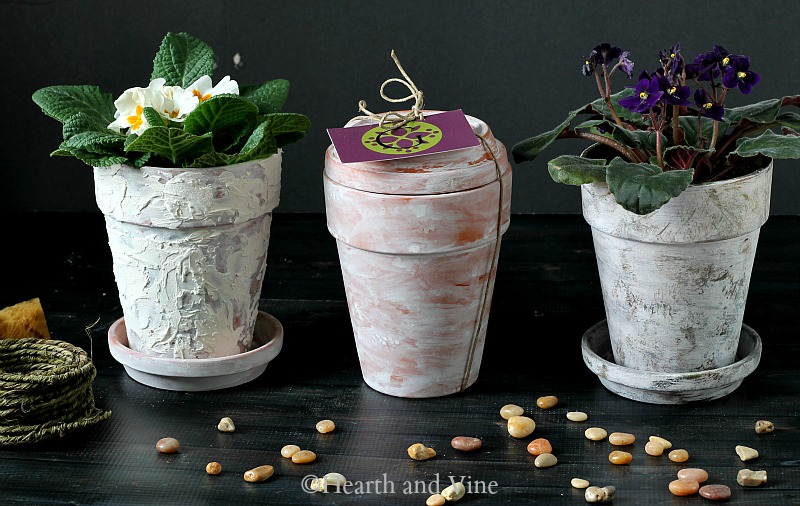 These aged pots are beautiful with real plants but you can also use them as a great gift container. Just apply the same paint technique to a terracotta saucer and use it as a lid.
Fill it with anything from a bag of chocolates to jewelry or a pretty tea towel. The possibilities are endless.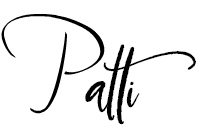 ---