This easy DIY beeswax wraps project is a great way to reuse food storage covers instead of disposable plastic wrap.
Several years ago I made fabric bowl covers. The idea for them was to have something to cover bowls when eating outdoors to keep out insects. Many people also like to use them in the refrigerator instead of using plastic wrap. However, another way to accomplish this task is to make beeswax bowl covers.
This post contains some affiliate links (that means if you make a purchase after clicking a link, there's no additional cost to you, but I will earn a very small commission. ) i.e. as an Amazon Associate, I earn from qualifying purchases. Click here to read my full disclosure policy.
How to Make Your Own Beeswax Wraps
Supplies
Thin cotton fabric
Paintbrush
Old pot
Plastic container or empty can
Iron
Flip one of your bowls upside down on your fabric. Trace about 2 inches from the edge all around the bowl.
Cut out using pinking shears. This will help keep the fabric from fraying better than ordinary scissors.
In addition to beeswax, you will need ground resin and some jojoba oil. Some people use only beeswax, however, I found that beeswax alone did not stick well. The pine resin makes it much more sticky and the jojoba oil (actually a wax) helps with pliability.
Some people use an oven method where they sprinkle wax and the other ingredients over the fabric on a baking sheet. This seemed too messy to me and didn't seem like all the ingredients were well distributed. So I melted the wax, resin, and oil in a plastic container in an old pot on the stove first.
Once melted brush the wax mixture onto the fabric with parchment underneath. (cover your work surface too)
Then place another piece of parchment paper on top of the fabric and iron. This will make the wax mixture more even and will melt through the other side of the fabric, pushing out excess wax.
Remove the parchment and lift up the fabric.
You can hold it in the air for a minute as it dries extremely quickly. Alternatively, set it on a drying rack or hang it from a line with clothespins.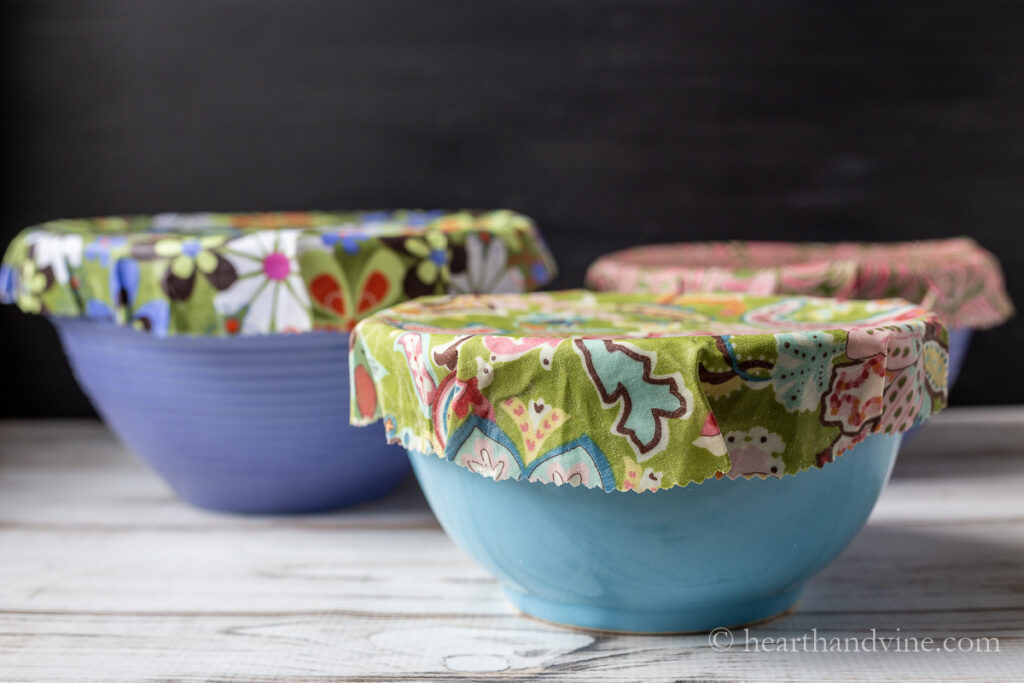 Place the beeswax wraps on the bowls and pinch the excess material together to seal the bowl. You can also fold over the fabric and press it to the side. You will find that the beeswax mixture sticks to itself more than the bowl.
You can also make rectangular shapes of fabric to create sandwich, vegetable, and cheese wraps.
These DIY beeswax wraps are reusable and can be gently cleaned by hand with mild dish soap and cold water. Just don't use anything hot or put them on a hot bowl as that will melt the wax. Wouldn't they make a nice gift?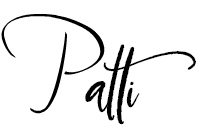 Print
Beeswax Food Wraps DIY
This beeswax wrap DIY tutorial is easy to create and perfect for keeping food fresh and will help reduce your plastic use.
Equipment
Paintbrush

Old pot

Empty plastic container or metal can

Plastic spoon or knife, wooden skewer for stirring

pinking shears

iron

pencil
Materials
1/2

cup

beeswax pellets

3

tablespoons

ground pine resin

1

tablespoon

jojoba oil

Cotton fabric

thin

Parchment paper
Instructions
Measure two inches from the rim of each bowl and mark for cutting.

Cut out the fabric with pinking shear to avoid fraying edges.

Measure beeswax, resin, and jojoba oil into a small plastic container or clean can.

Melt the mix in an old pot or double boiler with simmering water on the stove.

Place your fabric on some parchment paper on a covered work area.

Brush the wax mixture all over the fabric.

Cover the fabric with another piece of parchment and use an iron to evenly melt and disburse the wax all over and through to the other side.

Remove the parchment and lift up the fabric. It will begin to dry immediately.

Hang with close pins or lay on a drying rack.

Repeat with the other pieces of fabric.
Notes
The beeswax wraps do not stick to the bowls well. Instead, the fabric sticks to itself. You need to pinch it together or fold over and press it to the sides to cover the bowls.
Do not use the wraps on anything hot or wash with hot water. The heat will melt the wax. Instead, hand wash with mild dish soap in cool water and hang to dry.