This lemon peel star garland is a great easy and inexpensive way to add a little fresh smelling brightness to your holiday mantel.
More Garland Projects:
Dried Orange Garland, Seeded Eucalyptus Garland, Egg Carton Flower Garland
Have you started decorating for Christmas yet?
Today I'm sharing an easy and fun DIY as part of a Christmas Ideas Tour hosted by Angie of Postcards From The Ridge. She has organized 25 talented bloggers for this entire week to share their holiday mantels, tablescapes, DIY projects, decorated trees, and recipes. You can find the entire list at the end of this post.
If you're stopping over from one of the other fabulous sites, Welcome! I'm glad you are here.
This post contains some affiliate links (that means if you make a purchase after clicking a link, there's no additional cost to you, but I will earn a very small commission. ) Click here to read my full disclosure policy.
How to Make a Lemon Peel Star Garland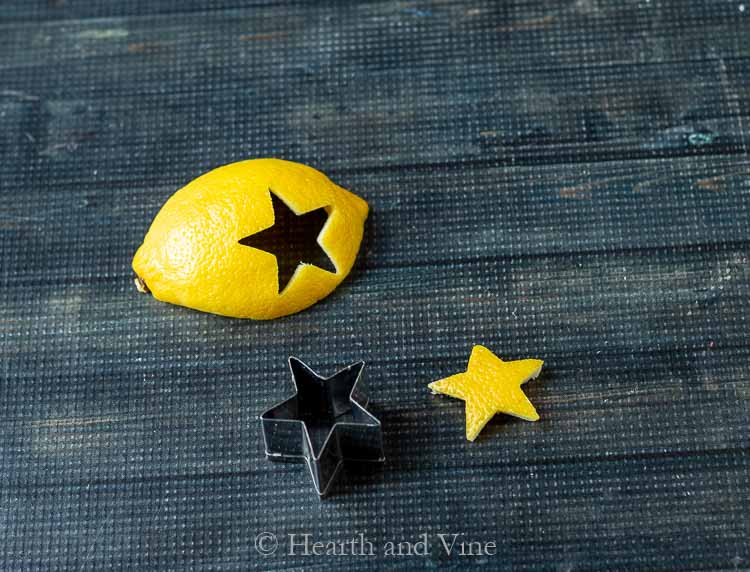 If you have visited here before then you know how much I love to work with naturals, especially at the holidays. My dried orange garland with bay leaves and cinnamon sticks was getting a little weathered looking so I decided to make something new. Today's simple DIY is a dried lemon peel garland that will smell great and add some bright color to your mantel.
To make this garland use a small star cookie cutter to press out shapes from lemon peels. They will dry in a matter of days. Some will ultimately curl up, which you may like, but you can keep an eye on them and press them flat if that is the look you prefer.
Here's the link to the star shape cutter I picked up at Hobby Lobby. It comes as a set of three. I used the smallest one for these stars. I like them because they are metal and a little sharp which really helps with pushing through the lemon peel.
I ended up using about 4 dozen stars for my 8-foot mantel. I began drying a few stars at a time when I was cooking with lemons. Some of the earlier lemon stars were pretty dry by the time I made the garland however the simple fix was to soak them in some warm water for about 5 minutes.
I used this brown wax thread
, the same one that I used for the dried flower garland on our fall mantel, to create the lemon peel star garland.
I love using this thread because the wax allows the stars to glide easily, yet holds them in place at the same time.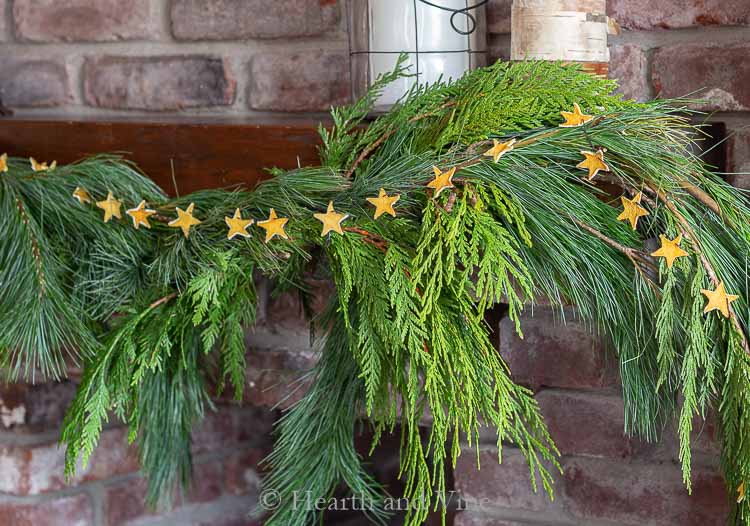 This charming little garland can be used on the mantel atop fresh greens as shown here or on your tree, around a door or archway, so many different options.
I'm really loving the way this lemon peel star garland looks on our mantel. The lemony scent works so well with the fresh pine and cedar and makes our home smell oh so fresh.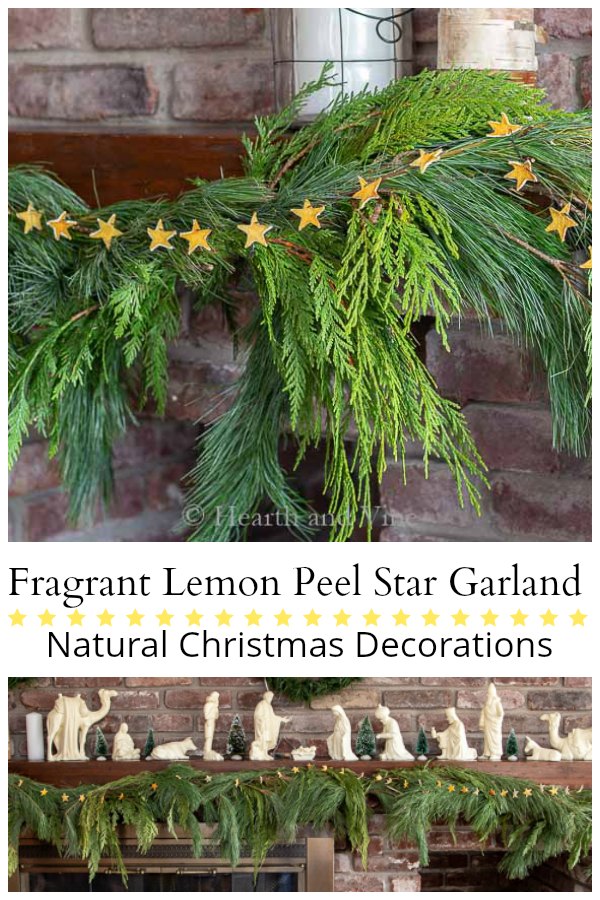 Now it's time to see all the Christmas ideas from these talented home bloggers. Here's the tour lineup for the week. Be sure to visit everyone for wonderful Christmas ideas for the whole house. The links for each topic are below the images.
Monday - Christmas Mantel Ideas
Tuesday - Christmas Tablescape Ideas
Wednesday - Christmas DIY/Craft Project Ideas
Thursday - Christmas Tree Ideas
Friday - Christmas Recipes