This lemon peel star garland is a great easy and inexpensive way to add a little fresh smelling brightness to your holiday mantel.
If you have visited here before then you know how much I love to work with naturals, especially at the holidays. My dried orange garland with bay leaves and cinnamon sticks was getting a little weathered looking so I decided to make something new. Today's simple DIY is a dried lemon peel garland that will smell great and add some bright color to your mantel.
How to Make a Lemon Peel Star Garland
Supplies
1 dozen or more large lemons
To make this garland use a small star cookie cutter to press out shapes from lemon peels. They will dry in a matter of days. Some will ultimately curl up, which you may like. But you can keep an eye on them and press them flat if that is the look you prefer.
Here's the link to the star shape cutter I picked up at Hobby Lobby. It comes as a set of three. The smallest one was used for these stars. They worked well because they are metal and a little sharp which really helps with pushing through the lemon peel.
I ended up using about 4 dozen stars for my 8-foot mantel. I began drying a few stars at a time when I was cooking with lemons. Some of the earlier lemon stars were pretty dry by the time I made the garland. However, the simple fix was to soak them in some warm water for about 5 minutes.
You can measure out with the thread ahead of time. This will determine how long you want your garland and that will help you decide how many lemons you'll need. Depending on the size of your lemons and/or the size of the star you should be able to get 4 stars out of each lemon.
If you decide to make this all at once perhaps you could freeze the pulp or make lemonade from the discarded flesh.
Brown wax thread
is used to string the lemon stars for the garland. This is the same one that I used for the dried flower garland on our fall mantel.
I love using this thread. The wax coating allows the stars to glide easily, yet holds them in place at the same time.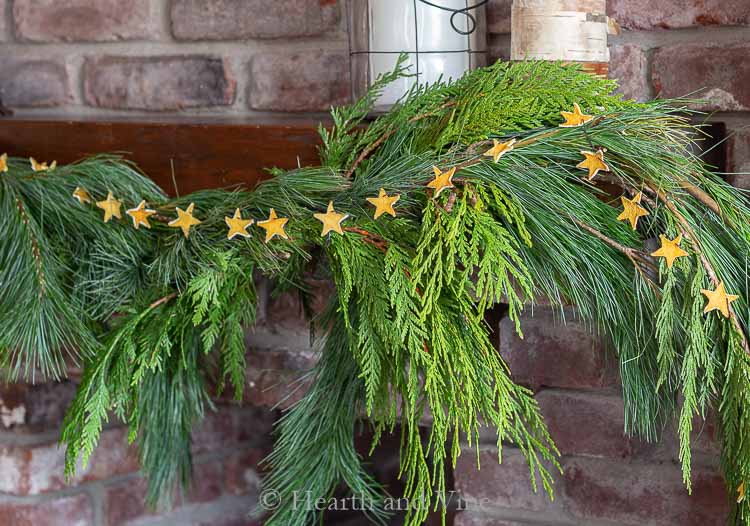 This charming little garland can be used on the mantel atop fresh greens as shown here or on your tree, around a door or archway, so many different options.
I'm really loving the way this lemon peel star garland looks on our mantel. The lemony scent works so well with the fresh pine and cedar and makes our home smell oh so fresh.
More Homemade Garland Projects: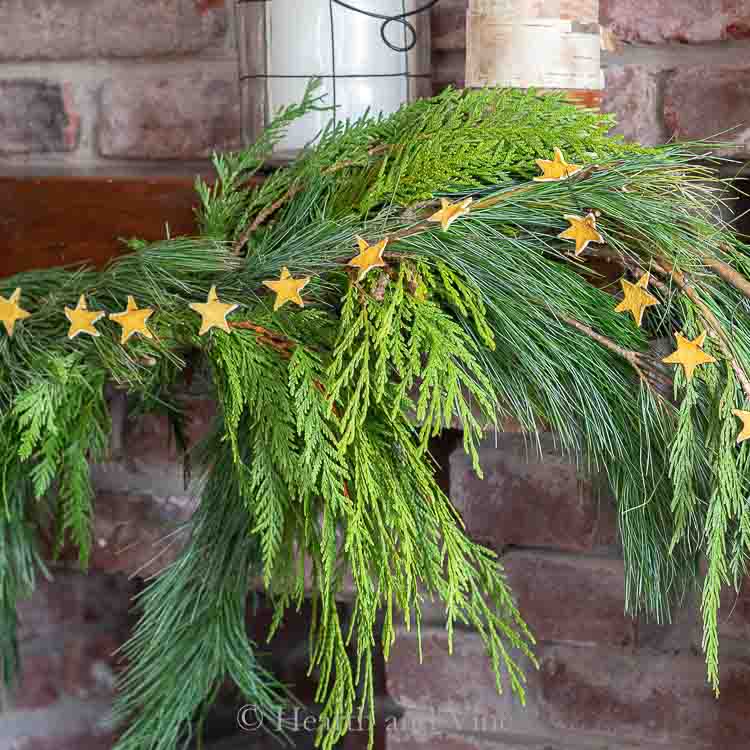 Print
Lemon Peel Star Garland
This lemon peel garland is an easy and inexpensive way to add a little fresh smelling brightness to your holiday mantel.
Materials
Lemons ~12

Star Cookie cutters

Waxed Twine
Instructions
Score lemons lengthwise and peel away from the fruit to get two full half peels.

Push a small star-shaped cookie cutter through the peel to create a lemon peel star. You should get 4 stars for each lemon.

Allow the stars to dry.

Use waxed thread or twine with a large needle to thread the stars in equal intervals.

Hang the string of lemons on the mantel, a Christmas tree or anywhere you want.
Notes
If the lemons are too dry and curled when you go to work with them you can soak them in a bit of warm water for a few minutes.
I used about 4 dozen stars for my 6 foot mantel. You could measure out how long you want your garland first and get an idea of how many stars you will need.