Learn how to make a braided beach towel rug that you can use in the bathroom for a fun decorative piece that is also very useful.
this post contains affiliate links for your convenience. Click here to read my full disclosure policy
I found this pretty beach towel at a discount store, and thought about making a rug out of it. Remember using rags as a kid, and braiding them into a large coil rug? Why not make a braided beach towel rug that could be used in the bathroom? It actually turned out pretty nice. The beach towel I purchased measured 30 inches by 60 inches and the final rug was about 20 inches round.
Braided Beach Towel Rug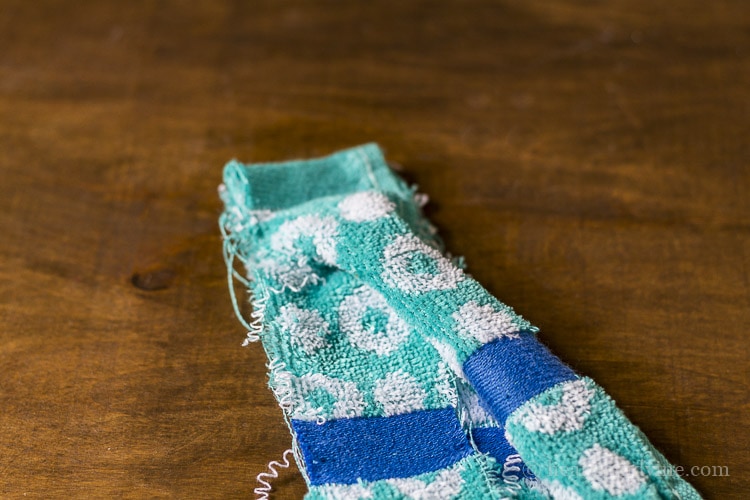 The first step is cutting your beach towel up into strips. I used two inch strips and ended up with four braids. Then sew sets of three strips together at one end. Begin braiding by turning the raw edges underneath as you go.
Sew the other end when you are finished braiding. If you find that there is extra material of one piece, simply cut it off, and sew where the three best meet together.
To make the rug begin coiling one of the braids, tucking the beginning edge underneath.
I used a double thread and hand sewed the coil together from underneath.
Here's a little tip my mother taught me: To make a quick knot for your thread, wrap the end around your index finger and using your thumb roll the thread up the index finger. Then use your middle finger to trap it against the thumb, and pull the end of the thread with the needle with your other hand to make a knot. If you want the knot to be larger, repeat the process.
When you get to the end of a braid, tuck the sewn edge underneath and sew to the coil. Start the next braid underneath as well, and continue hand sewing from the back side.
Finally, here's what the back side looks like, with messy raw edges and threads everywhere.
It seems like a good idea to give the backside a more finished look and prevent it from sliding, so I add some rubber shelf liner paper
.
Use some fabric glue to adhere the liner to the rug.
That's all there is to it. I think if you used two beach towels to make a larger rug it might be even better, yet it is pretty, and so cushy under your feet.